On a morning walk to the tranquil double-deck living root bridge, two young ladies were doing daily laundry on the water pool under the living root bridge.
Early sun traveled through rubber tree leaves, illuminated patches of lush green mosses dripping from the tree roots. A magical scene to stare at until the sun moves away, imagining Khasi ancestors spent years weaving one root bridge.
As the former first and now second wettest place on earth, she receives heavy rainfall which created countless small streams and rivers around the village. Twisting and weaving the Indian Rubber evergreen trees' roots as a way to manipulate the growth of the roots. Given a harsh environment, these functional art pieces connect villagers to unknown territories and expand their farmlands. It looks like they are weaving the third decker.
The area is home to a biodiverse of butterflies, moths, and frogs. A photographer told me that 50 plus types of moths are found here. Orchids are lovers for few gardeners in the village. One lady showed me a special rock orchid her husband found.
Unexpectedly I extended my tww days' stay to another two-day in Nongrait. 
Four days in this village already absorbed me in. Only on a few spots, my phone received a signal, my phone became a useless innovation.
Tip: Avoid visiting on Sunday. It's a family and church day for the villagers.
Concreted steps take you to Nongrait
The village is 65km from Shillong to Tyrna, where is the starting point to Nongrait. The hike to Nongrait is walking through a 1 km descending and ascending steps requires a lot of knee workout. The trail is paved concrete, just a bit slippery after rain. Take your time and breath!
About Nongrait
Nongrait is a small Khasi village in Cherranpunji-Mawsynram Reserve Forest. Khasi is a matriliny society that followed the matrilineal practices of descent, residence, and inheritance. That intrigued my interest in observing the villagers and my main inquiry is the impact of tourism on villagers. Only one elementary school and the building next to it has already collapsed. Students have to go to Cherrapunji to continue their education.
Villagers are Catholics. As Sunday is a church day, from my experience, guesthouses don't serve food. Maggie (instant noodles) is a popular snack.
Not all villagers could afford concrete houses. A long way transport from Cherranpunji to the village and labor is costly. Some timber-one-story houses are top with rusty steel roofs and a few families only can afford a tiny room built from rusty steel sheets. Villagers grow coffee, clementines, pineapples, grapefruits, and some tomatoes in their home garden. The most common is betel nut trees.
Located on a mountain slope, the rocky mountain is not fit for vegetable farming. Farms are scattered in the forest that I was wondering where they are. Long black peppers grown for medicinal, beetle nuts, betel leaves, and spices are the cash crops here. These crops sold on every market day. The men sometimes harvest wild honey if found. Chicken and pigs are common livestock but do not mean guesthouse will be served with meat dish 🙂 Villagers mostly consume lentil, rice, potatoes, and vegetable daily.
Shops in Nongrait sell very basic snacks, daily commodities, and cigarettes.
---
Things to do in and around Nongrait
Nongrait is popular as a day trip destination. It usually begins in the early morning around 8 am, the hike takes one hour. A day trip takes you to the double-decker bridge and rainbow falls. Day trippers must leave before 5 pm as it takes some time to ascend to Tyrna.
Sit by Double Deck Bridge on Morning
The morning was slightly chill. I put on my long sleeves shirt. I had the place to myself or almost to myself every morning. A short walk from my homestay, I spent mornings here writing journal. When you are ready, soak your feet into the cold water to give your feet a nice bath.
Morning walk to the village
The warm sun just makes you want to soak yourself in. Chickens roam around for breakfast. The kids sat on their door steps sleepy faces. They were not ready to smile for the day yet 🙂 Shops open after 9 am, walk back to the homestay for breakfast.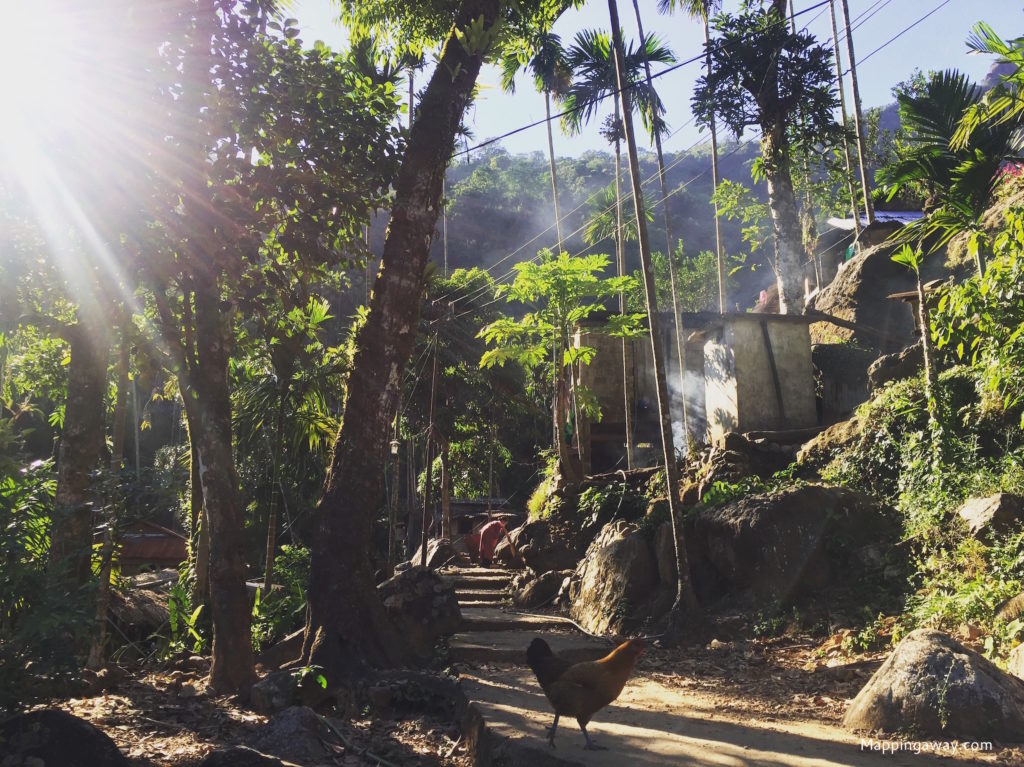 Eat local fruits from villagers' garden
Depending on the season, clementines, grapefruits, papayas, and pineapples are grown in their gardens. I walked into one lady's garden for clementines. You will recognize her garden full of orange fruits. She also grows coffee if you want raw beans.
I walked into her home to buy grapefruits for my day trip. She hadn't had it peel. I waited for her until she cut two slices for me.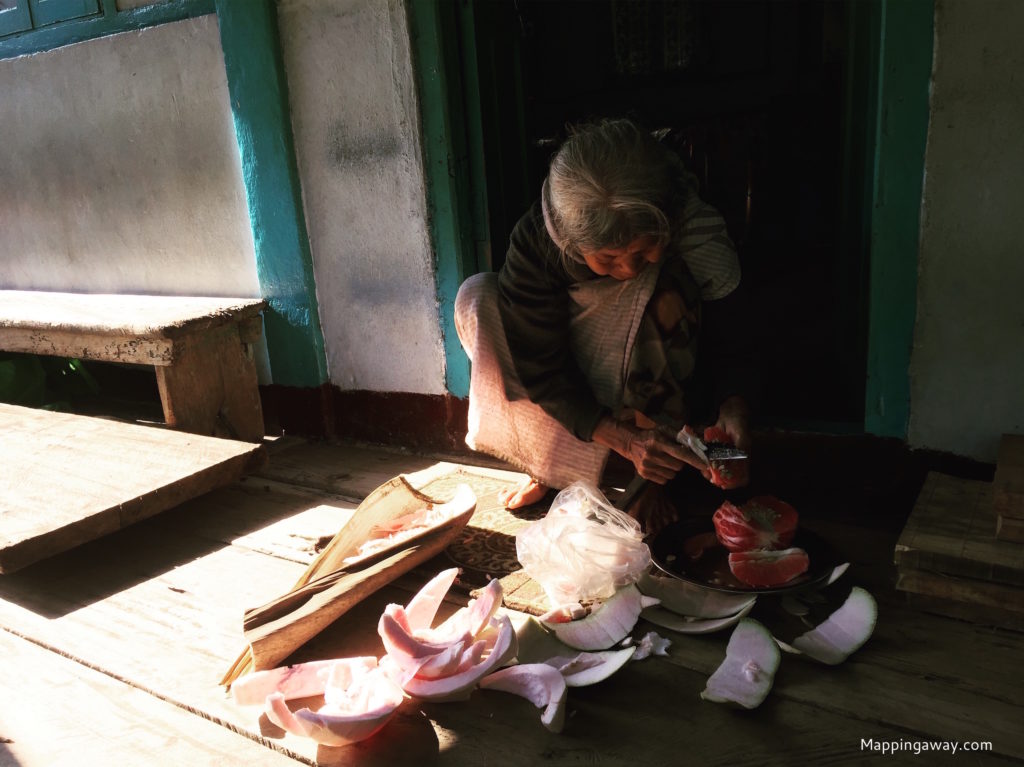 Day Trip to Shg Mynteng
Shg Mynteng is the same size village as Nongriat but it does not have living root bridges. Another trail from here connects to Tyrna. I could not find a place to eat. The only homestay was closed on Sunday. On a church day, villagers walked to the church had a new bible on hand, father and son walk together. One elementary school in the village has left the window open.
Butterfly Spotting
The walk to Shg Mynteng is like entering a butterfly garden. The yellow color butterflies chased each other. They circle you as they know you. The trail is quiet and peaceful; I was the only one. When near the village, a side trail takes you to the river, that's where the butterfly breeding ground. The trail is covered with grass but it still can be recognized. In October, the river dried up, hundreds of butterflies arrive here for mating.
Meet the villagers
Locals seem a bit reserve but they are friendly. It takes time for them to warm up to chat. Little kids like to play with anyone. The next day they don't remember you :). Almost 4 pm, villagers came back from the farm. Walk to the residence's highest point, thin and straight trunks of betel nut trees mark the farm area. They are spread across the area.
Enjoy a cup of Lemon Tea or Real Italian Coffee
Wondering what's available in the remote village? If you stay a bit longer, you want to find a place for a beverage. I visited Three Sisters' Shop for Lemon tea and Arnes' Wooden Hut for Italian Coffee.
Find a swimming pool
The pool under the double-deck bridge is not allowed to swim, although some tourists did it in the early morning before the villagers awake. The best time coming to Nongrait is in the dry season. The river's water low created pools.
---
Homestay
Several homestays in the main village provide simple beds and blankets. Although not a luxury stay experience, friendly hosts make up the rest.
Based on personal experience, I recommend Chally Guesthouse and Shipara Homestay. They are located opposite each other, near the double-deck bridge. I preferred these two because they are on the quiet side of the village and limited rooms cannot host big groups. If staying longer, these are better options.
Chally has four rooms including squat toilets. The water tap is in the garden, you have to fetch water for a cold shower. He makes a simple breakfast like maggie, omelets, and instant coffee, tea. I love his garden. I can sit outside and watch people go to farms. I'd pack a sleeping bag. The bed is hard and the pillows are not soft. It's for people for one day.
Shipara is still under construction. Rooms furnished with simple necessities. They make great food. I come here for lunch and dinner. The owner also plays guitar. He stays back sometimes. You can also camp here.
Satina Homestay is on the "main road". Many tourists pass by every day. They have nice bamboo huts. She serves lunch and dinner.
How to get here?
From Shillong Take a shared jeep from Cherrapunjee Sumo Stand

. I prefer a side window seat.
From Cherranpunjee Take a shared jeep to Tyrna only available before 10 am. You have to hire a private taxi, which costs 500 INR for Tyrna.
From Tyrana Follow the steps to Nongrait
Tip: No ATM in Nongrait. The best to withdraw money is in Cherranpunjee.
Best time to visit
Wet Season June to September
Dry Season October to May
Tip: Don't forget Cherranpunji is the second wettest place on earth! Bring an umbrella and poncho during the monsoon season.
Essentials Packing List for four days or one week in Nongrait
Hiking shoes or sandals
Day trip backpack
Water bottle
Book/travel journal
Seasonal jacket
Coffee/snacks
Medicines
Ponchos (monsoon)
Mosquitos repellent
Swimming suits
Garbage bag for your garbage
Tip: Pack Light. Leave some stuff in your guesthouse.
---