A quick guide to Katha
Before the crack of dawn, farmers arrive in the station with baskets or rice sacks of vegetables to sell in Katha. The 90 minutes' train ride, on an old locomotive manufactured in 1964, is slow and not scenic. It is rather riding on a historical journey as George Orwell did.
Katha

built on the bank of Irrawaddy, where on a good water level day, boats operate to Bhamao. Despite its small size, the population reaches 27,000, and minorities such as Chinese, Nepalese, Urdu speakers, and Indians as how they referred to me in conversations, share the space of the small town.
Best time to visit?
October to March is dry winter, considered the best time to visit. Noon in Bagan and Mandalay are hot.
Monsoon season begins in May, last till August, even in October, light rainfalls in central and southern states.
Duration
1-2 days
Where to Stay?
Indaw
Indaw Lake is one of the attractions in addition to monasteries.
Indaw Hotel

$10 dormitory
Basic hotel equipped with hot water and wifi.
Aung Myittar Restaurant
Try the Lemon Juice Fish
Katha
Hotel Katha

$10
Tip: A small population of Muslims lives in Katha. You will not have a problem looking for halal food but have to ask around :).
---
Day 1 Train from Naba to Katha
Traveling by trains in Myanmar is a slow journey crossing scenic countrysides. Observing livelihoods that depend on railways, and exchanging conversations with locals are brilliant ways to experience this country.
Morning Train from Myitkyina to Naba
The earliest train from Myitkyina to Naba starts at 8:30 am and arrives at 4 pm. When I arrived in Naba, train the that goes to Katha has long gone. The only train from Naba to Katha operates at 6:30 am every day. Naba to Katha is about 20km. Guesthouses in Naba do not have a permit to accept foreign tourists.
Here are my options and I chose Option 3 to stay overnight in Indaw.
Option 1: Hire a tricycle motorbike onward to Katha
Option 2: Arrange a pick-up with Katha Hotel
Option 3: Stay a night in Indaw, about 9km from Naba. It costs the same if choosing option 1. Transport has to arrange to pick up at 5:30 am to catch the morning train to Katha.
Breakfast in Katha
Arrived in Katha around 9 am, I ordered a paratha and tea from the station teahouse. It's pleasant and picturesque to sit here and look at the railway tracks and the enormous shady tamarind tree on the other side. But I wouldn't recommend the paratha.
The Town in George Orwell's 'Burmese Days'
Finding the footprints of George Orwell, who published his first novel Burmese Days based on a fictitious town Kyauktada. It turned out to be Katha. When I mentioned the name George Orwell to locals, they pointed me to the Deputy Commissioner's house, which has turned out to be a colonial museum today. The lady lives opposite holds the key to the gate. She politely opened the gate when being asked. The British colonial double story house painted in red and black.
The English Club is serving as an office for a bank now. The staff is friendly allowing them to walk around. Orwell's house occupied by Township Police Commander now. And Dr. Veraswami's house is now a Township Agricultural Office. Emma Larkin's Finding George Orwell in Burma probably provides more details on the author and his time in Myanmar.
---
Day 2 Walk Around the Town
6 – 6:30 am
Monks walk around the neighborhood collecting locals' offerings.
7: 30 am
sunrise at the Irrawaddy Bank
Breakfast
A teahouse is a block from the riverfront, across the street from Mya Sati Pagoda, which name I have forgotten. They open as early as 6:30 am. Owned by a Chinese family, they offer a few choices of dim sum, omelet, and pork and non-stuff steamed buns. For vegetarians, I'd go for steamed buns without any stuffing (mantou). Get a seat outside, and soak yourself in the sun as locals do.
Farmer's Market near the train station
The farmer's market near the train station was delightful to walk around and to exchange smiles with lady sellers :). The majority of these vegetable sellers were women. They sell locally grown produce, flowers, and sometimes fish. Vegetables and flowers are spread out on plastic sheets on the ground. In the early morning, sellers have their breakfast with tea, while selling vegetables.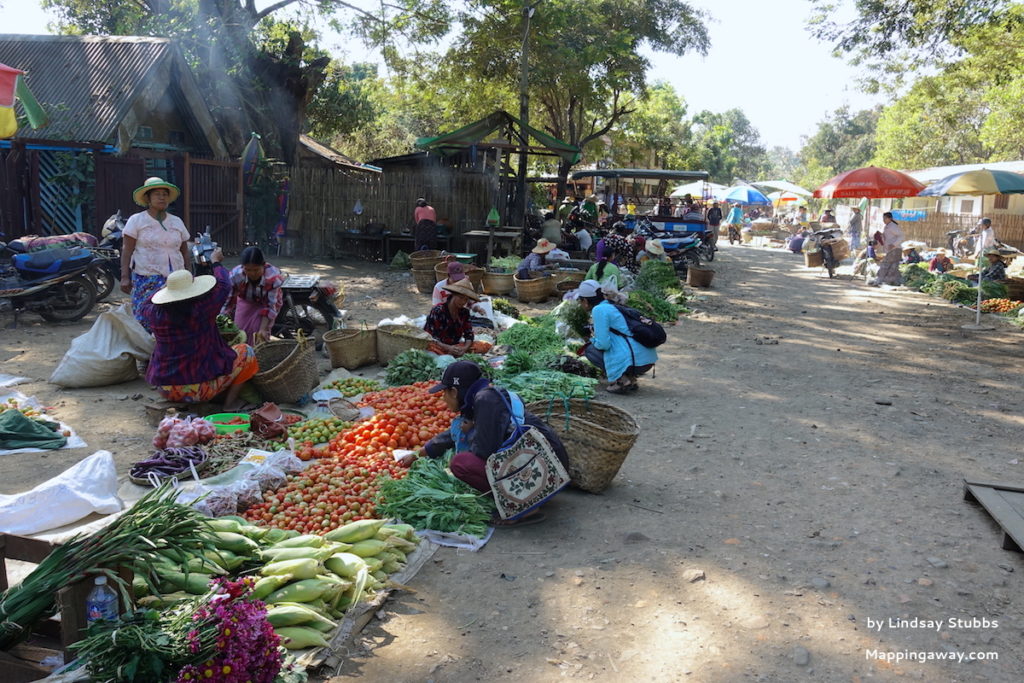 Turn into a narrow lane, you will see ladies making Mon Lin Mayar, the rice flour snack, and a Muslim family-owned snack and tea shop. I sat here for an hour filling up my journal. I had lunch at a local house, on the same lane, where mostly local women patronized. It serves in a buffet style. Otherwise, a bowl of Mohinga from the central market stall for lunch.
Main Market
The main market is set up with shops that sell daily commodities, kitchen utensils, and machines, bamboo baskets. The fresh food market opens until late evening.
---
Day 3 Katha
Katha is a small town, easily spend a relaxed day by enjoying the riverfront walk and chatting with locals in the market. I spent most of my time in teahouse filling journals. It's the best way to end my short trip to Myanmar.
On my last day, I wandered around the town. Another way to explore outskirt of Katha is by renting a bicycle from Katha hotel.
Riverfront
Fishing brings in some income for households near the Irrawaddy River. Ladies sit on a low stool, gutting and cleaning baskets of fish. Fish are dried under the sun on bamboo mats.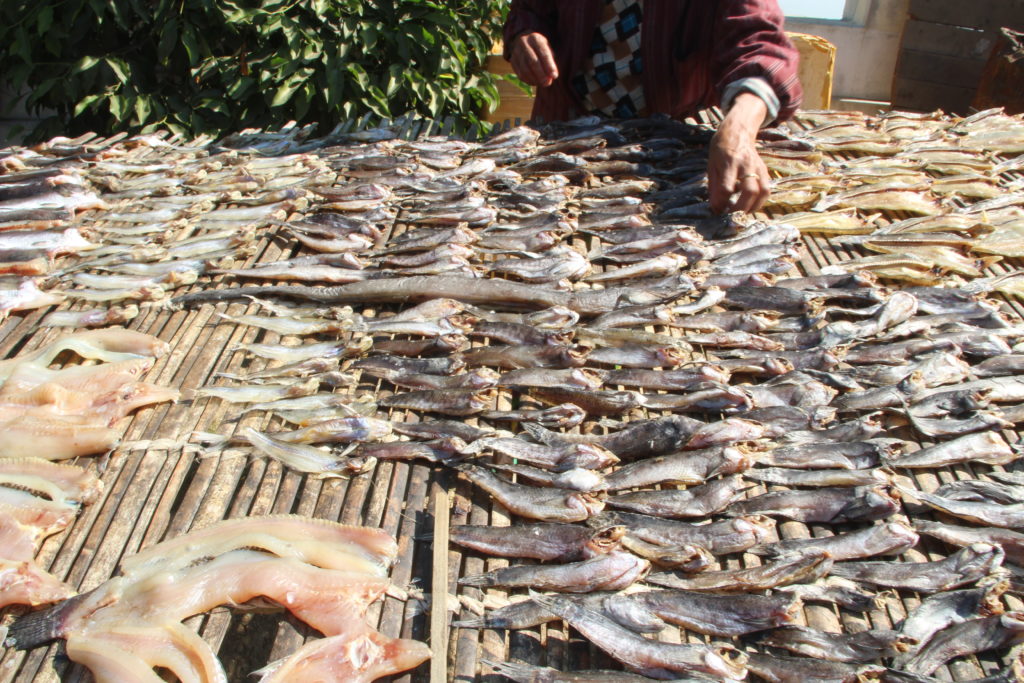 Houses in Katha
The modern houses in Katha have constructed in concrete and mostly 2 storeys. The wooden houses have naturally aged. The wooden structure balconies are common to these houses.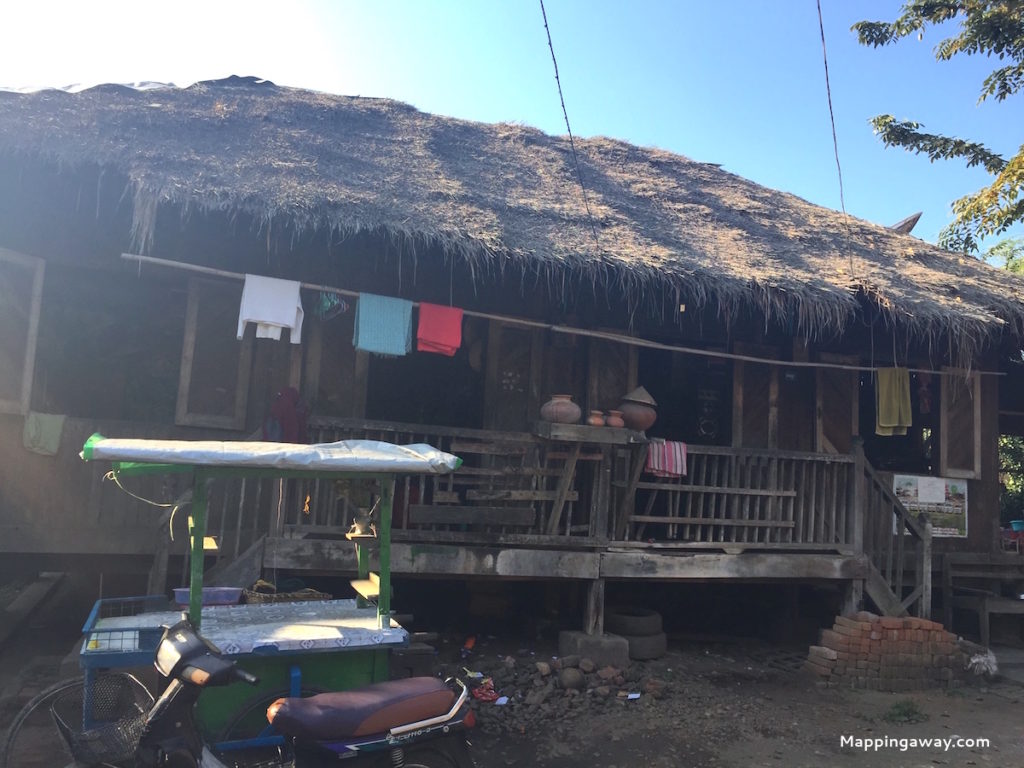 ---
More Days in Myanmar?
Katha – Bhamao
Bhamao is on the Irrawaddy riverbank in the state of Kachin. The only flight from cities or ferry/fast boat go to Bhamao. The ruins of Sampanago, ancient Shan Kingdom still can be seemed.
The fast boat looks like operates every day from Katha to Bhamao at 9 am and to Mandalay at 5 am. Call +95 09423232240/+95 09400436212
Check Inland Water Transport
Mandalay – Bhamo (special express) Mon, Thur, Sat, 6 am
---
---