This guide takes you to some major temples, house clusters, and Havelis in the old city of Ahmedabad.
As the largest city and former capital of Gujarat, the city's glorious history takes you through a long span of political and economic development. In brief, Mahmud Begada fortified Ahmedabad with a 10 km wall and 12 gates in the 15th century. The city planning was well-designed and went on expansion under rules of sultans with new localities and suburbs on both sides of the river.
What are Havelis?
Havelis are mansions or traditional townhouses with wall decorations and frescos built more than a century ago. Havelis in Jaisalmer and Bikaner of Rajasthan, Kanadukathan (Chettinah) of Tamil Nadu, and along the coastal towns of Gujarat show various styles of Havelis.
---
Top 4 Experiences
Visit the 600-year-old mosque, Ahmed Sha Mosque


Snacking in Manet Chowk


Historical walks to house clusters, Havelis and Jain temples
Window shopping in Lal Darwaja

Best Time to Visit
November to February are the best time to visit as the weather is pleasant to walk around Ahmedabad
Summer kicks in March to May. The city receives fewer tourists considered as the shoulder season.
June to October is the monsoons that bring in fresh air to the bustling city. City flooding could happen.
How to Get there?
Flight Ahmedabad's international airport connects to many international airlines. And the domestic airport links to Vadodara and Bhuj.
Bus Ahmedabad has a well-connected bus networks. redbus.in
Train Express trians from Delhi, Mumbai, Benguluru etc., connect to Ahmedabad.
IRCTC is the Indian railway corporation. Register an account and book under Foreigner Quota.
Where to Stay?
Deewanji ni Haveli

tucked in the old city neighborhood, about 5 minutes walk to the Old Stock Market Ahmedabad. Heritage House in Ahmedabad

is in the same neighborhood about 10 minutes walk to the old Stock Market.
French Haveli

offers rooms locates in several different Havelis in the old city Ahmedabad with unique decorates of its own.
---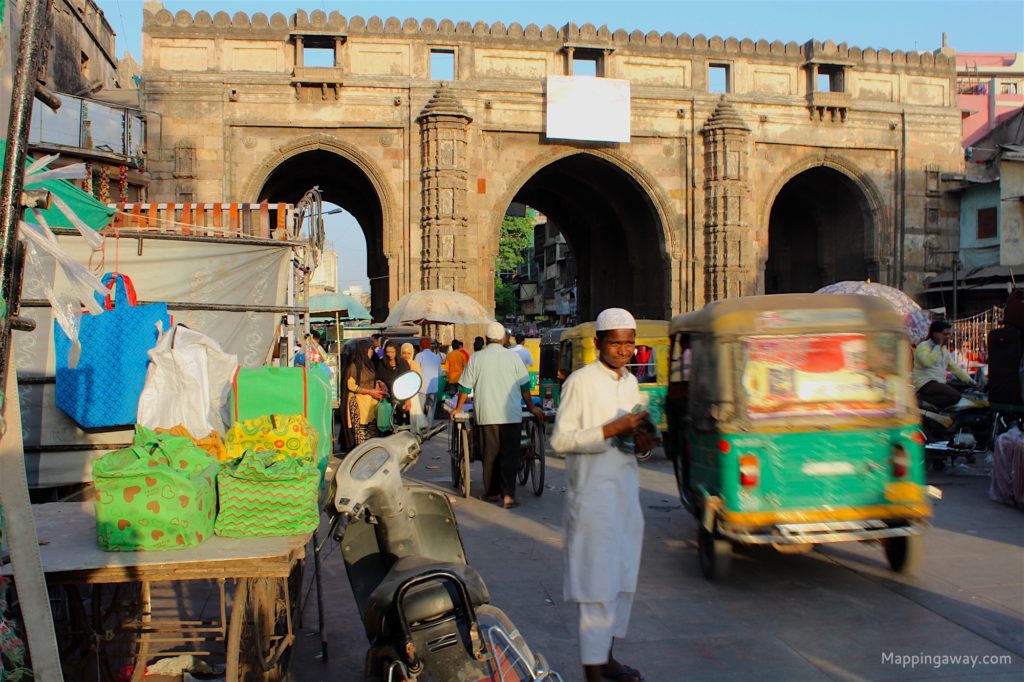 ---
Day 1 Half-Day in Ahmedabad
Direct bus from Bhuj to Ahmedabad is convenient, takes 7 hours or more with traffic. I only have a few hours left before sunset to explore the old city. Teen Darwaza

is on the eastern of Bhadra Fort, built in the 15th century. In 200 meters is where the 15th century-old Jama Masjid

to be found. The extravagant carving on the minarets that you still appreciate today. Auto-rickshaws speed through the crowd.
Tip: Bring a scarf and dress up modest to visit important religious sites.
Walk 250 meters to Chandravilas Restaurant

for some famous Indian snacks and freshly made jilabi and fafda.
---
Day 2 Explore Ahmedabad's Old City
Plough the intricate narrow lanes of Ahmedabad's old city, the living museum exhibits its rich history of maritime trade that conveys through its lavish mansions. These houses are either still occupied or locked up today. The ones locked up or used as warehouses are fading and left to deteriorate. Nonetheless, you still could have eye pleasure by observing the door motifs.
Ahmedabad's old city consists of 360 pols. Pols are clusters of houses made up a small neighborhood. Inhabitants are not related to everyone.
I'd recommend you book a 2.5 hours tour from Historical Walk if you keen to learn more about the heart of the city.
Tip: Many of the places of interests are not listed on google map. Ask anyone they will point you in the direction. Some pols connect to the main road following small lanes. You could derail.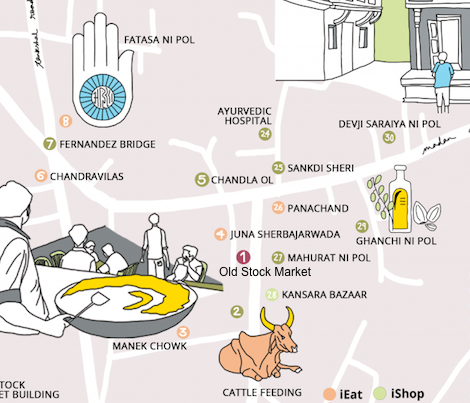 My final destination is Shree Swaminarayan Mandir Kalupur

. I began my tour from Old Stock Market. You could reverse this plan and set Old Stock Market as your final destination :).
As early as 9 am, I started my tour from Old Stock Market (1)

, it's where Manek Chowk (3) locates. The market is very much empty in early morning. Behind the Stock Market, Rani no Hajiro

is a complex of tombs of Ahmed Shah's Queens. Mahurat Ni Pol (27) is in the same market. You will see a blue plaque. Chandla Ol is an old market for brass pooja items. In 120 meters on Gandhi Street, you will find many bookstores under a bridge. That's known as Fernandes Bridge

(7).
Astapad Jain Derasar

(10) erected in the dense Doshiwada Ni Pol (9) in the 19th century. Its highly ornamented carvings are stunning. On the right corner of this block, a 180 years old Harkunvar Baa Ni Haveli

features unique Indo-Chinese elements – dragon ornaments. With 60 rooms makes it the largest haveli in the old city. I just stared at the balcony for its beauty.
I already lost myself here. Get some snacks and tea!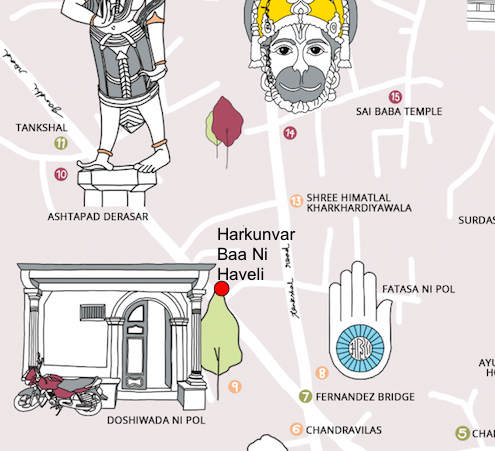 I walked to Chaumukhji Ni Pol

for Dodhia Haveli

, which has converted to a guesthouse now. The entrances pillars and the splendid motifs carving that worth the walk. Some famous Jain temples on this route including Shantinath Jain Derasar

and Ajitnath Bhagwan Jain Derasar

.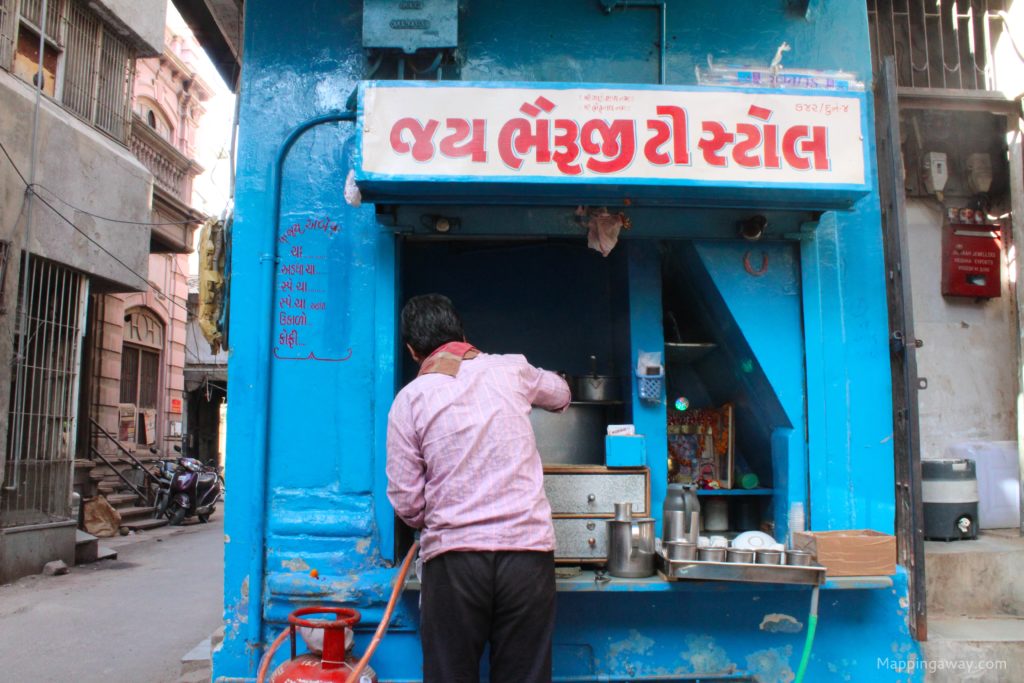 Don't have to go to Adalaji to see the stepwell. The nearest stepwell is Amritavarishini Vav

, which is on Gandhi Road, 1 km from Chaumukhji Ni Pol.
Where to Eat?
Noorani Bara Handi

looks a little shady from outside; it serves delicious varieties of kebab and other tandooris. Azad Restaurant & Corporate Sweets, Zaveriwad

is a place for sweets and snacks, but also serves vegetarian meals.
Useful Information
Download Ahmedabad Old City map
List of Havelis
---
Day Trip from Ahmedabad
The Dawoodi Bohra community contributed to some colorful Havelis in Siddhpur.
---
---