This easy guide walks you through a living relationship between the Ifugao people and rice terraces.
The awe-inspiring rice terraces are art pieces created by the Ifugao people's engineering minds on the Banaue mountains — hand-carved in somewhere between 1000 to 2000 years old or less, who were ancestors of Batad villagers.
Batad enveloped in clouds of mist after rain. The fog slowly moves away and disappears by noon. villagers circled in a neighbor's hut, crushing betel nuts, and stuff one wrapped into the mouth.
The people here are hardworking. They must keep the farms clear of weed grass. Grass invades the farm quietly if the farmer did not show up for a few days. Springs and streams irrigate the terraces from drying yearlong.
---
Best Time to See Rice Terraces
November to April are the best time to visit since its dry season.
Green rice terraces are between April to June.
Golden paddies are from July to August.
May to October are the wet seasons that receive light showers.
Batad's geography is surrounded by mountains. Even in the dry season, it receives light showers and chill. Bring your rain jacket and light clothes to keep you warm at night or raining days. During my stays in Batad, it rained everday.
How to Get There?
Manila
Overnight bus from Manila to Banaue. Banue is a big town with transportation connects to big cities.
Victoryliner.com
Pinoytravel.com.ph
Banaue + Tour Guide
Arrived at 6 am via the sleeper bus from Manila. It was drizzling in Banaue. An officer from the Tourism office collected independent travelers in a jeepney to tourism office. Register and paid 20 PHP for the environmental fee by the bus stop
Many tour guides are waiting in the office already. You can book a shared tour with other independent travelers. I believed it was 5,300 PHP for 3 days 2 nights from Pula to Cambulo to Batad. One day is possible to be done, given arrives in Batad around 10 am.
Don't Want a Guide
Hire a tricycle for 500 PHP – 700PHP takes you to the end of the pavement, which is the entrance to Batad village.
Tip: Tricycle from tourism office charge slightly more.
---
The Perfect 3 Days in Batad
The perfect experience begins with a heart-warming homestay where I spent my three days. It depends on what view you want and how long you will stay. The village separate into two parts – upper and lower. The upper village is where the school and shops are located, and closer to the entrance.
Take the sharp slope to descend to the lower basin, where concrete steps are here and there, and narrow steps on the terrace walls. Follow the concrete path through the paddy fields, it takes you to the main village.
Where to Stay?
These two guesthouse, namely CRISTINA'S Main Village Inn And Restaurant and Batad village homestay are in the main village. I did not book any guesthouse.
Batad Village Homestay + Food
I walked into Batad Village Homestay, Rona, the owner's mother, toured me around the rooms. In the next three days, I spent some time with Rona and in her hut, the traditional house in Batad. The homestay is in the village center, where you are surrounded by traditional huts. No restaurants around here, which means you have to eat (3 meals) in this homestay. (300 PHP per night. 300 PHP for 3 meals)
They serve organic rice from the family's farm. It is typical in this village that buying rice is not affordable. They grow black and white rice and usually of a sticky texture.
Traditional Huts
Batad Village Homestay built next to Rona's home. The thatch for roofing is difficult to find on farms. Rona collects bit by bit whenever she finds it. Inside this small hut, the storage takes up the top roof space. The floor converted into a kitchen and living space. Some villagers preferred the kitchen to be set up under the hut, and a few like Rona chose to cook inside the hut. She says the firewood smokes are to maintain the rice dry and keep the rats away from the roof.

The young generation's homes are furnished with television and electronics. In her 70s, Rona stays in this hut with her husband. They have no electronics, except a solar torchlight. She does not want electricity inside the hut. They sit in silence at night time pouncing betel nuts in a pestle.
---
Rice Terraces Waiting to Sow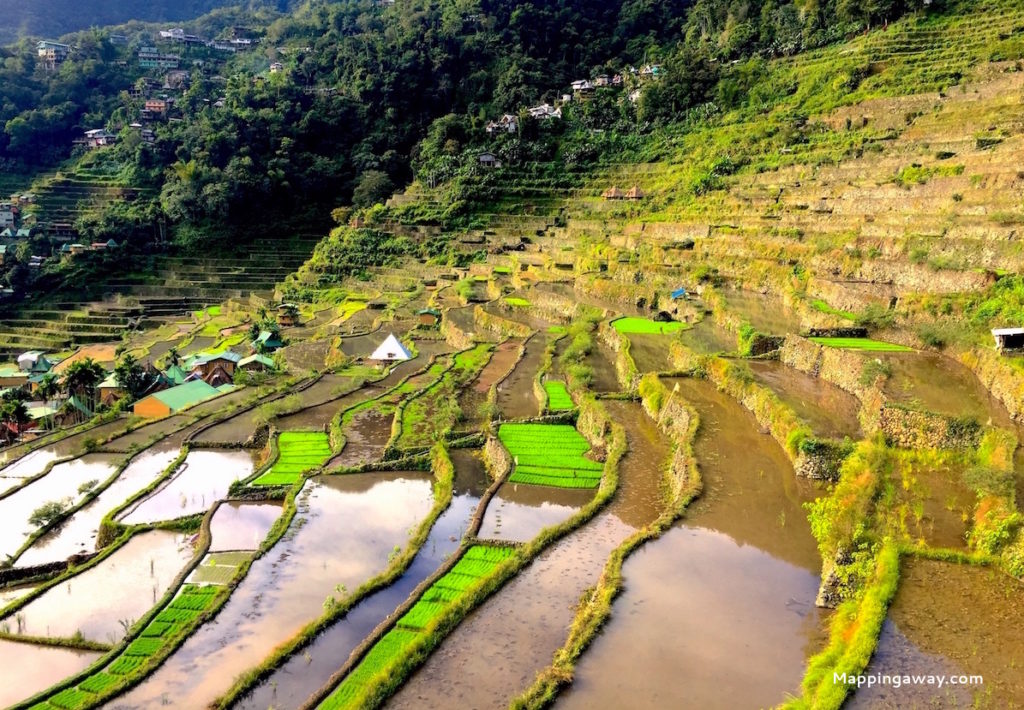 Rice fields have let to rest for half-year, soak in spring waters, absorb minerals, and flocks of fish swim in the shallow water. Villagers pick snails from fields for the next day's dinner or pluck watercress from the stream then boil them for dinner.
Sowing rice had been delayed this year. Sowing practice passed down generations and works well for the crops – one farmer at the lower terrace must be the first to sow. Farmer be the first to sow and not everyone follows, paddies would attract birds and insects. All villagers are waiting for that farmer to sow first. His farm is between the hilly island with coconut trees and the cafe where tourists rest after climbing down from the terraces.
He was plowing and clearing weed grass on a drizzling day. Others have already sow rice seeds for germination. Those are the green patches. I only saw one or two water buffalo plowing in the lower terraces.
---
Hand Pounded Rice
This is a daily chore for villagers to pound rice. They hand pound rice and clear off the husk. This requires physical strength. Rice don't store in a sack rather it is tied in a bouquet and store above the stove. Smokes and heat from wood fire keep the rice dry year-round.
Rona plucks rice off from the dried stems. The responsibility falls on her husband now to pound rice every day. He also pounds the rice to feed his chickens. The mortar passed down generations in Rona's family. Only the wooden pestle has changed several times. They fermented rice in a ceramic vessel for rice wine, that drink in harvest or any festivals.
---
Weaving Woman
Her house is on the path where continues to the terrace steps. The red and white, green, and red and black striped blankets flying on her wooden balcony. These patterns differentiated the Ifugao people from its neighbor like the Sagada. The patterns are nature-inspired and beliefs-based.
---
Day Trip to Camulo
The way to Camulo is to climb the narrow steps up to the rice terraces' high point. This is the best point for a panoramic view.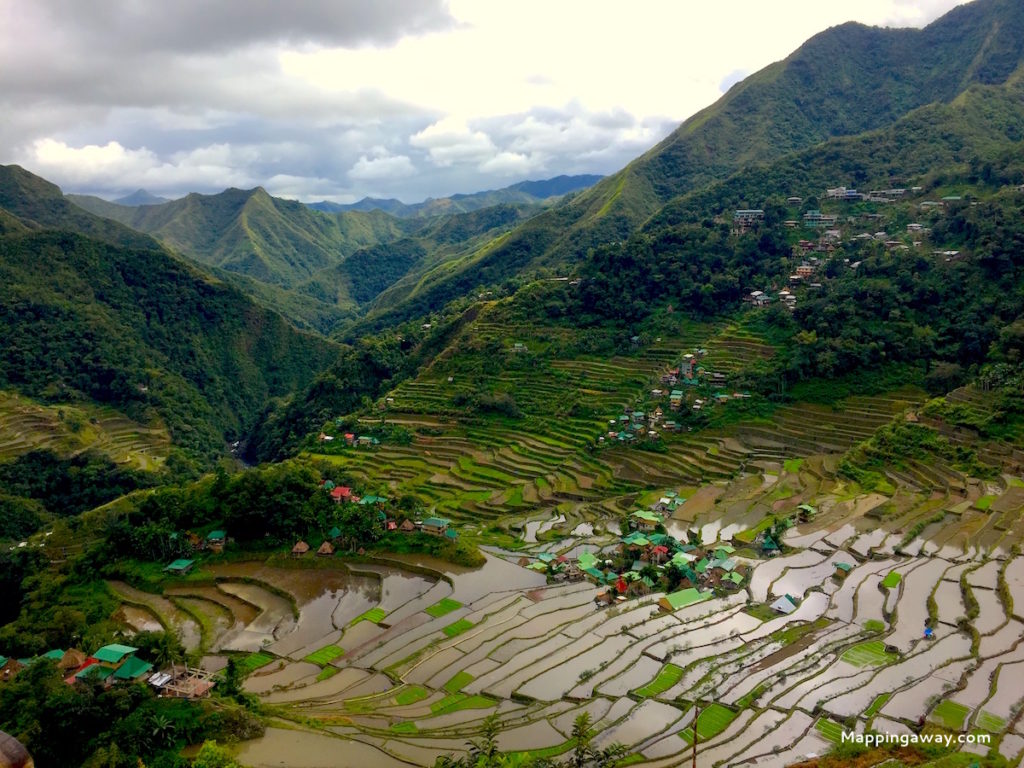 The typical tour to Batad is via Pula to Camulo (1 night). So this route is not isolated in the mountain. Some groups come from opposite directions. The road is muddy after rain. It is better to come in hiking shoes. It took me 2 hours to trek to Camulo. One convenient store on the way also a homestay for late hikers. You can take a break there and sip fresh coconut.
Camulo's rice terraces are small. Weed grasses are overgrown in some terraces. It looks like they are abandoned. Or I thought so. One farmer is fixing the terrace wall by padding new muds on top of the current.
Lunch in Camulo
Walk into any homestay or guesthouse, they are happy to prepare lunch for you.
---
Activities Around Batad
Tappiya Falls
Trek Mount Amuyao
Trek to viewpoint
If you decide to take a guide, one of the family relatives could guide you for 900 Php or to other hiking sites.
Tip: No ATM in village. Limited mobile signal.
Essential Packing for 3 Days
Hiking shoes / Rain Jacket / Extra Pants & Socks & Under Garments / Towel / Water Bottle / Day Trip Backpack / Medicines / Shirts & 1 Long Sleeves / Personal Care Products / Journal
---
---