1-day Jirisan hikes is a perfect itinerary to add to your trip to South Korea.
Mt. Hallas, 1,950 meters in height, on Jeju island is the tallest mountain in South Korea. The second is Mt. Jiri at 1915 meters in height. Jiri means to turn a foolish person into a wise one. It sounds like a perfect place for hermits who could find their wisdom. The mountain area encloses 7 cities: Namwon, Jangsu, and, Gokseong, Gurye, Hadong, Sancheong, and Hamyang. A total of 18 trails created in this large area range from easy to difficult. If you don't want to hike, there is a 300 km walking trail circle the Jirisan (Jirisan Dulle-Gil ) across 5 cities. The summit is Cheonwangbong Peak at 1,915 meters in the center and the second is Jungbong Peak at 1,875 meters. The national park is home to the Asiatic Black Bear.
I only packed two vegetarian buns for lunch. I walked into the rest area, hikers in thick jackets cooking instant noodles from compact camping stoves. I began and end the hike at Hwaeomsa Temple. I set Namwon as my travel base, this classic route from Hwaeomsa Temple in Gurye and finish at Jungsanri or Daewonsa Temples is about 59 km, which is a long stretch. You could even do two days one night trip and camp in Nogodan Shelter from Hwaeomsa Temple. The park has well-equipped shelters renting blankets, stoves, etc.
---
Can I climb Jirisan independently?
Absolutely. I did this 1-day hikes alone, 10 km for ascending and descending. Just follow the designated trails and signboards :). Although the chance of encountering wild animals or black bears are low, just keep an eye out.
Best Time to Hike / Camping
The peak season is from May to November.
How to get to Jirisan from Namwon?
Namwon Intercity Terminal to Gurye another transit bus to Hwaeomsa Temple (화엄사/ 華嚴寺). The bus will stop in a parking lot, you have to walk a kilometer to the temple.
Gurye is the main transit terminal to Hwaeomsa Temple, Sungsamjae.
Where to stay in Namwon?
Mua Guesthouse $20 female dormitory
---
Hwaeomsa Temple (화엄사/ 華嚴寺)
Hwaeomsa Temple (화엄사/ 華嚴寺) is one of the oldest temples in South Korea, located at the foothill of Jirisan. The temple is built on a valley, and Yeongiam Hermitage is inner in the forest. I imagined the river runs from Jirisan down to foothill as in winter the river has dried out.
Check out for Temple Stay to spend a night here. Pay a visit upon your arrival. It's closed when you come down from the mountain.
---
The trailhead is around the temple from outside; it is only 5.5 km from base to the top one way, so a total of 11 km for two ways. It takes about 5 hours for a one-day hike. In winter, the river is frozen and the trees are bald. The trail is covered in dried leaves. I saw only three people descending before noon and after that, I was the only one on this trail. Only some areas require some knee work to climb the large rocks near the ridges. It's best to begin as early as possible, so you could walk around the large flat ridges.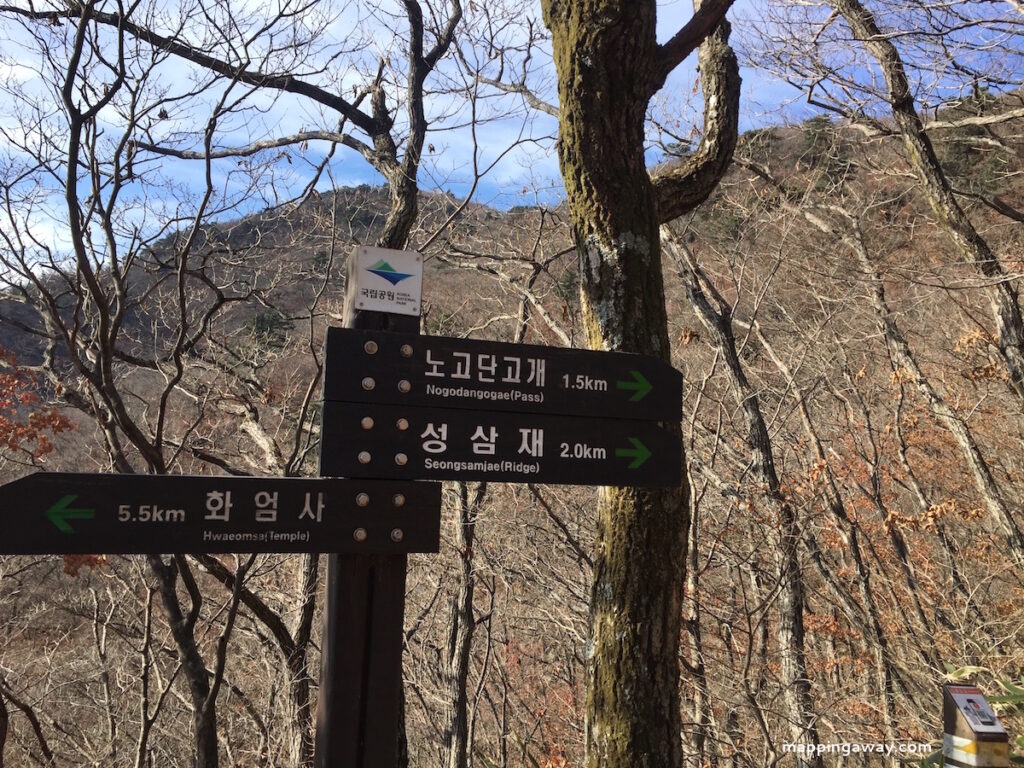 In the daylight short season, make sure you descend between 3 to 4 pm. The total hike is about 12 kilometers.
View from the ridges. Jirisan has a good view for ocean of clouds and sunrise.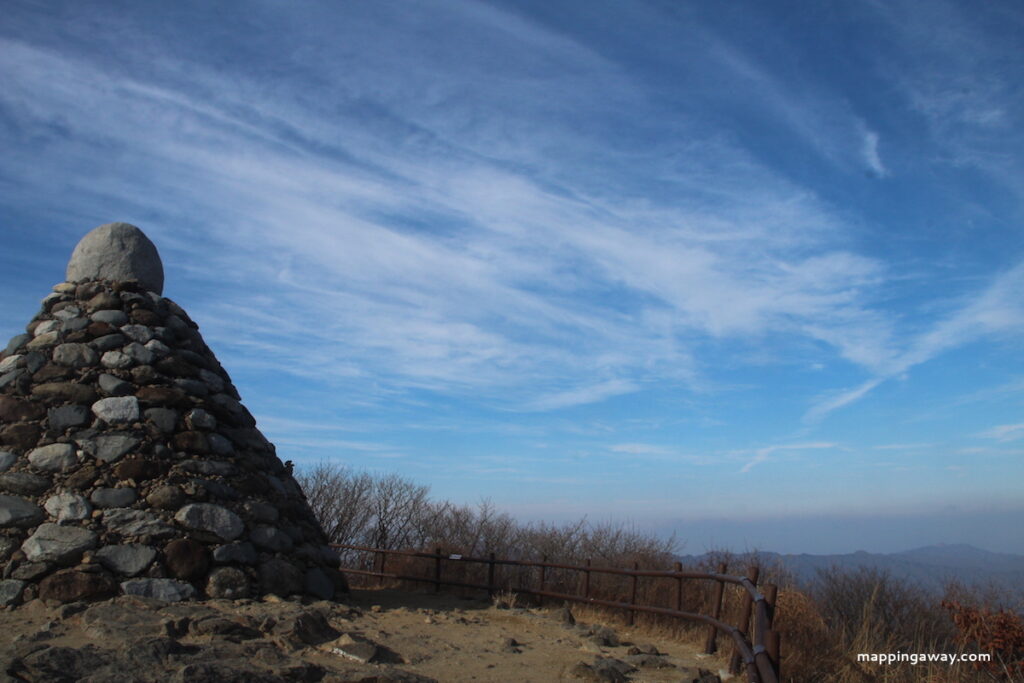 ---
What to Pack?
Sun protection for summer days
Food and water for day trip
Camera
Good hiking shoes
Useful Link
Official website of Jirisan: http://eng.jirisantour.com/climb/
National Parks Shelter Reservation: https://reservation.knps.or.kr/foreigner/main.action
---