This post shares some information on planning a trip to Mindat.
Catching the tail of monsoon in early October, rain pouring from the sky, kids playing soccer in the road rushed home, and a bullock cart could not run faster to the tree shades entrenched. The passenger van that I took from Pakokku got a flat tire amid heavy rain.
Chin State is one of the most remote places in Myanmar. On the western side of Myanmar, border by Mizoram, India, Hakha is served as the capital. The state is a gateway into Myanmar's nature and offers unique experiences of local tribes and culture.
Mindat is a small hilly town at an elevation of 1,400 meters and locates in Chin State, borders by Mizoram, India. Mindat

has opened to tourism since 2016. Nat Ma Taung

, aka Mount Victoria, located in three towns, Mindat, Matupi

, and Kanpatlet

. Pack warm layers if you are planning to go any time of the year.
Travelers come to Mindat for two main purposes: Mindat is the access point to Arakan Mountain for hiking and to see the tattoo women. The Myanmar government has banned tattoos on the face. Chin state also the home for many other tribes, that can be differentiated through tattoos. Some are in circles, lines, and spider webs. The M'uun women are recognized for large D shapes and the Yin Du tribe has very long vertical lines across their faces. Chin state made up of 60% Christians, the others are Buddhists and Animists.
---
Top Experience
Visit Hill tribes
Village Trekking
Weaver + Tattooed Women
Locals still weave their traditional clothes.
Local Liquor/Food
Day Trek to Pan Auge Village and Am Long Village by yourself
Do you need a guide?
Hire a guide for photographing tattooed women and hiking to villages, given their knowledge of the area and connections to other tribes. Guides know the tattooed women's home. The trip usually takes 2 days and more. Tattooed women also live in the Mindat town. They sit on their porches and weaving in the daytime. It's polite to ask for photographs. Your guesthouse could arrange a hiking trip. Don't need pre-booking.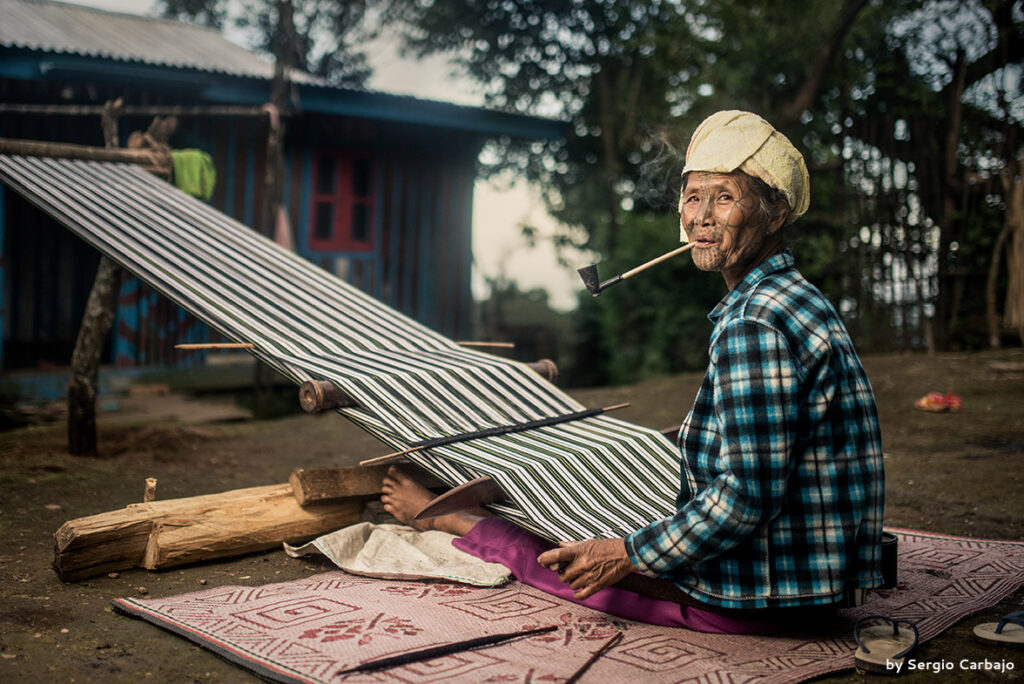 ---
Mindat Town
Mindat is a small town on the hillslope. It gives a panoramic view of the town and surrounding areas. On Sunday, most restaurants and shops are closed. Several restaurants open for small bites. This tea and snack place operates by young men. They prepare fresh samosa and noodles. Food is very simple as well as facilities.
---
Shops
I believe she is the only bamboo shop in town. The shop carries traditional bamboo woven baskets, men's bamboo woven cross body bag, and hats etc.
Mindat town provides basic essentials for nearby villages. Convenient shops stock up snacks, and basic necessities. of course you will find tailors in town.
House
Wooden houses are common. They are built on a slope. You can tell houses are not equipped with a kitchen or bathroom. Residents prefer to bathe in the afternoon while the sun is out by their porches.
---
Morning Market
This fresh market starts in the early morning until noon. The products sold here are interesting.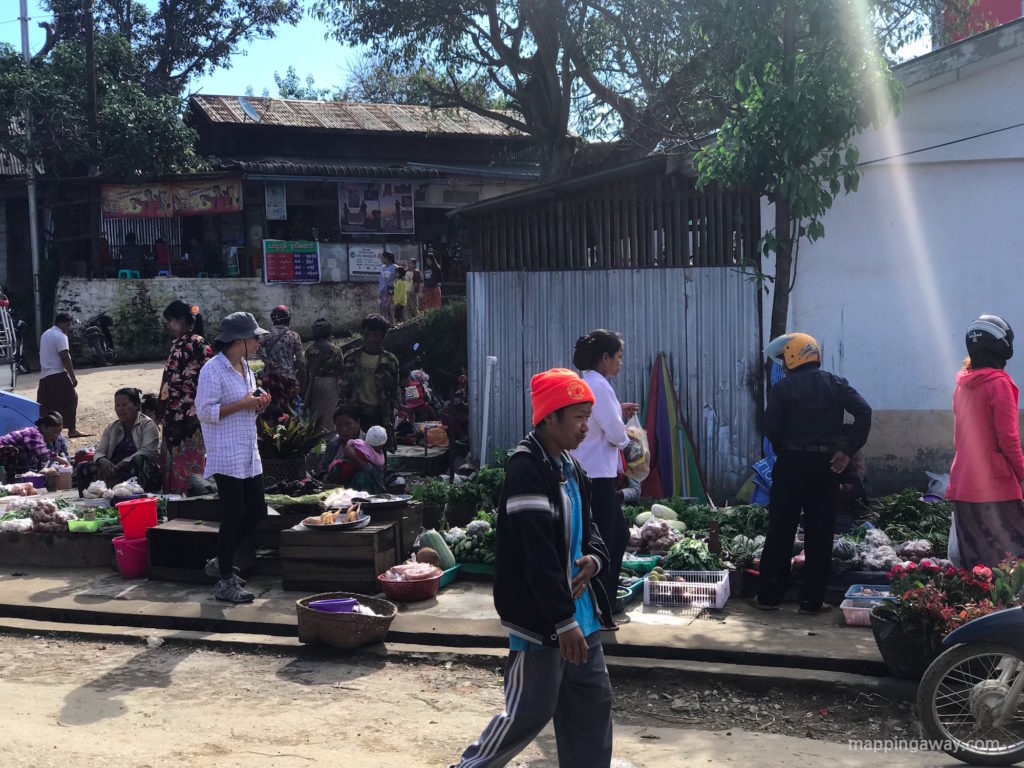 ---
Women Weavers
Weaving products are mainly for personal use or possibly sold to shops. I believe this is Women Weaver Association. I did not pay attention to the name. They sell table runners and tops woven in Chin/Mindat patterns.
Some tattooed women sit outside of their homes in the warm sun setting up the threads. You can ask them if they are okay with photography.
---
How Many Days?
Option 1
Day 1 Transportation to Mindat
Day 2 Hiking Tour 2 days 1 night
Day 3 Hiking Tour 2nd day back to Mindat
Day 4 Leave Mindat
Option 2
Day 1 Transportation to Mindat
Day 2 Arranging tour, walk around town and the nearby villages
Day 3 Hiking Tour 2 days 1 night
Day 4 Hiking Tour 2nd day, back to Mindat
Day 5 Leave Mindat
Routes (Travel from Bagan)
Option 1 Overnight at Pakukku: Bus to Mindat at 7-8:30 am bus
This route takes you to an overnight stay in Pakukku and takes a morning bus to Mindat. Pakokku is a relatively big university town. Moe Pi bus station is where bus between 6 am and 8 am go to Mindat.
Option 2 Same Day: Bagan to Pakukku to Mindat 2:30 pm minivan
This is a long journey that depends on many factors, including road conditions, weather, and driver. I arrived in Mindat at 8 pm.
Bagan to Mindat
There is no direct transportation to Mindat and no airport in the hilly town. The closest junction is Pakukku. It links to Mandalay and Yangon by minivan and bus.
Tip: TmtmTour.com offers transport from Bagan to Pakukku for $35.
Bagan Shwe Pyi Highway Bus Terminal to Pakukku
When your driver drops you off at the bus terminal, walk toward the highway, where the MNT gas station is. Stand there, and wait for the public bus. I arrived at the terminal at 8:30 am and wait for about an hour in the hot sun. There is no fixed schedule. My bus arrived around 10 am. It costs 250 Kyt (USD 0.18). Crossing the Pakukku bridge to the Magway region lookout to the Irrawaddy plains. By 11:10 am arrived in Pakukku.
Pakukku to Mindat is a bit tricky to get the minivan. I did not see the minivan until 2 pm. At the bus stop, just ask anyone who runs a travel company about the minivan to Mindat, and they will guide you to the minivan operator you see in the image below. They will take your names and let you know the reporting time. It is safe to say that they will not leave without you. I had time to eat lunch, drink tea, sketch before I could see the van!
Remember: check with operators for your next destination's schedule to Bagan, Mandalay.
Tip: Minivans leaving to Bagan on the opposite road from the main station, and the driver will charge your 100 kyt on top of the fare for the middle man who shouting out for you when the van has arrived.
Tip: Your guesthouse can arrange the minivan pick up leaving for Pakukku based on the schedule. If you prefer to have a better seat, the city center is where the bus station.
How bad is the road to Mindat?
From Bagan, Mindat is about 153 km away and takes more than 5 hours due to road conditions. And counts in raining, and mechanical issues could take longer.
As of 2019, the road condition to Mindat is rough and bumpy. The road is cemented till the end of Mindat township, but serious maintenance is required. The driver has put on breaks on many occasions due to potholes and curvy roads. The road is not built on a cliff, blazing the inner mountainous ranges. Although it's climbing up high elevation, you don't feel it until you are near Mindat.
The road trip is eventful with villagers' bamboo-timber-made houses and farms. It's interesting to observe what do they grow in Chin State. The road traffic is rather quiet, almost nonexistent, compared to the other main highways.
Where to Stay?
Monica Guesthouse/ SeNaing Guesthouse
Monica is a very friendly, English-spoken owner. Basic amenities with hot shower, western toilet. The rooftop room has a panoramic view of the mountain ranges, and see the sunrise. The room price comes with breakfast. She could recommend guides but you have to negotiate. It's in the center of town, near all the shops and restaurants.
($40 for 2 pax double room 09442002645)
Victoria Guesthouse is a budget homestay in the town center with basic amenities.
Vakok Guesthouse
Hotel Mindat is about 20 minutes from the town center.
Tip: inform your driver of where you would stay, he will drop you on the way to town center.
Where to eat?
Myoma Restaurant

Mon-Sun
On the main street, easy to find. The menu serves Chinese, few Burmese, and western food. We ordered stir fry vegetables with black mushrooms and Cashew Chicken. If you have a special request, you should talk to the chef.
Hornbill Coffee Cafe

Mon-Sat 7 am – 6:30 pm
Crave for a cup of caffeine after a long trip? The view from the cozy cafe is breathtaking, coupled with latte or espresso made by locally sourced beans, has completed your trip to Mindat. As of 2019, it's the first cafe in Southern Chin State. The owner, U Mar Hung, and his wife sourced beans from farmers of the nearby villages and roasted themselves. And now he owned more than 1,000 trees on his farm.
Myaing Myanmar Restaurant


Serves traditional Burmese food.
C-Home


Serves traditional Burmese food and beverage. It's behind the vegetable market.
---
Going to Northern Chin?
Tips from Lonely Planet
If you're heading to northern Chin State, catch the minivan to Gangaw (back/front seat K8500/K11,000, six hours, 7 am), from where you can pick up another minivan to Kalaymyo in Sagaing Region (K8000, four hours, 8 am, 10 am and 2 pm), where there's transport into northern Chin State. The road from Gangaw to Hakha, the Chin capital, has been improved.
Aung Sithee jeeps leave for Kanpetlet (three hours) on Tuesday, Thursday, and Saturday at 7 am from an office next to Victoria Guest House (the guesthouse owner runs this company as well).
---
---