The Great Rann holds a special corner in every visitor's heart.
Rann is a salt marshland close to the border with Pakistan, inhabited by many communities. So often to see herbs of camels, buffalos, and goats crossing highway guarded by local women or men. During monsoon season, the desert is buried in water. The full moon in Rann is an exceptional beauty. Glitz deserted land under the moonlight.
Kutch Communities
The Kutch is home to diverse communities that still hold traditional occupations, and it is a biodiversity land. Some communities are differentiated through the color of clothing, jewelry, and tattoos. For instance, Rabari Women wear black clothes with embroideries with tattoos on arms and feet. The Jats are Islam followers and buffalo breeders that divide into several sub-communities. Ahir men dress in a white shirt, white turban (different style of wearing) white dhoti. However, you will find some communities like Koli, Vaghri, Vadi, etc. do not have their identity clothing.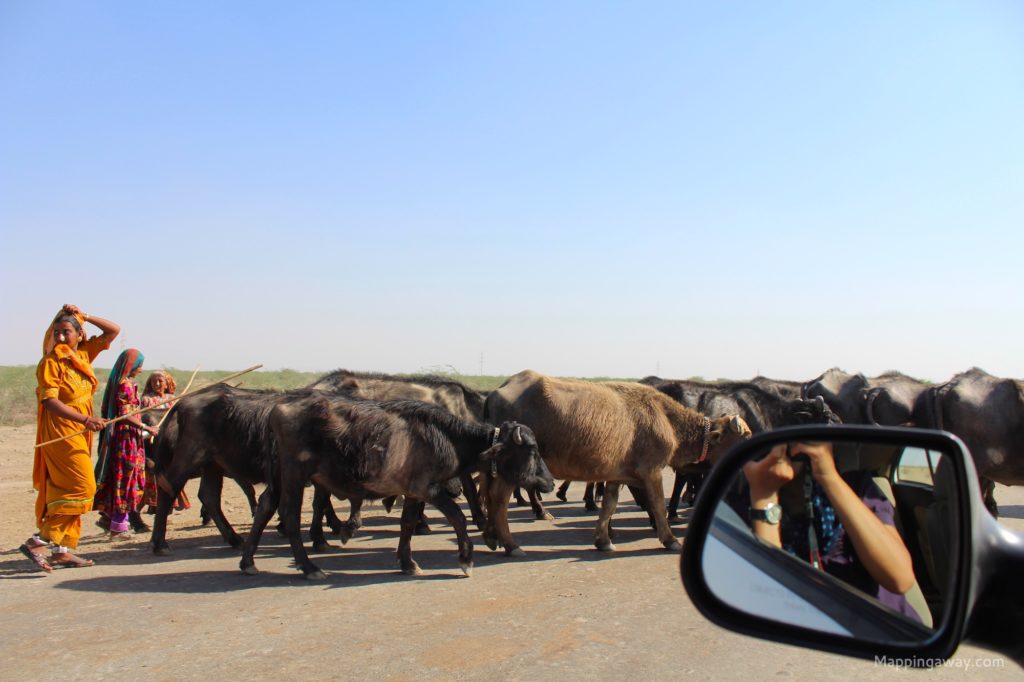 ---
5 Days Itinerary in and around Bhuj



---
Best Time to Visit
October to March are the best months to visit. In February, Kutch is burning hot. You have to carry sun protection.
April to June are the hottest months with temperatures that could ascend to 39 Celcius.
July to September's monsoon cool down the air a little bit.
How to Get Around?
Setting a travel base is important which determines what you will see and travel distance. I based in Bhuj and I hired a driver to go on a one day trip to the great Rann and the artisan villages.
Option 1: I'd recommend you to arrange a driver or guide for your trip to Rann of Kutch and Khavda, Hodka, and Nirona. It's a package on request. Experienced drivers know all the artisans' homes; you have to remind him if you want to visit some artisan centers. Usually, drivers' English is limited. I booked a driver with help from homestay to visit Lakhpat fort and Rann of Kutch about 2000 INR a day (civic). Each trip takes up a whole day.
If you're on a tight schedule, it would be better to move from destination to destination than setting a travel base. You will see more of the Gujarat coast.
Amazing Kutch Tourism +91 99747 33551
Laxmi Tours and Travels +91 94261 36955
Tip: It might take you several calls to get a driver for the next day. Book early.
Option 2: Scooter Rental from MK Auto
Permits
White Rann Permit Office
Carry a copy of your passport & original
On the Way to the Great Rann
Mohammed, my driver, picked me up in the morning at 8:30. On the way to Great Rann, we stop by Khavada village and a few tea shops. Mohammed made sure I tried the Mawa cake made out of boiling milk at Bhirandiyara. Great Rann is a heat-up oven in February noon.
Herds of camel, buffalos, and goats cross the freeway to the other side of the land.
Great Rann Festival is host every year in November. You would see dance, music, and many cultural events. It's very crowd.
Great Rann of Kutch
Walk barefoot on the salt marshland 🙂
If you like to have a unique experience, camels are for hire to go for a short walk.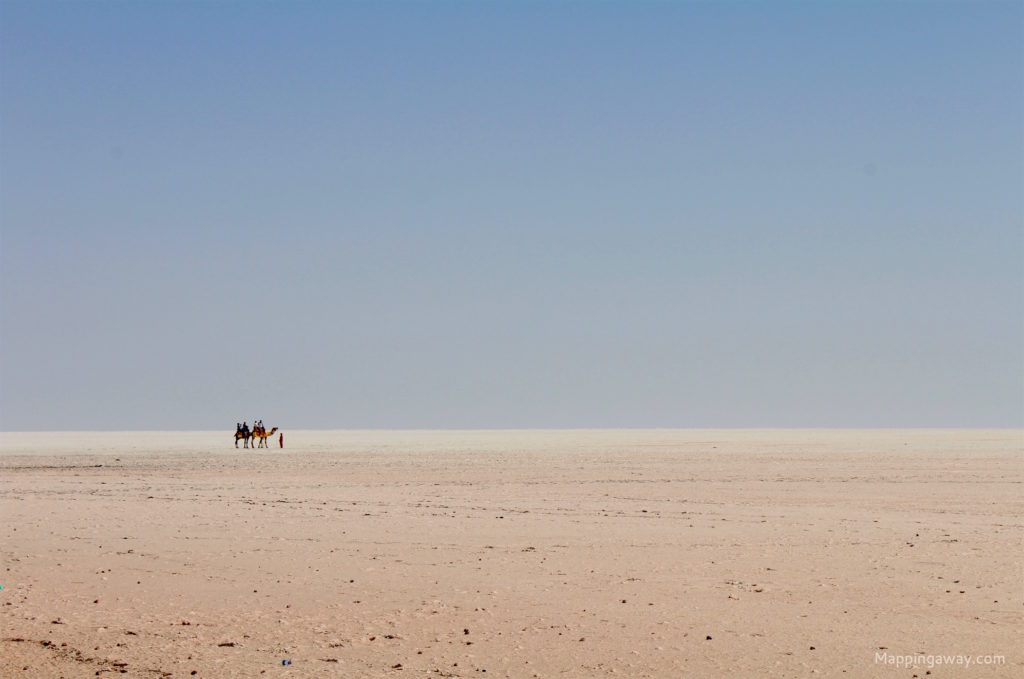 ---
Where to eat?
Local drivers know the best place. I was taken to a vegetarian restaurant in a hut, not far from the Great Rann. Delicious local meals.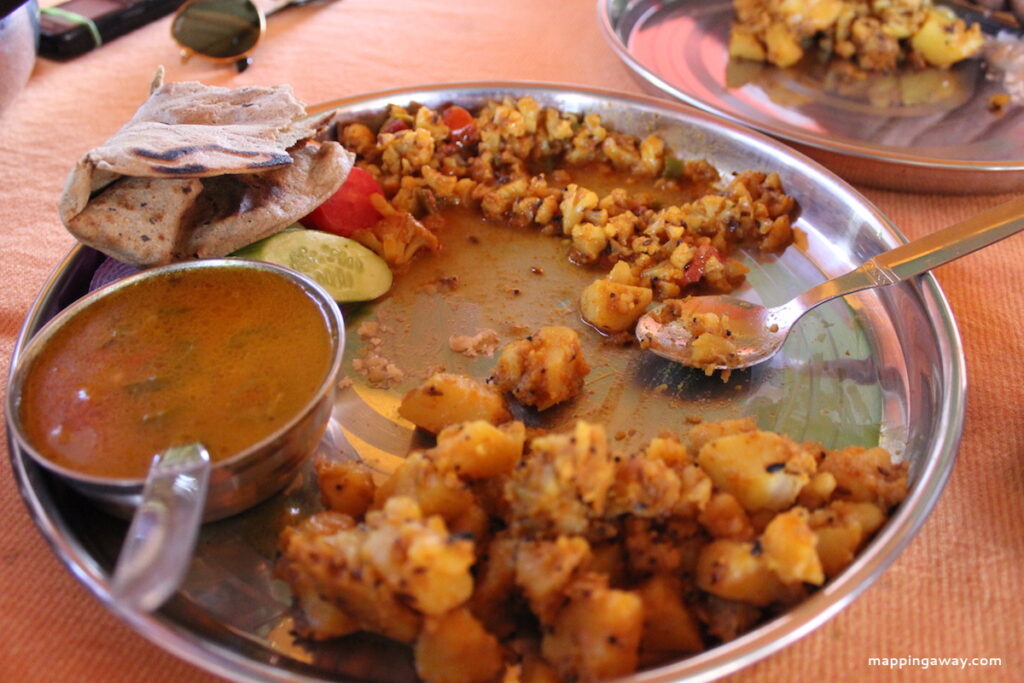 ---
Artisan Villages
Villages are like open art galleries. Artists work in an open-door studio. You can engage with them.
Sumrasar
Tana Bana
Khavda pottery/ Ajrakhpur
Bhilal Khatri – block printing
Damabhai Marwada – rug weaver
Nirona
Copper Bell
Rogan Art
---
Nature and Wildlife in Kutch
If you have more days to explore Kutch and a nature enthusiastist, remember to check out these places.
The Banni and Chhari Dhand are places to see migratory birds during monsoon.
Khadir Bet Flamingo City (surkhab nagar)
Experience Kutch Huts
Kutir Craft Village Resort operates traditional huts made of mud with colorful patterns in the interior If you come with a car, this is a place to stay away from the city for village experience. (+919879432076)
---
---