Mt. Kerinci is the highest active volcano mountain in Indonesia standing at 3805 meters, locates at Kerinci Seblat National Park, between the border of West Sumatra and Jambi. The volcano's last eruption was in 2013.
Mt. Kerinci clads in green foliage from neck to foot. The deserted apex drenched in ash-color. You can hear langurs and birds callings from the forest.
Mt. Kerinci hike is considered a difficult trek to the summit. Normally it takes 2 days and 1-night with camping in Pos 3. Hiring a guide and porter is usually preferred. They are hired to guide you through the slopes and to carry your camping gear and food. Pos 3 is below the volcano, where the camping ground is. Wind toss sulfur on our faces as the mist slowly move toward us.
---
Best Time to Visit
Wet Season October to March
Dry Season April to October
* Dry season receives a small amount of rainfall. Bring Poncho! Rain starts after 4pm on the mountain.
How to Get to Kersik Tuo?
Kersik Tuo, 1,400m elevations, is the nearest town to Mt. Kerinci. It takes 6 to 7 hours drive from Padang. The typical route is to fly to Padang then take a bus to Kersik Tuo.
Suggested Transportations
Option 1: Organize a private tour. They will pick you up from Padang airport.
Option 2: Safa Marwa

and Ayu Transpor

provide transportation to Kersik Tuo. Safa Marwa is a 7-passenger seat vehicle cost roughly 125,000 IDR per seat from the city or 175,000 IDR from the Minangkabau airport. Ayu Transport is a mini-bus cost roughly 100,000 IDR per seat, only pick up from the city.
Option 3: Rent a scooter and drive down to Kersik Tuo. This is what I did
Where to Stay in Kersik Tuo?
Kersik Tuo and towns nearby are no shortage of hotels and homestays. They provide basic amenities and cold water showers.
We stayed in Pelangi Guesthouse, the nearest stay by the entrance to Mt. Kerinci. The host Erna lives here with her two daughters and husband. They built a two-storey cabin amidst their coffee farm and garden. Four extra rooms are added for guest stays. Pelangi grows one of the finest coffee in the area. Fresh coffee for breakfast :). Rp. 440,633, +62 853-8270-3819
Homestay Paiman Rp. 100k for a single room and shared toilet, +62 853-7771-4011
Bintang Kerinci Hotel Rp. 320k
Homestay Family Kayu Aro +62 811-7405-150
Homestay Timan B +62 852-6484-7705
Guide & Porter
The general charge is $200 for two people. This price includes guide and porter fees, food and camping gears, transportation from the guest house to gate entrance, and national park ticket ($10).
Kerinci Mountain Tour offers 2 Days 1 Night and one night at a homestay for Rp 300k. Abd Rapani +6281271117133
Endatno Een +6285266266992
---
Day 1 Kersik Tuo
The surrounding areas of Mt Kerinci make the best place for tea and coffee plantation. The volcanic soil brings in distinctive flavor in the coffee. In fact, tea plantations started by the Dutch colonialist in the early 20th century, and the corporation has changed in several hands. Coffee is a newly introduced plant in the area in the last decade. So farmers are still adapting to the new crop based on the market. Water shortage is a serious issue faced by all farmers.
Farming and working in tea plantations are two of the main source of income here as well as tourist guides and porters.
What to Do Around Kerinci, Pelompek & Pesisir Bukit​?
Coffee Tasting
HT Arabica Coffee

is a family-owned coffee house and farms. The coffee in this area is different from Mt. Kerinci area. The farm is on Mt. Tujuh ranges.
Shelter Coffee

is a modern interior design coffee shop.
Pusako Coffee

is a coffee farm.=
Cafe & Souvenir Kopi Koerintji Barokah


Umah Kopi & Pitik

Villages
The other two towns next to Kersik Tuo are Lindung Jaya and Batang Sangir. On our first day, we toured almost every village around Kersik Tuo.
---
Other Hiking Sites in Kerinci Seblat National Park
Mt. Tujuh is an extinct volcano and a 4.5 km lake forms on the crater. It takes 3 hours each ascending and descending the mountain.
Ladeh Panjang is wetlands on the other side of Mt. Kerinci. Twin lakes are found in the marshlands. The area is home to tigers, tapir, and other primates.
Rawa Bento is a marshland at the end of Jernih Jaya village. Boats opt for hire sail on the river.
Belibis lake trek is fairly easy. The small lake lies at the foot of Mt. Kerinci.
The national park is home to Sumatran tiger and Sumatra rhinoceros. WildSumatra.com organizes an adventurer tour into the tiger's habitat in the jungle.
Exploring Kerinci Seblat National Park (Jambi Part) shares a 2 weeks trek around the national park. This post would be helpful for planning hiking to the surroundings.
---
Day 2 Trekking Mt. Kerinci
3805 Meters, active Volcano
Mt. Kerinci hike is considered a difficult trek to the summit. Normally it takes 2 days and 1-night with camping in Pos 3. Hiring a guide and porter is usually preferred. They are hired to guide you through the slopes and to carry your camping gear and food. Pos 3 is below the volcano. Wind toss sulfur on our faces as the mist slowly moving toward us.
It was Saturday when we began our hike. A handful of Malaysian tourists came for the weekend hike and dozens of locals met during the hike.
What to Pack?
Pack a few pieces of warm clothes, even in summer times, Pols 3's temperature is cold. I put on a Uniqlo thin thermal and a rain jacket. Torchlight is needed at night time and climbing the summit and toilet papers :). Sleeping bags and camping gears are provided by the porter. A neck tube scarf or any scarf would be extremely helpful for smokes while in the summit. At 3805 meters, the wind is strong. Some snacks and energy tablets come handy when you need.
Trekking Route
The route is clear on a good weather day. It could get foggy. Climbing the summit could be tricky. The park entrance to Pos 3 is about 6 hours' trek. Camping ground set in Pos 3.
Pols 1 to Pols 2
The bumpy road takes you to the entrance that surrounds by farming lands. From the entrance to Pols 1 is easy. You can hear the primate's callings but they are in no sight. Maybe if we started early, they could be spotted? The distance from Pols 1 to Pols 2 is a bit far and ascending the mountain slowly. You will find it still manageable.
Pols 2 to Pols 3
The famous squirrels live in Pols 1 come close to anyone with food. Take your break properly and take some snacks and energy drinks. Pols 2 to Pols 3 are moderate ascending. From Shelter 2 to Pols 3, the hollow forest pulls you into the intertwined vines. The path is a slope that has been washed by rain. It requires your hand and tree climbing skills.
Camping in Pols 3
We reached Pos 3 at around 4 pm. The rain caught up with us. The brilliant purple and orange sunset was shrouded in mist then hailed. Hailing at 3,000 meters is not that fun. No water stream or spring around the camping site. Our porter collected rainwater then boiled it. High level of sulphuric acid in the rainwater. Not really potable.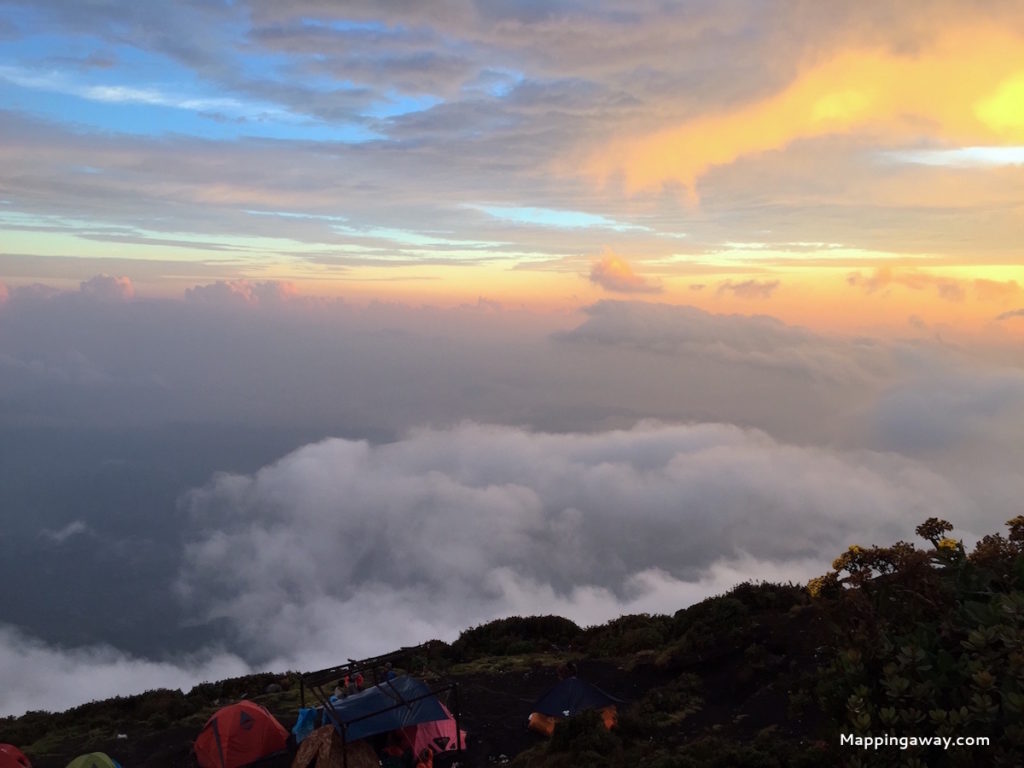 Summit
Woke up to the freezing and windy early morning at 3:30 am. Pols 3 to the summit is a 2-hours trek. Hiking in the dark at 4 am to the summit is difficult. The path is steep and no trees to hold. You have to bend down as you ascend. Volcanic rocks are mostly loose and rocky. In the dark, you have to grip on anything you can find. When you look back, a caravan of headlight from other hikers can be seen.
We were 20 minutes behind the sunrise. The strong smell of sulphur toss on your face, this means you are almost at the summit. Excited. Tired. The mouth of the volcano widely open and smokes puff from it. More than 20 of us carefully walking on the narrow path. The sun rises from the sea of clouds like a phoenix. Stunning view. If it is not a strong wind, it would be nice to spend an hour here.
Back to Pols 3
As you descend, you will find layers of ice on rocks. It tells the low temperature at night. There are many photograph spots other than the summit.
Descending to the Entrance
Descending is not as easy as climbing up. It's equivalent difficult as you put more pressure on your knees. We were out of water as well.
The next day we took rest in guest house. We walked like a robot :).
---
You can hike Mt. Kerinci without a guide. A useful post on the information you need to plan Hiking Gunung Kerinci Independently.
---
---