This scootering West Sumatra guide covers some major attractions. It takes you to numerous Rumah Gadang (traditional houses in West Sumatra), coffee farms in Solok and Kerinci, lakes, and hike the volcano Mt. Kerinci (3,805 m), and the picturesque paddy fields in Bukittinggi. You will find accommodation information and interesting pit stops on the road.
Vegetation grows 2km descending from the volcano drenched in sulfur rain. The 1400 meters coffee and tea plants breathe in the volcanic rocks. The narrow gorges pour into streams, turn fields into wetlands and fertilize paddy fields. Water buffaloes pull the farmers to plow the wet fields.
West Sumatra is for nature enthusiasts. We got to visit three other mountains, namely Mt. Talang and Mt. Merapi, and Mt Sogo. But we chose to hike Mt. Kerinci, considering the highest active volcano mountain in Indonesia. Mt. Merapi erupted in March 2020.
Sumatra is an island of rice, spices, tea, and coffee. Speaking of coffee, the famous Ache Gayo grows in the North, and in West Sumatra, Solok and Kerinci grow the most popular highland Arabica beans. Leave some space in your backpack to take them with you 🙂
---
11 Day West Sumatra Itinerary
Day 1 Arrive in Padang
Day 2 Solok & Muara Labuh
Day 3 Kersik Tuo
Day 4-5 Hike Mt. Kerinci
Day 6 Kersik Tuo
Day 7 Solok
Day 8-9 Bukittingi
Day 10 Bungus, Pandang
Day 11 Padang
Top Experiences
Walk to Paddy fields and listen to the wind whisper
Stay in a Rumah Gadang in Muara Labuh
Hike and spend a night in Mt. Kerinci, sleep under a sky of stars
Drive through tea plantations
Enjoy Minangkabau Cuisine
Best time to visit?
Wet Season October to March
Dry Season April to October
* Dry season receives a small amount of rainfall. Bring Poncho for the scooter road trip. We caught in rain several times.
Distance
Approximately 757.3 KM
Driving on the left side.
Route
Pandang – Muara Labuh (123km) – Kabupaten Kerinci (92.4km) – Solok (252km) – Bukittingi (89.1km)- Pariaman (100km) – Sigunturmuda 75.8km) – Padang (25km)
Where to Stay?
Pandang – Yani Homestay


This guesthouse has properties opposite from each other. They are clean and with basic amenities. The owner's service is exceptionally helpful.
Muara Labuh – Rita Homestay

RP 300k, +62 822-8875-6535
A very basic homestay and a friendly family who takes care of the house. It does not offer any hot water or amenities. It furnished with western toilets and simple mattresses.
Kersik Solo – Pelangi Guesthouse
Solok – Hotel Taufina

Rp300k plus Rp 50k for hot water
Bukittingi – Sumatra Ecoresort


Bungus Padang – Cavery Beach Hotel & Restaurant

What Scooter and Where to Rent?
Padang Yani Guesthouse can arrange if requested. We rode in a 125 cc Yamaha Mio S. Easy to handle and can have a pillion rider too. Rp 70000 ($4.7) /day
I heard Brigitte's Houses – Homestay & Backpackers also rents scooters.
3 – 7 Day West Sumatra Itinerary
You can recreate this guide to fit into your tight schedule and a rental car is recommended than a scooter.
Suggested Itinerary
3 – 4 Day Padang – Bukittingi or Harau Valley – Padang Itinerary
3 – 4 Day Padang – Mt. Kerinci – Padang Itinerary Itinerary
Optional stop at Muara Labuh
5 – 6 Day Padang – Solok – Bukittingi – Padang Itinerary
6 – 7 Day Padang – Mt Kerinci – Solok – Bukittingi – Padang Itinerary
6 – 7 Day Padang – Bukittingi – Muara Labuh – Mt Kerinci – Jambi Itinerary
About West Sumatra
Facing the Indian Ocean, West Sumatra is home to the Minang people, well-known for their bull-honed houses, food, and festivals. The famous dish Beef Rendang originated here, and the green and red chili sambals (sauces) are delicious. The rich culture has spread its proud cuisine across islands. Minang practices a matriarchy social system that traces the line through mother to daughter inheritance.
Siberut Island is home to the Mentawai people, notable for their primitive lifestyle. The island has caught up with the mainland, which has changed some of their living styles. This island attracts many adventurers. Sipura Island, North and South Pagai are popular surfing destinations
---
Day 1 Padang
Padang is West Sumatra's capital. It's the starting point for tourists to take ferry boats to Siberut, Sipura, and other islands.
How to Get to Padang by Flight
Flying in Padang is a convenient option that connects to other cities. Another international airport is in Pekanbaru, Riau. The night bus is available to connect to Padang and Bukittingi.
How to Get to Padang from Bukittingi
We took a daily van from Bukittingi to Padang (96km). We had already spent two days in the serene paddy fields of Bukittingi and returned there again in scooter. This is a circuit road trip.
We checked in Yani Homestay and rented a Yamaha Mio S 125 cc scooter from him. He has some selections. We rented one scooter for two people. We traveled with 30 liters backpack.
Tip: Get a sim card in airport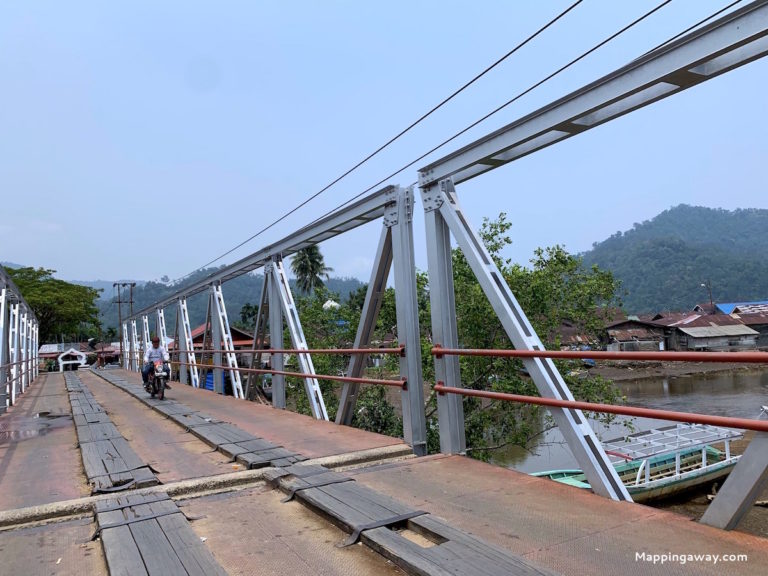 Where to Stay in Padang?
Yani Homestay

$9
Kokos Hostel


Riverside Hostel Padang

$20
---
Half-Day Tour in Padang Old City
Padang's old town is near the Batang Arau River where Chinatown is located and the dutch colonial building facing the river. In Chinatown, a row of shophouses that are built for living and trading. The 19th-century old temple is the community's center as well as the clan associations down the road.
Port of Muara used by the Dutch since the 17th century. Colonial buildings are on Jalan Batang Arau, some are abandoned or used as warehouses. Gedung Padangsche Spaarbank is a white building, palm trees grow on the porch.
Cross Siti Nurbaya Bridge to Padang Hill for a panoramic view of the Indian Ocean
Where to Eat in the Old Town?
There are so many restaurants in the old town, range from Chinese to burgers and pasta in cafes.
Drop by Weekend Cafe

to enjoy a cup of ice-cold coffee or a plate of any Asian cuisine. Modern interior design over a white-washed colonial building, this cafe serves a diverse menu on South East Asian food.
Craving seafood? Joni Kun Ikan Bakar Padang

is where you will get a nice grilled fish.
Coffee Shop Hopping in Padang
Young generation Indonesian Coffee enthusiasts take advantage of fertile Indonesia soil. Countable coffee shops in Padang. I'd recommend these two roasteries we went and tried.
Dua Pintu Coffee Roastery

is 8km from the Old Town, offers a traditional coffee selection and decent price-wise. They carry Solok, Kerinci, Ache, and some other places in Indonesia. ($6 for 200 gram)
Rimbun Espresso & Brew Bar Padang

is crowded by young locals. It also provides a traditional menu on coffee and few selections on fruity cold drinks. They have freshly roasted beans.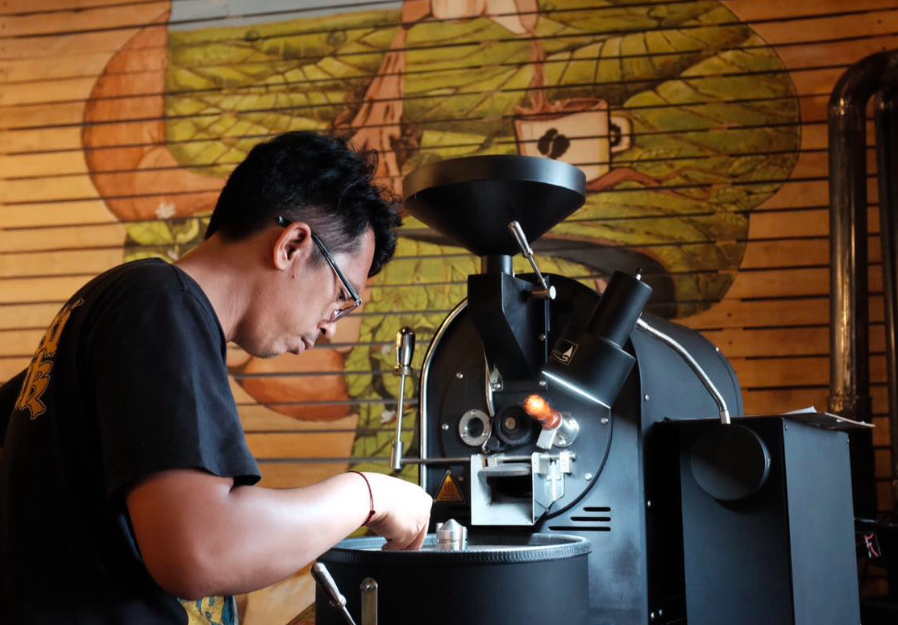 Dinner
Restoran Sari Raso


Resto Selamat

locates in the busy shopping area. They are known for beef rendang. The restaurant is an old style interior design.
Beach
The coastal Padang is a place for sand and beer under coconut trees. The beach in Padang city is a disappointment which is dirty and lack of maintenance. It comes to alive after sunset, many bbq vendors along the beach. Forty km from Padang, a popular Suwarnadwipa Beach isolated by road. No road connected to it. Resort and homestays offer boat transportation to their resorts. Around here, Sirandah Island is a gateway to a quiet vocation.
---
Day 2 Solok & Muara Labuh
127 kilometers
5 Hour Drive
Pit Stops View of Terrace Farming & Valley

, Kebun Teh Danau Kembar

, Kedai Tek Ris

, Lake Diatas

The trip begins from Jalan Padang Basi. We left Padang as early as 8:30 am to avoid traffic jams. If you want to drive along the beautiful coastal road, the distance is more or less the same to reach Kerinci town. We spent a night in Muara Labuh.
As the highway ascending, the air was refreshing but the trucks' CO2 was not helping, especially behind a truck. The roads are divided into two lanes and in good condition. Along the curvy road, many restaurants and temporary set up food stalls align on the side road, you will find plenty of simple roadside eateries for quick bite and drink. The temperature drastically changes after you leave Padang.
The road became interesting after it took a turn to Jalan Padang – Alahan Panjang. Into Mt Talang's foothill, traffics has reasonably reduced. The drive turned out to be a delightful and relaxing journey.
It is a long stretch through valleys and mountains. Before arriving at Lake Diatas, tea plantations and terrace farmings took over the landscape. The lush green valleys drew the border between Mt Talang. Village embraces in the forest-clad, where banana trees and paddy fields lead the way there. Some villagers prefer to live near the highway.
Pit Stops in Solok
Terrace Farming & Valley View
This is not the highest point for a panorama but on the main road. It's enough to admire the serenity of lush green and yellow-green terrace paddy fields and the mountain ranges. The village that owns this terrace farm is opposite of a tea factory. A long steep road takes you to the valley's lowest point. The view is not the same as looking from here :).
Kebun Teh Danau Kembar / Tea Plantation
A steep concrete road amid hills of tea plants takes you to the viewpoint. You can park your scooter and get into the tea plantations.
Kedai Tek Ris
This is a popular spot amongst local tourists. When we took a stop here, no sight of any tourists. Several food stalls around here serve quick food and tea and coffee. This spot is in the middle of the slope where one side is the hills of tea plantation and the other side is downslope. As mist chasing in, it's getting magical.
Lake Diatas
Two roads circuit the lake, Jalan Padang – Lahan Panjang is the busy highway and Jalan Lkr. Danau Datas is a slow and narrow road. Between these two, you can decide which one you prefer.
Lake Diatas and Lake Dibawah

are twin lakes in Solok. Lakes breath in the rainwater flows from the mountain slopes, as a basin in the plain.
Panorama Danau Kembar Atas Bawa

is 2 km from Jalan Padang – Lahan Panjang highway. Drive up there for the panorama view of the lakes.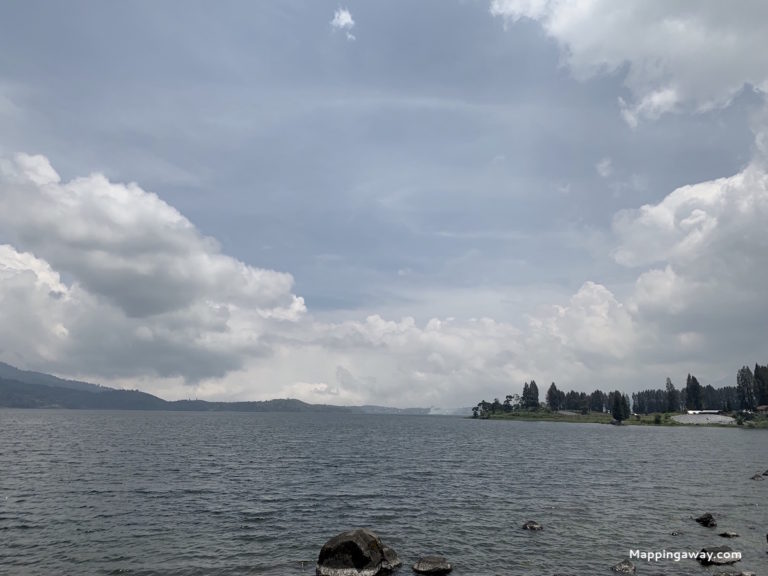 Continue on the Jalan Padang – Lahan Panjang, we stop by Danau Altas Resort

, built on the shore of the lake. The villa is somewhat abandoned, lack of maintenance. Few food stalls opened. This spot is for the view, not for coffee or food :). Tuscan Cypresses planted along the lake shores elegantly spread across farms.
After Lake Diatas, we made a couple more pit stops before we reached Muara Labuh at 4 pm.
Driving through the villages and paddy fields, we still got caught by the beauty of paddies. The serenity of the long leaves wave left and right as light breeze pass through.
The rain had caught up with us in Koto Park Gadang Diateh. During heavy rain, the hilly road is not ideal to drive on a scooter. In this situation, the roadside cafe came as a perfect shelter. It's a cozy shack set up by the river. The air was chill. The rain jacket came in handy now.
South Solok: Murah Labuh
Murah Labuh is a rumah gadang village. Some ramuh gadangs are on the main road but not a cluster of them. Rumah gadang is a traditional house of the Minangkabau people. The longhouse is one storey and home to close families. The distinctive character is the bull horn shape roofs. Colorful carvings on the exterior walls. Tucked in the quiet street behind the main road, a cluster of rumah gadangs are found in various sizes. Mostly are still occupied and few vacant.
Tasafaqo Game Kawasan Seribu Rumah Gadang

is where the cluster of rumah gadangs. A yellow-painted gate on your left side takes you to the back streets. Several traditional houses open to hospitality.
---
Homestay in Murah Labuh
Rita Homestay

RP 300k, +62 822-8875-6535
Homestay Mantari

+62 813-6568-6001
Where to eat in Murah Labuh
Many eateries on the main roads. They serval traditional Miang food. Dhapoer Iciak

is recommended by the homestay. Check for their daily made curry.
---
Day 3 – 6 Kersik Tuo & Mt. Kerinci
86 Kilometers
3 Hours Drive

Beyond the main road in Muara Labuh, narrow lanes take you to village homes in the paddy fields. Roads are bumpy and potholes everywhere. If you want to see the other side of Murah Labuh, it's an option to do 🙂 We took that road to our next destination, Kersik Tuo.
The road condition from Murah Labuh to Kersik Tup is fairly smooth and some traffic. Lesson learned from Day 2 that rainfall happens in the afternoon. We started around 8 am so we could make several more pit stops. It's so common farmers dry rice, coffee beans, and cinnamons on the roadside.
Breakfast in Coffee Farm
We took a detour into Jl. Bangun Rejo

where private coffee farms are found. If you plan to take the same road, you will find several coffee shops that have coffee farm views. This area attracts mostly local tourists.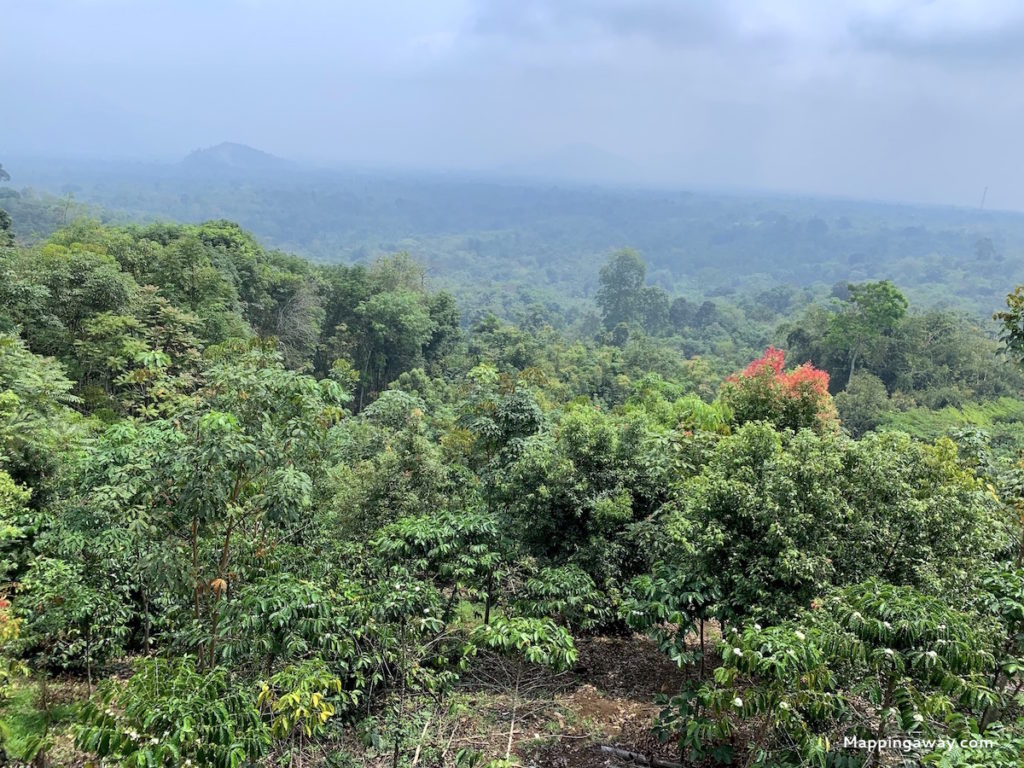 ---
Day 3 Kersik Tuo
Kersik Tuo, 1,400m elevations, is the nearest town to Mt. Kerinci, which is on the border of West Sumatra and Jambi. On 3,805 meters elevations, Mt. Kerinci is the highest active volcano in Indonesia. Mt. Kerinci clads in green foliage from neck to foot. The deserted apex drenched in ash-color. You can hear langurs and birds' callings from the forest.
It makes the surrounding areas the best place for tea and coffee plantation. The volcanic soil brings in distinctive flavor in the coffee. In fact, tea plantations started by the Dutch colonialist in the early 20th century, and the corporation has changed in several hands. Coffee is a newly introduced plant in the area in the last decade. So farmers are still adapting to the new corp based on the market.
Farming and working in tea plantations are two of the main source of income here as well as tourist guides and porters.
Kersik Tuo and around towns are no shortage of hotels and homestays. They provide basic amenities and cold water showers.
We stayed in Pelangi Guesthouse

, the nearest stay by the entrance to Mt. Kerinci. The host Erna lives here with her two daughters and husband. They built a two-storey cabin amidst their coffee farm and garden. Four extra rooms are added for guest stays. Pelangi grows one of the finest coffee in the area. Fresh coffee for breakfast 🙂. Rp. 440,633, +62 853-8270-3819
Homestay Paiman

Rp. 100k for a single room and shared toilet, +62 853-7771-4011
Bintang Kerinci Hotel

Rp. 320k
Homestay Family Kayu Aro

+62 811-7405-150
Homestay Timan B

+62 852-6484-7705
What to Do Around Kerinci, Pelompek & Pesisir Bukit?
Coffee Tasting
HT Arabica Coffee is a family-owned coffee house and farms. The coffee in this area is different from Mt Kerinci area. The farm is on Mt. Tujuh ranges.
Shelter Coffee

is a modern interior design coffee shop.
Pusako Coffee

is a coffee farm.
Cafe & Souvenir Kopi Koerintji Barokah


Umah Kopi & Pitik

Villages
The other two towns next to Kersik Tuo are Lindung Jaya and Batang Sangir. On our first day, we toured almost every village around Kersik Tuo.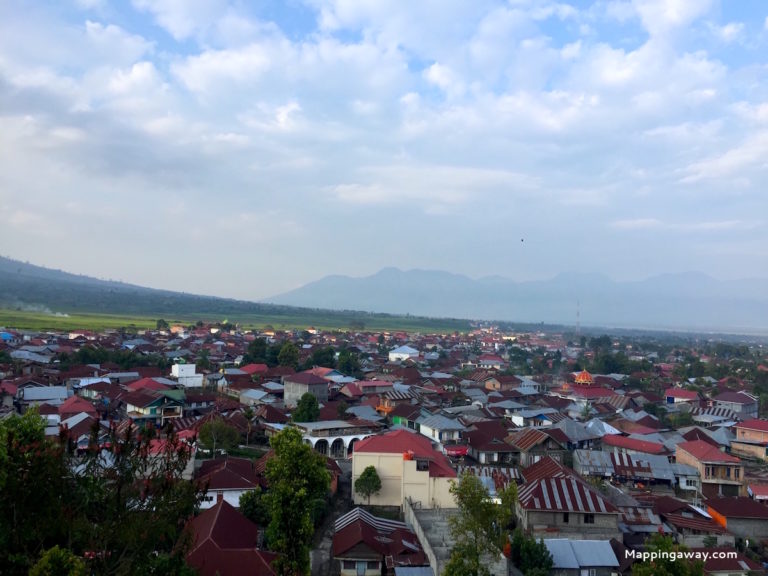 Other Hiking Sites in Kerinci Seblat National Park
Mt. Tujuh is an extinct volcano and a 4.5 km lake forms on the crater. It takes 3 hours each ascending and descending the mountain.
Ladeh Panjang is wetlands on the other side of Mt. Kerinci. Twin lakes are found in the marshlands. The area is home to tigers, tapir, and other primates.
Rawa Bento is a marshland at the end of Jernih Jaya village. Boats opt for hire sail on the river.
Belibis lake trek is fairly easy. The small lake lies at the foot of Mt. Kerinci.
The national park is home to Sumatran tiger and Sumatra rhinoceros. WildSumatra.com organizes an adventurer tour into the tiger's habitat in the jungle.
Exploring Kerinci Seblat National Park (Jambi Part) shares a 2 weeks trek around the national park. This post would be helpful for planning hiking to the surroundings.
---
Day 4 – 5 Hiking Mt. Kerinci
3805 Meters, active Volcano
Mt. Kerinci hike is considered a difficult trek to the summit. Normally it takes 2 days and 1-night camping in Pos 3. Hiring a guide and porter is usually preferred. They are hired to guide you through the slopes and to carry your camping gear and food. Pos 3 is below the volcano. Wind toss sulfur on our faces as the mist slowly moving toward us.
It was Saturday when we began our hike. A handful of Malaysian tourists came for the weekend hike and dozens of locals met during the hike. We reached Pos 3 at around 4 pm. The brilliant purple and orange sunset was shrouded in mist then hailed. A Uniqlo thermal was a savior. No water stream or spring around the camping site. Our porter collected rainwater then boiled it. High level of sulphuric acid in the rainwater.
Hiking Route
The route is clear. It could get foggy. Climbing the summit could be tricky.
The park entrance to Pos 3 is about 6 hours' trek. Camping ground set in Pos 3.
Pols 3 to the summit is a 2-hours trek. Hiking in the dark at 4 am to the summit is difficult. Volcanic rocks are mostly loose and rocky. In the dark, you have to grip on anything you can find.
You can hike Mt. Kerinci without a guide. A useful post on the information you need to plan Hiking Gunung Kerinci Independently.
Weather Condition
Even in dry seasons, the chances of experiencing rainfalls are high, by the time you reach Pos 2. Animals and bird spotting are less happened but echos of animal callings travel from distances.
Guide & Porter
The general charge is $200 for two people. This price includes guide and porter fees, food and camping gears, transportation from the guesthouse to gate entrance, and national park ticket ($10).
Kerinci Mountain Tour offers 2 Days 1 Night and one night at a homestay for Rp 300k. Abd Rapani +6281271117133
Endatno Een +6285266266992
---
Hiking Guide to Mt. Kerinci
Useful Information
Want to hike Mt. Kerinci without a guide? This guide on Hiking Gunung Kerinci Independently is useful for planning your own trek.
Only one ATM takes Visa. Carry extra cash in case the ATM does not work if you have only visa card.
---
Day 6 Rest in Pelangi Guesthouse
Our legs were sore and painful. We rest for a half-day in the guesthouse.
For the last day, we drove around small villages. Giri Mulyo village is on the other side of the tea plantation. Others are Sungai Jumbu and Sungai Kering.
Locally produced coffee is sold in Umyra Store

and other major supermarkets. The price range from Rp 35,000 to 50,000 for 250 grams.
---
Day 7 Solok City
187 km
6 – 7 hours
Pit Stops Solok Radjo

, Sungai Nanam

We began our journey after breakfast from Kersik Tuo to Solok city. Solok city is a transit city for many travelers. It was an unplanned stop because we did not want to drive further after 6 pm.
We arrived in the city in the evening and checked in at Hotel Taufina

for one night. We wanted a hot shower. We paid Rp300k plus Rp 50k for hot water :). Our pants were drenched in rain.
Solok Radjo
This co-op selected the best locally grown Arabic coffee beans. It's one of the coffee providers internationally. The beans taste spicy, citric, and earthy. Pop in this coffee shop to view the local productions and taste a fresh grin cup.
Jl. Raya Solok – Alahan Panjang
Instead of Jalan Padang – Panjang, we took Jalan Raya Solok-Araya Panjang. This road takes us through numerous villages and hilly farms. Sungai Nanam

and Payung Sekaki's

undulated hilly farms covered in white plastic and onion shoots that swaddled in mist. The road was mainly for scooter drivers.
Where to Eat in Solok City?
RM Simpang Rumbio

offers varieties of Minang food, like Beef Pandang, and curries.
Rumah Gadang in Solok
---
Day 8 Bukittingi
76 km
3 hours
Pit Spots Rumah Gadangs in Tanah Datar

, Pariangan

, Lake Singkarak

, Terrace Farm View

Bukittingi is a popular destination for paddy field landscapes. As the third-largest city in West Sumatra, transportation by road to the city is well-connected. The closest airports are in Padang and Pekanbaru. I'd recommend fly to Padang then take a 2 hours minibus to Bukittingi. Built on the highlands, it overseas the striking Sianok Canyon. Enveloped in the canyon, spring water is not in shortage and suitable for growing rice.
During the 19th century, the Dutch established a small fortification on the hill of Bukittingi. Colonial buildings are still seemed around the town, given Jam Gadang is the icon from the era.
Where to Stay in Bukittingi?
We had stayed in two different ranges of ecolodges during our two-times visit. These two have similar characters. They both built-in one to two storey rumah gadangs with thatch roofs, and open-air toilets. The main attraction is they are outside of the town, secluded in serene paddy fields and mountains. The downside is you need transportation to commute around.
Padi Ecolodge Cafe n Resto

$30
Sumatra Ecoresort

Pit Stops
Jalan Utama Saniangbaka
Instead of carrying on Jalan Raya Solok – Alahan Panjang that circled Lake Singkarak

, we chose to ride on the quiet side of the lake, Jalan Utama Saniangbaka. If you are looking for sightseeing points, Jalan Raya Solok – Alahan Panjang offers more recreational places.
Lake Singkarak
The way from Solok City to Bukkitinggi, too many rumah gadangs to be counted. Colorful carvings on rumah gadangs made them the best photo spots. Villages and towns are connected that do not even notice the border between regencies.
Terrace Farm View

has one of the best views of terraced paddy.
Pariangan
This is the oldest Minangkabau villages according to local legend. The best way to explore the village is on foot. Park your scooter by the tourism office. The mosque is the community center.
Before you get to Pariangan, stop by Kelok S Pariangan

to view the terraced paddy and get a fresh coconut from a lady vendor on the road side, 100 meters from this spot.
On the foothill of Mt. Merapi, local villagers gain wealth by growing cinnamon, coffee, and rice in the fertile soil.Surrounded by terraced paddies, several tourist attraction spots for panoramic views of the valley. Puncak Mortir

and Aia Turun

is on different sides of the hill that has a breathtaking view of the valley. Puncak Kawa Gudester Pariangan

is on the slopes that serves banana fritters and coffee leaves drink. That's an interesting drink, neither taste like tea nor coffee.
If you are interested in architecture and culture, Batusangkar

is the capital of Tanah Datar and 13 km away. Pagaruyung Palace is a magnificent rumah gadang.
---
Day 9 What to Do in Bukittingi
Outskirt of the town is great to spend 2 to 3 days in Bukittingi. The bustling town center is crowded with heavy traffic.
We were worn out. Swaddled in mountains, a river, and the canyon, Sumatra Ecoresort is 8 km from Bukittingi town. While having breakfast in the common area, a rooster cockerels for morning calls and male ducks quack from day to night as the females are incubating in the garden. This ecoresort is also a cafe that attracts many young locals and tourists. You can order a cup of specialty coffee 🙂 and walk in the grassland garden.
It's very quiet at night. The cafe closes at 6 pm, so you have to eat in nearby restaurants.
More Days in Bukittingi? Harau Valley is another picturesque paddy valley, 51 km from Bukittingi. Two or 3 days are enough to be here.
Morning
If you are a fan of lakes, the ride to Lake Maninjau takes you through towns, villages, and farms. The town's livelihoods are based on fishing and farming around the lake. Accommodations are available in town. It'd be nice to stay for one or two nights.
Tip: ATM does not accept Visa card and not anywhere around :). Only banks in Bukittingi accept visa cards.
Driving back from Maninjau, stalls sold durians on the roadside. It was very sweet and creamy. Give it try :). I finished all by myself.
Afternoon
Then drive to Bukittingi town. Two of the main attractions are the Limpapeh Bridge, which takes you from Fort de Kock to the Bukittinggi Zoo, and the clock tower, Jam Gadang. From the clock tower square, it overlooks at the Sianok Valley

.
On the weekend, the town fills with local tourists. Shops set up near the clock tower and many snacks :).
We never had dinner in town since staying outskirt. Restaurants near the river are popular among young people. It's the dating spot.
Dinner
Bebek Penyet from Batang Aia Lesehan

is a mouthwatering dish. Green chili sambal mixed with the fried duck meat. The restaurant is on the riverside. Bring mosquito repellent.
Several restaurants near Sumatra Ecoresort, walk to the main road. They are neighborhood restaurants. There's one owned by a woman opposite from a convenience store.
---
Day 10 Bungus, Padang
68.7 Km
2 Hours
Pit Stops Pariaman City

, Pantai Air Manis

,
We left Bukittingi after breakfast. The next stop is Pariaman City. It was once an internationally important port in the 17th century involved in pepper trading. Today, Pariaman is a quiet beach town with 83,000 populations lives here. This town attracts many local tourists to come on buses.
There are several ways to connect to Pariaman City. We took the busy West Sumatra Highway. Trucks of goods and cars speed by us. I'd recommend taking the Jalan Sicincin – Malalak – Balingka

, it's only 4 km more.
Local tourist attraction points on this road are Jembatan Kamba

and Lembah Anai Waterfall

.
Two Hours in Pariaman City
We straight to the beach and got a fresh coconut :). Wandered on the beach.
Boatmen offer rides to Pulau Angso Duo

if you decided to spend more time in Pariaman.
Stop by RM Salero Baru

for nasi Padang (rice with the mixed dish).
Bungus, Padang
We explored the coastal along Padang. Passing the Siti Nurbaya Bridge, many coffee shops on the roadsides favorite by the locals. They offer a great view of the ocean. We made a stop at Warung Lesehan Lucky

for refreshment.
Where to Stay
Cavery Beach Hotel & Restaurant

Rp 550,000
It's on the main road. The hotel faces the sea and a small beach just a step away from cottages. The hotel is lacking maintenance. Breakfast serves in fried rice and toast.
---
Day 11 Coastal Drive & Padang
Half-Day Drive along the Coast
We drove through Taluak Kabuang Tangah on a new paved coastal road. Only a handful of scooter drivers drove by. Our flight was on the next day. We drove back to Padang to return our scooter to Yanni Homestay and stayed there for one night.
Everywhere seems like worth a pit stop along the coast. You can return to Padang anytime you like.
Pantai Air Manis

is a popular local attraction. When it's low tide, you can walk to the isle.
Puncak Paku

is a beautiful point for an ocean scene. Ascending the road till you see a blue screen appears.
This nice road takes you to panorama view.
---
Packing Essentials
For Hiking Kerinci, pack long sleeves shirt, jacket/waterproof jacket, and hiking shoes and hiking sticks are optional. A daily backpack would be helpful to carry your essentials up the mountain. The elevation of Kersik Tuo is 1400 meters; it is chill in the morning and evening.
Even driving in the dry season, rains occasionally come. Lightweight and easy dry outfits are best for this. And durable poncho and a waterproof jacket are recommended. You can throw in a pair of sandals and running shoes.
A lightweight sleeping bag for fuss-free nights if you are allergic to dust mites. Some homestays and guesthouses' bed covers could cause skin irritations.
Last but not least, a good rain cover for your backpack. It helps a lot to not get your clean clothes wet.
Gas Station / Petramini
There might not be a gas station in every town or village. You will find Petramini everywhere. It is unofficial gasoline kiosks with dispensers and costs Rp 6,450 (48 US cents) per liter.
---