Solok Regency is one of the most scenic places in West Sumatra. It's worth to spend 1-day making pit stops.
Solok is known for tea and coffee plantations. Solok Radjo coffee beans are one of the most sought for internationally. Tea plantations scattered on both sides of the road around the Solok Regency.
Murah Labuh is a village with more than 1,000 of rumah gadang. Some ramuh gadangs are on the main road but not in a cluster. Rumah gadang is a traditional house of the Minangkabau people. The longhouse is one storey structure and home to close families. The distinctive character is the bull horn shape roofs. Colorful carvings on the exterior walls.
This is part of 11 days scootering West Sumatra trip. Self-driving or hire a driver is the best way to explore this area.
---
Things to do
The road became interesting after it took a turn to Jalan Padang – Alahan Panjang. Into Mt Talang's foothill, traffics has reasonably reduced. The drive turned out to be a delightful and relaxing journey.
It is a long stretch through valleys and mountains. Before arriving at Lake Diatas, tea plantations and terrace farmings took over the landscape. The lush green valleys drew the border between Mt Talang. Village embraces in the forest-clad, where banana trees and paddy fields lead the way there. Some villagers prefer to live near the highway.
Terrace Farming & Valley View
This is not the highest point for panorama but on the main road. It's enough to admire the serenity of lush green and yellow-green terrace paddy fields and the mountain ranges. The village owns this terrace farms is opposite of a tea factory. A long steep road takes you to the valley's lowest point. The view is not the same as looking from here :).
Kebun Teh Danau Kembar / Tea Plantation
A steep concrete road amid hills of tea plants takes you to the viewpoint. You can park your scooter and get into the tea plantations.
Kedai Tek Ris
This is a popular spot amongst local tourists. When we took a stop here, no sight of any tourists. Several food stalls around here serve quick food and tea and coffee. This spot is in the middle of the slope where one side is the hills of tea plantation and the other side is downslope. As mist chasing in, it's getting magical.
Lake Diatas
Two roads circuit the lake, Jalan Padang – Lahan Panjang is the busy highway and Jalan Lkr. Danau Datas is a slow and narrow road. Between these two, you can decide which one you prefer.
Lake Diatas and Lake Dibawah

are twin lakes in Solok. Lakes breathe in the rainwater flows from the mountain slopes, as a basin in the plain.
Panorama Danau Kembar Atas Bawa

is 2 km from Jalan Padang – Lahan Panjang highway. Drive up there for the panorama view of the lakes.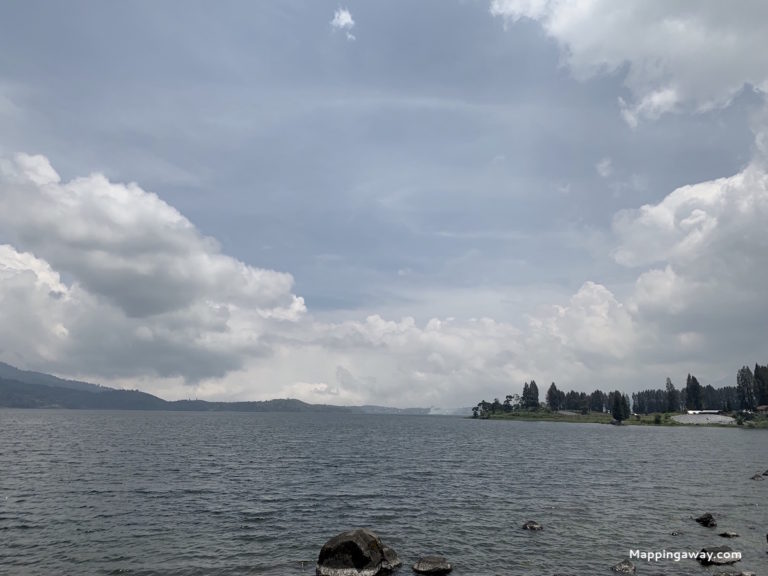 Continue on the Jalan Padang – Lahan Panjang, we stop by Danau Altas Resort

, built on the shore of the lake. The villa is somewhat abandoned lacks maintenance. Few food stalls opened. This spot is for the view, not for coffee or food :). Tuscan Cypresses planted along the lake shores elegantly spread across farms.
After Lake Diatas, we made a couple more pit stops before we reached Muara Labuh at 4 pm.
Driving through the villages and paddy fields, we still got caught by the beauty of paddies. The serenity of the long leaves wave left and right as a light breeze pass through.
An incident happened. A truck's tire stuck in the mud as it attempted to make a turn. It created long traffic and we had to drive through the mud to get out of the situation.
The rain had caught up with us in Koto Park Gadang Diateh. During heavy rain, the hilly road is not ideal to drive on a scooter. In this situation, the roadside cafe came as a perfect shelter. It's a cozy shack set up by the river. The air was chill. The rain jacket came in handy now.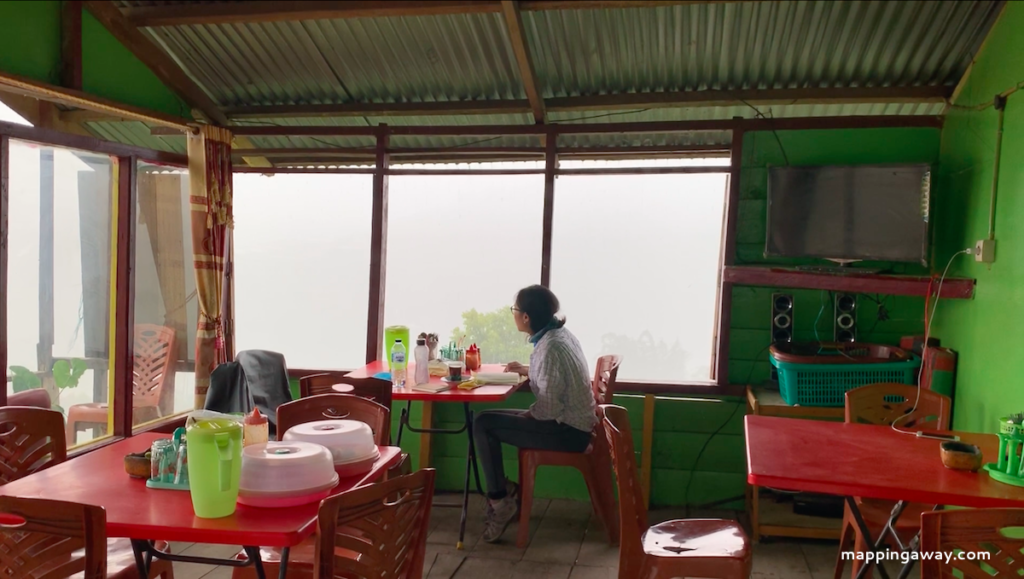 ---
Explore Murah Labuh
Tucked in the quiet street behind the main road, a cluster of rumah gadangs are found in various sizes. Mostly are still occupied and few vacant. Spend one hour here and walk around.
Tasafaqo Game Kawasan Seribu Rumah Gadang

is where the cluster of rumah gadangs. A yellow-painted gate on your left side takes you to the back streets. Several traditional houses open to hospitality.
To explore another part of Muara Labuh, take narrow lanes to the backroad, where you would see village homes in the paddy fields. Roads are bumpy and potholes everywhere. If you want to see the other side of Murah Labuh, it's an option to do 🙂 We took that road to our next destination, Kersik Tuo.
The road condition from Murah Labuh to Kersik Tup is fairly smooth and some traffic. Lesson learned from Day 2 that rainfall happens in the afternoon. We started around 8 am so we could make several more pit stops. It's so common farmers dry rice, coffee beans, and cinnamons on the roadside.
Breakfast in Coffee Farm
We took a detour into Jl. Bangun Rejo

where private coffee farms are found. If you plan to take the same road, you will find several coffee shops that have coffee farm views. This area attracts mostly local tourists.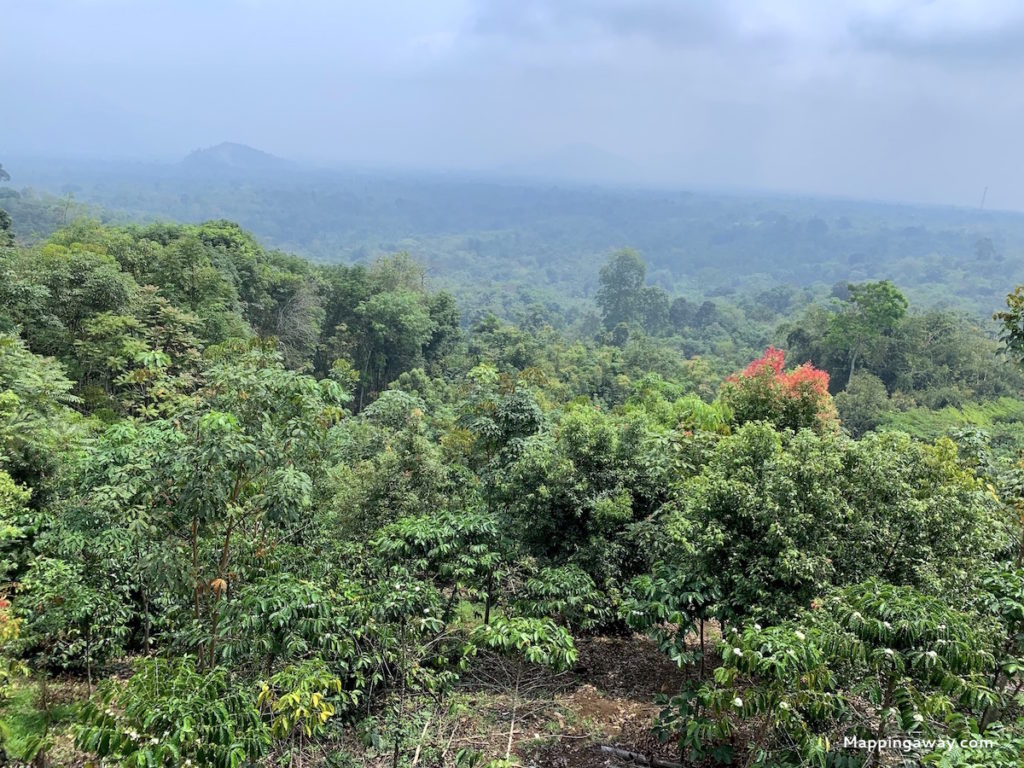 ---
Homestay in Muara Labuh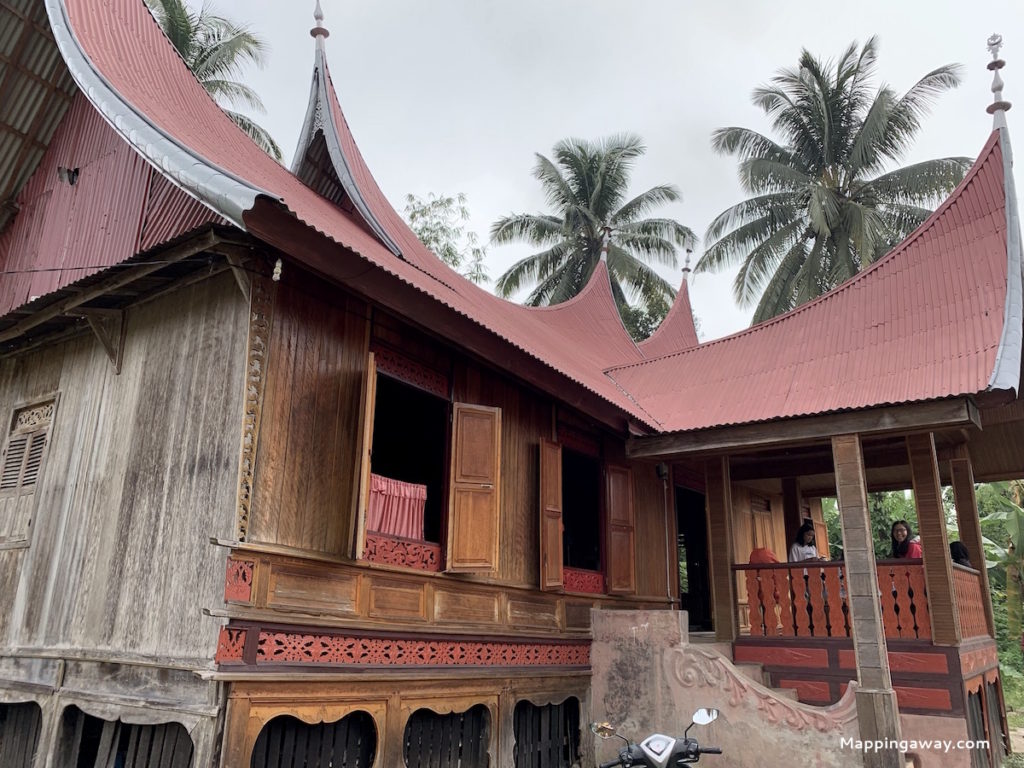 A unique experience to stay in one of these rumah gadangs. Finding a homestay in Murah Labuh is not difficult, the Google map has left many out.
They don't advertise their properties. When you walk around the village, the plaque of homestays is on walls or doorways.
Homestays are simple, might not come have hot water or suspension mattress. Call them for reservations
Rita Homestay

RP 300k, +62 822-8875-6535
A very basic homestay and a friendly family who takes care of the house. It does not offer any hot water or amenities. It furnished with western toilets and simple mattresses.
Homestay Mantari

+62 813-6568-6001
Where to Eat in Muara Labuh?
Many eateries on the main roads. They serval traditional Miang food.
Dhapoer Iciak

is recommended by the homestay. Try their daily made curry.
---