Pariangan is on the slopes of Mt. Merapi, local villagers gain wealth by growing cinnamon, coffee, and rice in the fertile soil. There's the oldest Minangkabau village according to local legend. The legend tells that Nagari Tuo Pariangan is the ancestral village of the Minangkabau people. It's enveloped in a valley. This is Nagari Tuo Pariangan, locates in Tanah Datar, 37 km from Bukittinggi and only 14 km from Batusangkar, "the city of culture."
A Comprehensive Guide to West Sumatra
---
Explore the Village on Foot
Surrounded by terraced paddies, there are several tourist attraction spots for panoramic views of the valley. The best way to explore the village is on foot. Park your scooter or car by the tourism office. The mosque is known as Ishlah Mosque, is the community center where the hot springs at. Some rumah gadangs painted the houses in vibrant colors, and one rumah gadang's exterior made of rattans in deteriorating condition.
Before you get to Pariangan, stop by Kelok S Pariangan

to view the terraced paddy and get a fresh coconut from a lady vendor on the roadside, 100 meters from this spot.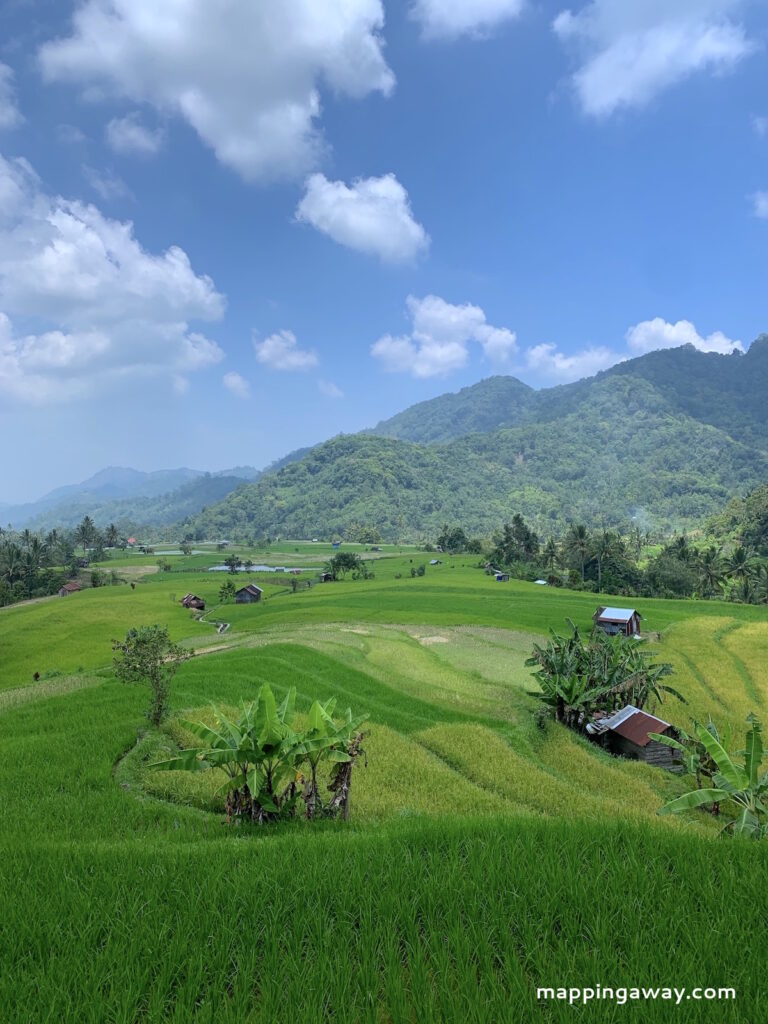 Puncak Mortirand

and Aia Turun

are on different sides of the hill that has a breathtaking view of the valley. Puncak Kawa Gudester Pariangan

is on the slopes that serves banana fritters and coffee leaves drink. That's an interesting local drink tastes neither like tea nor coffee.
If you are interested in architecture and culture, Batusangkar

is the capital of Tanah Datar and 13 km away. Pagaruyung Palace is a magnificent rumah gadang.
---
---