Lotus weaving is a cultural heritage to the Inle Lake. The weaving factories are built on floating houses. The floating villages Kyaing Khan and Inn Paw Khon villages are the main lotus fabric weaving center in Myanmar.
The pure lotus fabric is earthy color, and it blends with silk or cotton to create new products. Lotus fabric is one of the most expensive textiles. It is time-consuming to extract lotus fibers from its stems and requires high skills, for instance, a small scarf needs around 4,000 lotus stems and takes around one month to finish.
Lotus has a long history of cultural significance in Buddhism. For the weavers, pure lotus robes are highly regarded as sacred and holy offerings to monks. Donating the lotus robe to the monastery is an implication of meritorious deeds in the Buddhist practice.
The story begins in the early 20th century, a woman named Daw Sar Oo from Kyaing Khan Village was the first lotus weaver in Myanmar. Her fabric was made into a robe as an offering to Sayadaw (abbot) of a nearby monastery. She also made a living from lotus weaving. The technique almost died out after she passed away. The skill was revived by Daw Sar Oo's relative. The tradition of making a lotus robe is an annual offering to Phaung Daw Oo Pagoda during the November festival. The lotus robe takes 3 to 5 kg of raw lotus fiber, around 200,000 lotus stems, and take 20 to 45 days to weave.
In the last few decades, lotus weaving is not only restricted to robe-making, lotus scarves, and shirts are the new products. Lotus fabrics are available in pure lotus or weaved with silk or cotton. The shawl price range from $135 to $1,000 from small to large respectively for pure lotus. It could cost $600 for a mixed lotus and silk shawl.
Kyaing Khan and Inn Paw Khon villages are centers for lotus weaving. Khit Sunn Yin Lotus, Silk, and Cotton Hand Weaving Center, Ko Than Hlaing Silk, and Lotus Weaving, and Nang Mya Oo, Mya Set Kyar Lotus, and Silk Fabric, etc. are a few of the weaving factories in Inn Paw Khon village. In Kyaing Khan village, there is Ko Phoe Thar Htoo weaving house. When you visit any of these factories, a demonstration of extraction, spinning yarn, and weaving are demonstrated to visitors.
Inle Lake cannot provide all the lotus stems due to the high demand for lotus fabric from the international market. Lotus stems are sourced around the country, like Wetthe Lake and Inma Lake. After it's harvest, Lotus stems are soaked in water for two nights, and all thorns are wrapped off. And they are also wrapped in a water-soaked towel to prevent them from drying. The stems are cut off into small pieces to draw the fibers. The lotus fibers draw from the stem into a tiny spider thread. They are rolled-up into a thick thread then placed in the sun to dry. As you walking in the hallway of the floating fabric factory, the lotus threads are drying in the sun. The threads are spun with the traditional spinner to get the reel. The end product of a raw lotus scarf is
---
Spinning Wheel
---
How to visit lotus weaving villages?
Hotel and guesthouse organize handicraft village tours. The tour includes lotus weaving, silver making, and tobacco making. It costs about $25 for a day trip. If you have any requests, talk to the boatman.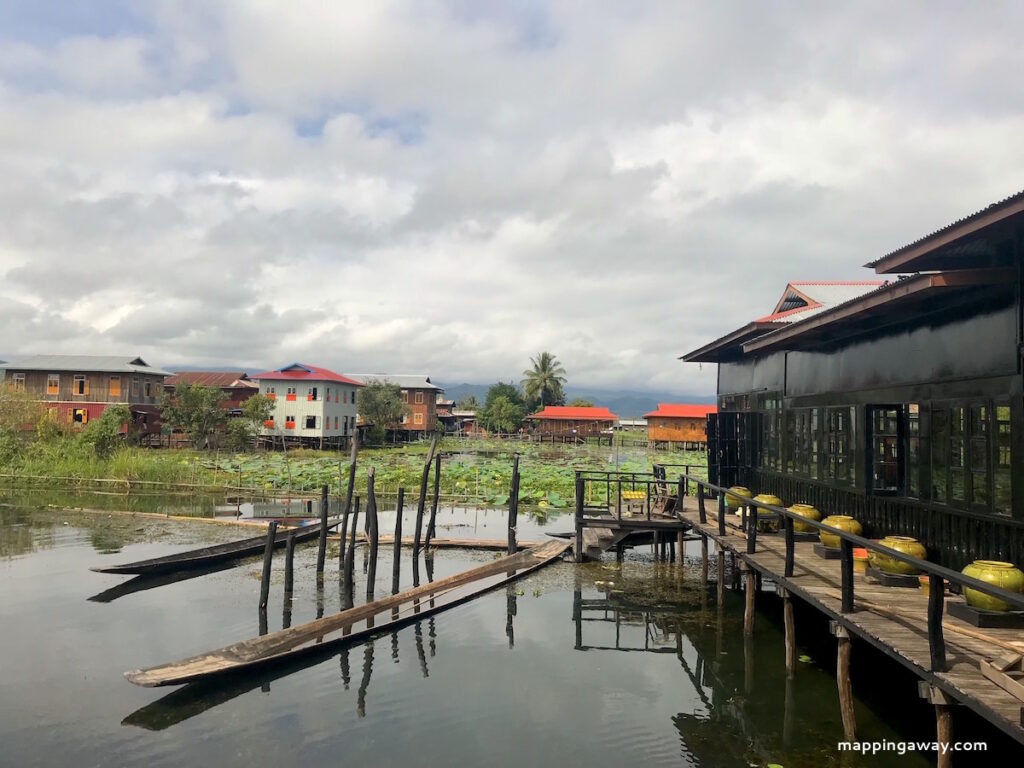 ---