A 10-day itinerary gives a glimpse into the country's diverse cultural landscapes and remnants of decades of conflicts.
Traveling by trains in Myanmar is a slow journey crossing scenic countrysides and observing livelihoods that depend on railways. In general, railway service is poor with aging passenger coaches and locomotives. Built by the British in 1877, the narrow-gauge 3 ft 3 3⁄8 in" railway has not been updated since, and trains cannot run fast on narrow-gauge, and if it does, it is bumpy rather smooth. At one point I thought my train is about to derail. Don't freak out when your train flies in the air.
Myanmar stands out as one of my favorites countries in the region. Most part of the country is safe for solo women travelers as I did this trip solo and did not encounter harassment. Make sure to check updated information if you intend to travel to conflict areas.
Fact: 111 languages are spoken in Myanmar
You might be interested in 2 days in Mindat: Face Tattooed Women & Katha: The Town that Inspired 'Burmese Days'

---
Itinerary
Day 1 Yangon to Mandalay 4 pm night train
Day 2 Arrive in Mandalay at 6 am
Day 3 Mandalay to Myitkyina 11:30 am train
Day 4 Arrive in Myitkyina at 11 am
Day 5 Day Trip to Irrawaddy Confluence in Kachin State
Day 6 Myitkyina to Naba from 8:30 am to 4 pm train
Day 7 Naba to Katha 7:30 am train
Day 8 Katha
Day 9 Katha Town
Day 10 Yangon
Best Time to Visit
October to March is dry winter, considered the best time to visit. Noon in Bagan and Mandalay are hot.
Monsoon season begins in May, last till August, even in October, light rainfalls in central and southern states.
Warm clothes are strongly recommended. The first-class train is not air-conditioner carriages, windows are widely opened, even it's closed wind finds its way into the carriage. It's bizarrely cold. Passengers travel with thick-blankets. I visited Myanmar in mid-January, Mandalay's morning and evening are pleasant but Myitkyina is slightly cold.
Getting Around Myanmar
Myanmar Railways don't have a website. Book ticket a few days before departure or buy it early morning on the departure date for first class. For this trip, I did not pre-book tickets. I walked to the station's ticket counter a few hours prior to train departure. There is always a seat :). I did not try the sleeper class. Standard sleeper is a four-berth and two-berth compartments available on Yangon to Mandalay and Mandalay to Myitkyina requires advance booking. Special sleeper which is self-contained compartments only available on Yangon to Bagan.
On an overnight train, food can be ordered from the train staff. Many vendors jump in and out each station selling packed dinner, quail eggs, bamboo rice, and snacks, water, etc. On the train from Mandalay to Myitkyina, vendors offered the best food options, including banana leave fish, and lunch boxes.
Tip: Travel with a roll of toilet paper, hand sanitizer or wipes, warm clothes, and a power bank for a pleasant journey.
Tip: Visit Seat61 for train details and schedules.
Travel by Bus. Buses connect major cities. Several bus companies offer comfortable seats. The overnight buses operate in main cities. Overnight buses usually give water and blanket, and most buses have a toilet.
Myatmandalartun goes to Mandalay, continues to Myitkyina or Lashio
Mandalar Minn Express
Bus Booking: Easybook, MyanmarBusTicket, MMbusticket
Visit Flymya.com for bus and flights booking, and car rent
Where to stay?
Mandalay: Celia Hostel Mandalay $11 // 4 pax female dormitory
Myitkyina: YMCA $10 (Very basic amenities: bucket shower & shared toilet)
Katha: Hotel Katha $10
Yangon: Lil Yangon Stay $12

---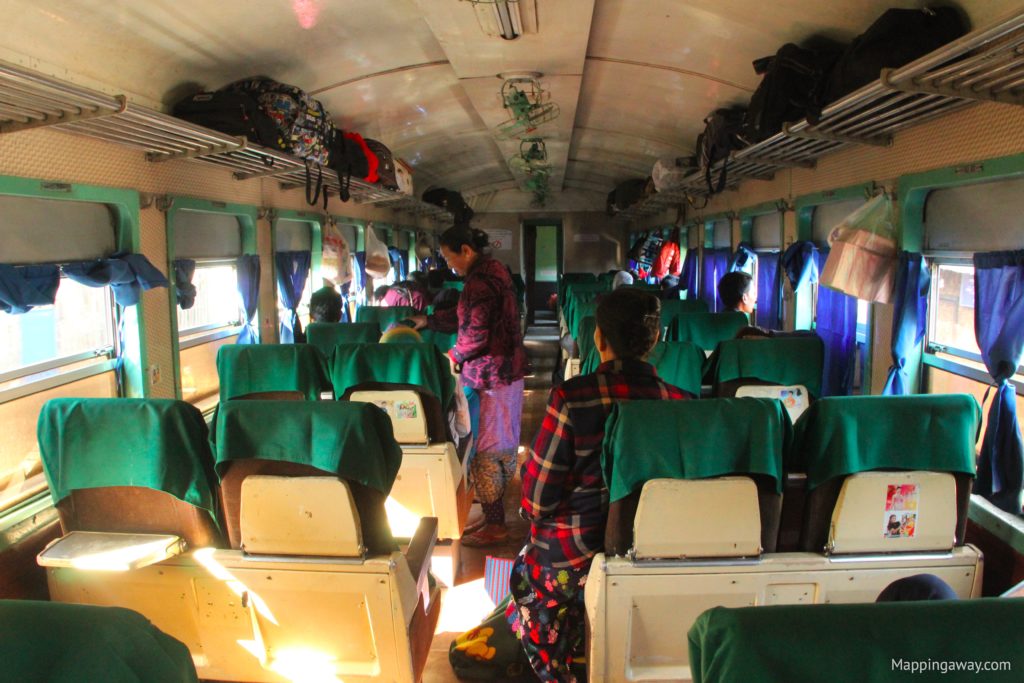 ---
Arrive in Morning
If you plan to take the 4 pm train from Yangon to Mandalay, most likely at 6:30 or 7 am train arrives in Mandalay as if it is on schedule. The city planning of Mandalay is straight forward by naming most streets by numbers.
Opposite from the train station, cross pedestrians to 30th street, few breakfast restaurants are crowded with early birds. I ate in the restaurant served milk tea and steamed bun stuffed with meat; fresh and hot from the wooden steamers.
Where to Stay?
Celia Hostel Mandalay $11 // 4 pax female dormitory
The family-run hostel offers a good vibe and a spacious common area with breakfast
Mansion Hostel $10 // 4 pax female dormitory
Cozy hostel
Thiri Thitsar Hotel
What to See?
The sightseeing points in the city of Mandalay are near the palace, and walkable. It's an option to hire a taxi or a scooter driver to navigate the traffic (scooter drivers are found outside of Mandalay palace cost $10 a day to see ten places.) or rent a scooter. I walked around the city.
Mandalay Hill

is not to be missed for sunrise, and view of the city landscape. Su Taung Pyae Pagoda

is located at the hilltop.
In walking distance, where host the largest book is Kuthodaw Pagoda

. The text from Tripitaka inscribed on marble slabs that cemented inside 729 whitewashed stone-inscription pavilions.
Downtown Mandalay
In the bustling downtown, peek into the dim light shophouses. On 81st street cross 27th street found Joon Mosque

, in the opposite is a Hindu temple's tower-structure-gate of south Indian architecture stood out, which is Sri Ganesh Temple

. A street of shops owned by Hindu and Sikhs that serves the small community. In an old laddoos (sweets) shop, motichoor laddoos, cashew kati, and others made of milk and sugar sweets displayed behind the glasses.
Clock tower serves as the landmark into a cluster of markets that sell fabrics, daily commodities, spices, etc. Zay Cho Market

somewhat functions as a wholesale market. Grab a bowl of noodles on the sidewalk.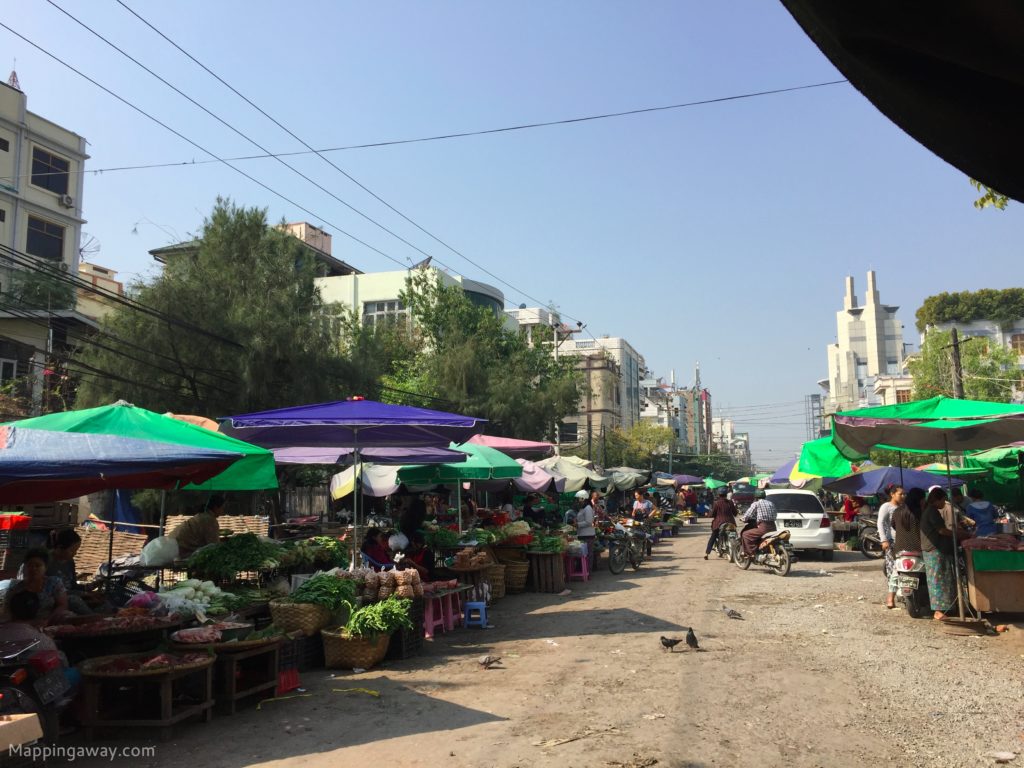 Another walking distance market is on 34th cross 77th street, near Golden City Light Hotel, a local market that sells vegetables, sweets, fermented tea paste, and essentials for rituals.
Try it: Coconut Milk with Yam
U Bein Bridge in Amarapura

, about 10 km from Mandalay, is the last stop for every tourist to view the sunset. In January the lake dries up and boating comes to a stop. Kids love running on the narrow-shaky- teak-wooden bridge, making the squeaking noise. It's very crowded.
---
More days in Mandalay?
Three Ancient Cities
Exploring the ancient cities of Sagaing

, Ava

(Inwa) and Amarapura

. Hostels do organize a daily tour. Hsinbyume Pagoda

is one of the popular visits.
Heading to Shan State?
Gokteik Viaduct is a 280km train ride from Mandalay to Lashio, the highest bridge in Myanmar with construction starting in 1899. It is considered the most scenic journey.
Pyin Oo Lwin

is a former colonial's summer capital. Ride from Pyin Oo Lwin to Hsipaw is the highlights of Gokteik Viaduct.
Hsipaw

is a great destination for trekking to see hill tribes and tea plantations.
Ayeyarwady Ferry
Visit Inland Water Transport to plan your trip along the Ayeyarwady.
---
Train to Myitkyina left Mandadaly at 11:30 am, and arrives the next day morning at 11.
Myitkyina is the capital of the Kachin state, with the majority converted to Christians. Open-fire persisted between the government military and Kachin Independent Army, many areas are restricted to tourists. It is not currently permitted for foreigners to travel to Myitkyina by boat.
If you want to save time, four flights per day operates from Mandalay to Myitkyina.
Where to Stay?
YMCA

$10
Basic room. No wifi. Hot bucket shower. 2 minutes walk from the train station. Walk-in.
Hotel United

$25-$30
Basic room & amenities with wifi behind YMCA, 3 minutes walk from the train station.
Hotel Myitkynia $60-80
Cartel Hotel $72
Many vendors jumped in the train carrying a pink-plastic basket of food or a tray of food packed in a plastic bag.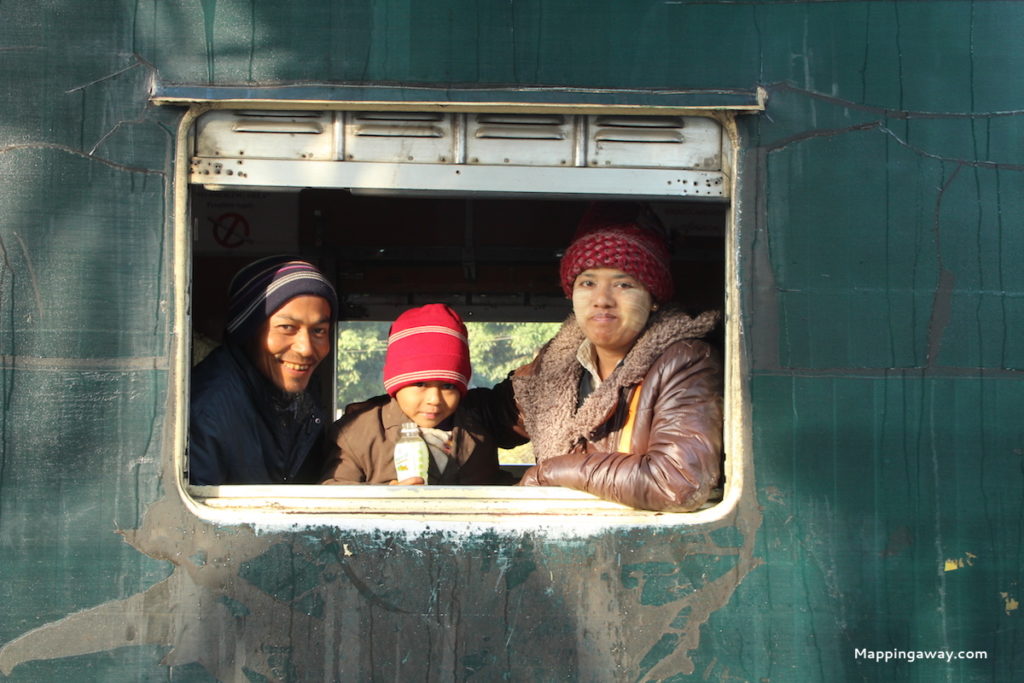 ---
The train arrived at 11 am, the vibes of the train station combining with a pleasant January weather, Myitkyina seems like a nice small town to stay longer. I walked into Hotel United and YMCA to check availability and price. Many new hotels operate by Chinese-Burmese rapidly grow to meet the local demand in the capital of Kachin.

The city built on the west bank of the Irrawaddy River, I enjoyed the walk to the riverfront, and watch lives along the water bank. A boat crosses the Irrawaddy wake up the tranquil river. It's waiting for the monsoon. Tumbledown-bamboo houses and small scale corn farms are on the river bank.
Where to eat?
Walk down to the Summer House

for late Burmese lunch and the river view.
Market
Late evening locals flocked to the farmer market for supper shopping. It's outside of the Myitkyina Central Market. I got an eye on purple boiled corn and local snacks. The friendlier locals even shared food.
---
Breakfast
In the early morning, the YMCA neighborhood is still sleeping left no shops open and few people walking on the street. I'd breakfast in Morning cafe or a discreet small tea shop opposite from Shree Ramjanki Temple

.
A small community of Sikhs owns shops along the Irrawaddy River. The only Sikh Temple in town painted gold domes and white walls symbolically represented the flourishing of the community. It's a place of identity that holds the community together, the same for Sri Jagannath Temple, Shree Ramjanki Temple, and Dragon Chinese Myanmar Temple in the neighborhood.
Irrawaddy Confluence
The confluence is 46 km from Myitkyina, about 1 hour 20 minutes drive. Irrawaddy Confluence is where the Mali Kha and the N Mai Kah met.
A dam project signed by the former military regime and a Chinese construction company has put on hold as a result of local and popular opposition. Boats are available for hire. Grilled fish is the most popular served among restaurants.
The ride to the confluence is very interesting itself, sightseeing villages, churches, and farming activities. On the way, Kachin Theological College & Seminary is an interesting institute to visit and understand students' lives and education in Northeastern Myanmar.
---
Where to go after Myitkyina?
Indawgyi Natural Lake

is the least visit 3rd largest freshwater lake in Southeast Asia, about 180km from Myitkyina.
Transport: Take train to Hopin

and one hour drive to the lake.
Stay: Indaw Mahar Guesthouse, in the village of Lon Ton, is the only village foreigners can stay.
---
Morning Train
The earliest train from Myitkyina to Naba starts at 8:30 am and arrives at 4 pm. When I arrived in Naba, train the that goes to Katha has long gone. The only train from Naba to Katha operates at 6:30 am. Naba to Katha is about 20km. Guesthouses in Naba do not have a permit to accept foreign tourists.
Option 1: Hire a tricycle motorbike onward to Katha
Option 2: Arrange a pick-up with Katha Hotel
Option 3: Stay a night in Indaw, about 9km from Naba. It costs the same if choosing option 1. Transport has to arrange to pick up at 5:30am to catch the morning train to Katha.
Where to Stay?
Indaw
Indaw Lake is one of the attractions in addition to monasteries.
Indaw Hotel

$10 dormitory
Basic hotel equipped with hot water and wifi.
Aung Myittar Restaruant
Try the Lemon Juice Fish
Katha
---
Katha built on the bank of Irrawaddy, where on a good water level day, boats operate to Bhamao. Despite its small size, the population reaches 27,000, and minorities such as Chinese, Nepalese, Urdu speakers, and Indians as how they referred to me in conversations, share the space of the small town.
Before the crack of dawn, farmers arrive in the station with baskets or rice sacks of vegetables to sell in Katha. The train ride is not scenic rather riding on a historical journey as George Orwell did. The locomotive is old, manufactured in 1964, with two passenger coaches, takes 90 minutes.
Arrived in Katha around 9 am, I ordered a paratha and tea from the station teahouse. It's pleasant and picturesque to sit here and look at the railway tracks and the enormous shady tamarind tree on the other side. But I wouldn't recommend the paratha.
Finding George Orwell
Finding the footprints of George Orwell, who published his first novel Burmese Days based on a fictitious town Kyauktada. It turned out to be Katha. When I mentioned the name George Orwell to locals, they pointed me to the Deputy Commissioner's house, which has turned out to be a colonial museum today. The lady lives opposite holds the key to the gate. She politely opened the gate when being asked. The British colonial double story house painted in red and black.
The English Club is serving as an office for a bank now. Staff is friendly allowing to walk around. Orwell's house occupied by Township Police Commander now. And Dr. Veraswami's house is now a Township Agricultural Office. Emma Larkin's Finding George Orwell in Burma probably provides more details on the author and his time in Myanmar.
---
Morning
6 to 6:30 am Monks walk around the neighborhood collecting locals' offerings.
7: 30 am Watch sunrise at the Irrawaddy Bank
Breakfast
A teahouse is a block from the riverfront, across the street from Mya Sati Pagoda, which name I have forgotten. They open as early as 6:30 am. Owned by a Chinese family, they offer a few choices of dim sum, omelet, and pork and non-stuff steamed buns. For vegetarians, I'd go for steamed buns without any stuffing (mantou). Get a seat outside, and soak yourself in the sun as locals do.
In the market near the train station, turn into a narrow lane, ladies making Mon Lin Mayar, the rice flour snack, and a Muslim family-owned snack and tea shop. I sat here for an hour filling up my journal. I had lunch at a local house, on the same lane, where mostly local women patronized. It serves in buffet style. Otherwise, a bowl of Mohinga from the central market stall for lunch.
Visit Mya Sati Pagoda, Radha Krishna Temple, and mosque.
---
Katha is a small town, easily spend a relaxed day by enjoying the riverfront walk and chatting with locals in the market. I spent most of my time in teahouse filling journals. It's the best way to end my short trip to Myanmar.
Another way to explore outskirt of Katha is by renting a bicycle from Katha hotel.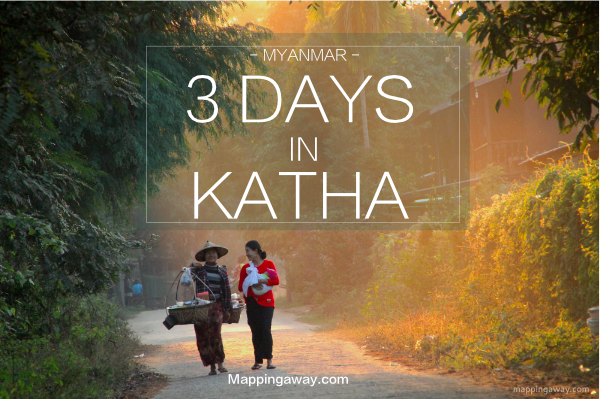 More days?
Bhamao is on the Irrawaddy riverbank in the state of Kachin. The only flight from cities or ferry/fast boat go to Bhamao. The ruins of Sampanago, ancient Shan Kingdom still can be seemed.
The fast boat looks like operates every day from Katha to Bhamao at 9 am and to Mandalay at 5 am. Call +95 09423232240/+95 09400436212
Check Inland Water Transport
Mandalay – Bhamo (special express) Mon, Thur, Sat, 6am
---
Where to stay?
Lil Yangon Stay $12
I checked-in for half day for shower and the location.
501 Merchant $17
Niche interior design with great location.
Backpackers B&B Homestay $19
Bodhi Nava Boutique Hostel & Café $36
Urban interior design with spacious reception area
How to spend half-day in Yangon?​
Downtown
There's every reason for me to love downtown Yangon. It's crowded but rather less hustle regard of its capital.
Bo Soon Pat Street + Neighborhood
I love to walk on this street and look into each balcony.
Rangoon Tea House
Fusion teahouse with a touch of modern design. I'd recommend Mutton Biryani and samosa. I love how the menu is designed like a newspaper. It offers a diverse selection of Indian, Chinese, and Burmese food.
A not-for-profit organization works with local artisans and other groups to produce handmade products. Handwoven fabrics stitched to contemporary dress and tunics. Next door to Rangoon Tea House. Beautiful handwoven table runners cost about $30.
Craving for coffee?
It's the end of my trip. I definitely want to pack some great Myanmar highland coffee beans home. So far, I still love the local brand, Genius coffee shops, or find them in supermarkets.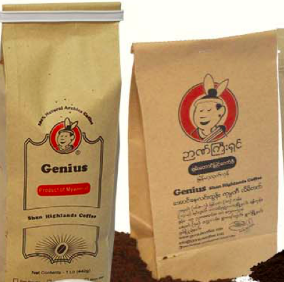 ---