Lakhpat Fort was once a prosperous port for a short period in the 18th century and a deserted fort now. Lakhpat was built by Fateh Mohammed, a military commander to the ruler of Kutch.
Lakhpat Fort is about 3 hours drive from Bhuj to Lakhpat. On the way to there from Bhuj, the road is relatively quiet, with villages on both sides of the road, and many herbs crossing the road. The fort accommodated three religions, namely Hindu, Islam, and Sikh. The Sikh temple and tomb of Pir Ghaus Muhammad welcomed pilgrims today.
On the far edge of India's Arabia Sea, only 30km to border with Pakistan, ships arrived from Sindh, East Africa, and other ports of India. Goods, like timber, textiles, ghee, were unloaded in Katha Varo Gate. They were transported to the Custom House through Bibidullah Gate, that guarded by two soldiers' status. Katha Varo Gate is no longer accessible nowadays. The remarkable high-rise arch of the main gate built for camel caravans.
The earthquake that occurred in 1819 changed the flow of the Indus river and brought to the fall of Lakhpat. A vast marshland is seemed beyond the fort walls and guarded by border polices today. The fort is a stretch of 7 km. Your driver will take you by car to the places of interest.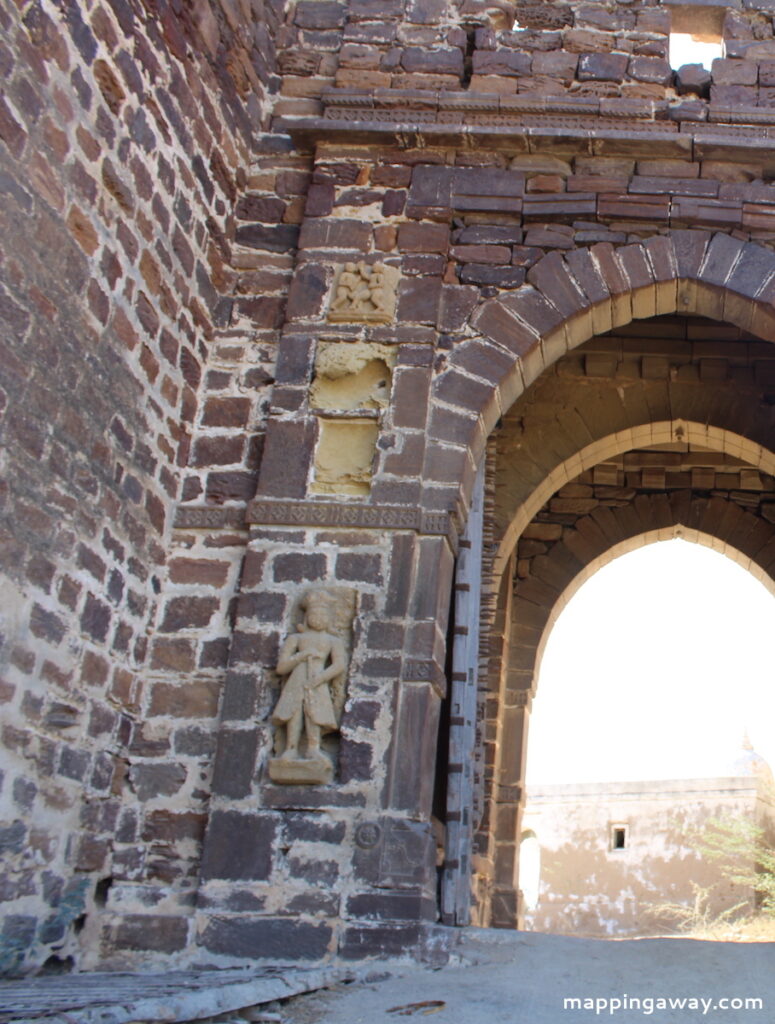 ---
Pir Ghaus Muahmmed's Shrine
Pir Ghaus Muhammad's shrine stood out in the vast emptiness land. Pir Ghaus Muhammed was a Sufi saint and Syyed, who observed both Hinduism and Islam. The caretaker of the shrine passes down for generations. The tomb's door painted in bright blue and the motifs on the wall are fine craftmanship.
---
Gurudwara Sahib
Lakhpat Gurudwara Sahib built in the 19th century to commemorate Guru Nanak. He visited Lakhpat before embarked on his second and fourth journey to Mecca. His relics consist of a pair of wooden sandals and palkhi are protected in a glass box. Gurudwara offers food and accommodation to visitors. We end our tour with a simple lunch here.
---
Lakhpat's Abandoned Town
The town where merchants' houses, the Custom House, and shops located are soulless. Buildings are deteriorating condition. Traders paid duties in the Custom House before uploading to the camel caravans. The caravans stayed next to the Custom House. The square in front of the Custom House was a bazaar for a period. The last-standing of one of the largest merchants' houses is a ruin now. You can walk into the house courtyard through the main door. Just imagine the wealth of this owner.
---
Continue your trip from Lakhpat
Jakhau was once a port and now is a fishing village.
Mandvi was a summer destination for the Kutch royals. It's known for the beach. It was a thriving port from the 18th to 19th centuries. Must visit Durgapur for its temples and merchants' houses.
---