A quick guide to Kashmir Valley
Kashmir valley is a place where you want to return again. It's beautiful in every season. We visited Kashmir in the off-shoulder season and during a curfew imposed in the region. The streets are quiet and the bus is not operating (maybe it does but we did not see any). Locals depend on shared jeeps to get around.
Kashmir Valley locates in northern India, between the Great Himalayas and the Pir Panjal Range. Throughout history, the valley ruled by Mughals, Afghans, Sikhs, and the Dogras. The present-day Kashmir divided and administered by India, Pakistan, and China. A large part of Kashmir is Jammu and Kashmir state which administrates by India, and northern Kashmir, Gilgit-Baltistan and Azad Kashmir, administere by Pakistan.
Muslim is the majority population. Despite its recent turmoil situation, Kashmir Valley is still a popular honeymoon destination, branding as a romantic valley. Kashmir Valley portrayed in Bollywood films changed from romantic to violent. Still, some beautiful Indian music videos shot here. The famous dish, Rogan Josh, has its origin in Persia. It was refined with Kashmiri spices when introduced by the Mughals.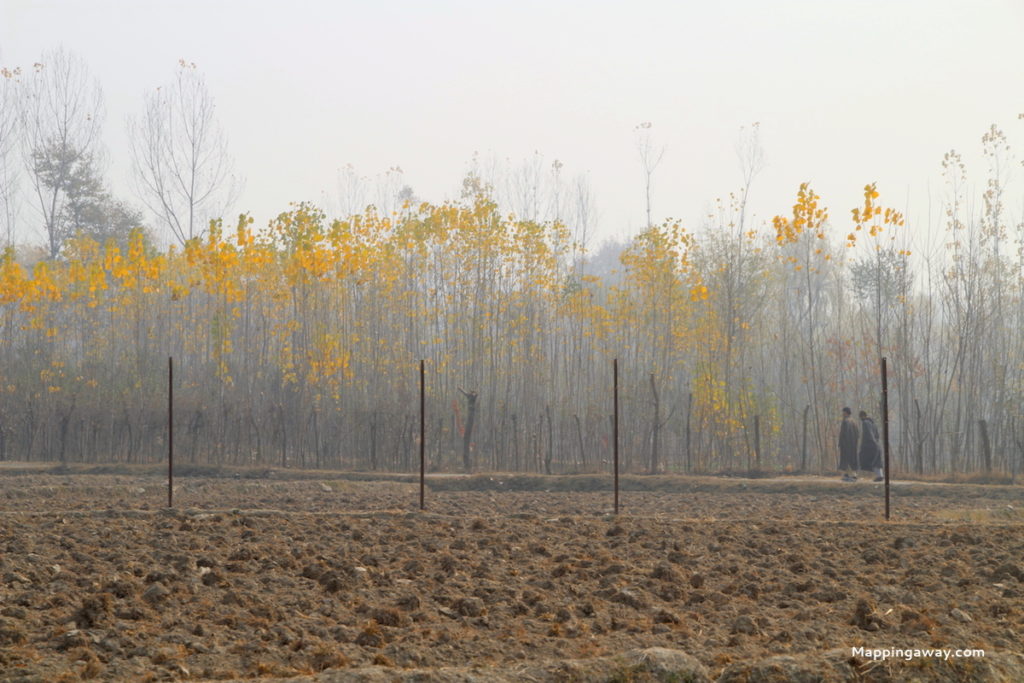 ---
Is Kashmir Valley Safe to travel?
Kashmir Valley is still relatively safe for tourists to visit. Due to military presence in the valley, military trucks and soldiers are everywhere. During the curfew, it could pose issues to access to transportation. Hotel and restaurants are mostly closed. On this trip, I only visited three places in the Kashmir Valley. I cannot speak for other destinations. Hateful and political messages are elaborated in Graffitis. Soldiers stand on the roadsides with guns. The psychological impact of military presence in cities could affect some children and adults even as travelers. The presence of the military and soldiers are not "normal" in our daily lives.
6 Day Jammu and Kashmir Itinerary
Day 1 Shared Jeep to Chittisinghpura
Day 2 Explore Chittisinghpura / Pahlagam
Day 3 Pahalgam
Day 4 Srinagar
Day 5 Srinagar
Day 6 Shared Jeep to Jammu
Top Experience
Hiking in Pahalgam and meet the nomads
Wandering in Chittisingphura
Walking along the Lidder river in Pahalgam
Try Noon chai (Salt Tea)
Best time to visit Kashmir Valley
March to May is summer and shoulder season.
June to September is monsoon season and an offseason
October to February is best for snow but it's bitterly cold at night.
Duration
5 to 7 Days
How to Get Around?
Air
The easiest way to get to Srinagar is by flight. You can hire a car or take a bus to Pahalgam and other places.
Bus
JKSRTC operates buses to Srinagar and other cities. It takes 8 – 10 hours from Jammu to Srinagar and 7 hours to Pahalgam
Train
Jammu is the nearest railway station. Take the share jeep from outside of the station.
Shared Jeep ( 400 – 500 INR pp) from Jewel Chowk
Takes about 7 – 9 hours to get to Srinagar. If you go to Pahalgam, Anantnag is the transit city. Many shared jeeps park on the roadside. Shared Jeep is the only way to go around and you can wait on the roadside.
Where to Stay?
If you travel in the off-peak season, you do not have to book any hotel. Many rooms are available at a reasonable price if you are not picky. However, most hotels and guesthouses are closed. If you have to stay in your dream hotel, you have to call and check.
Chittisingphur – Homestay
Pahalgam – Hotel Swiss Cottage

INR 500 for Double Bed
Srinagar
---
Day 1 Shared Jeep to Chittisinghphura
Arrived in Jammu early morning from Shimla, shared jeeps are stand-by not far from the bus station in Jewel Chowk. The plan was to Pahalgam, which is in the opposite direction as Srinagar. Anantnag, locally called Islamabad, is a busy transit city. We transferred to another jeep to Liddar Valley direction. We got invited to spend 2 nights in Chittisinghphur that is on the way to Pahalgam.
The road conditions to Kashmir are curvy along the mountain, potholes are here and there, heavy traffic. The jeep left Jewel Chowk around 8:20 am. The road becomes foggy after sunset due to the high altitude. Arrive at Srinagar before 5 pm is ideal.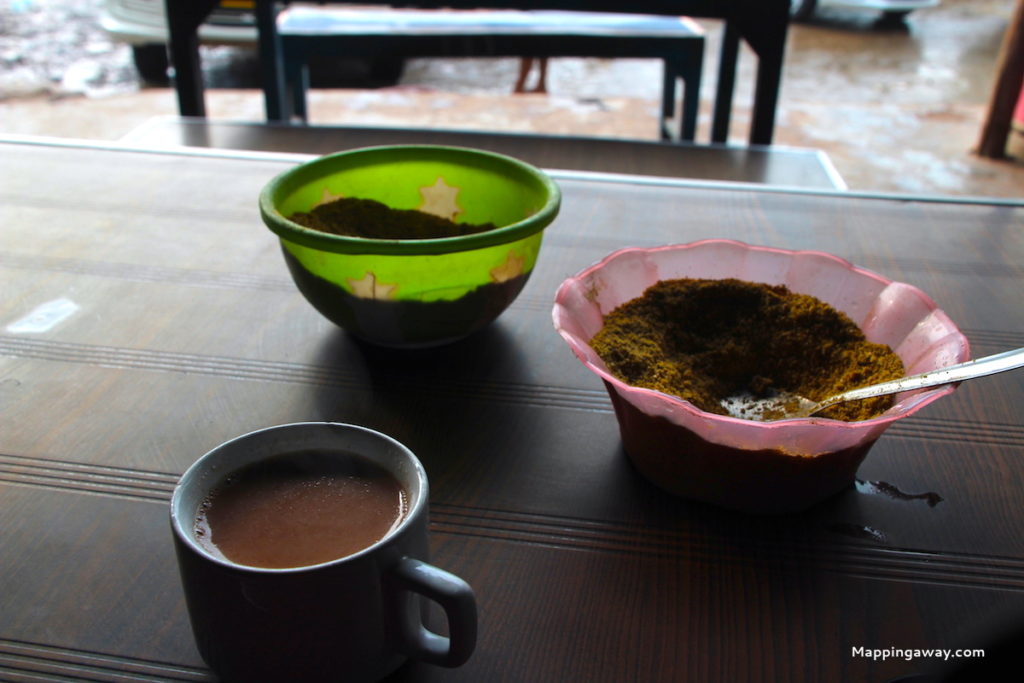 Many roadside shops and villages along the highway. The driver takes quick stops for food and lavatory. If you have been to the Himalayas, you are familiar with salt tea or butter tea. Salt tea is replaced with sugar with salt in black tea. You probably check with the tea master before ordering if you prefer to sweeten tea :).
Chittisinghpura: celebrate Guru Nanak's birthday
Upon arrival in the village, I swaddled my body in a thick blanket. Everyone's garden has two to three walnut trees. So cracking walnut is the best to do in winter. I used a kangri to warm myself. Kangri is a woven basket that holds an earthen pot of charcoal to keep people warm in winter. It's a cheap and affordable way. Men wear pheran, the long loose wool garment hanging down to the knees. They keep the kangri inside their robe.
We celebrated Guru Nanak's birthday. Every family in Sighphura donated food, like rice, oil, lentils, etc. to the main Gurdwara (Sikh temple) in the village. And villagers volunteered to prepare and distribute meals to everyone.
---
Day 2 Wandering Chittisinghpura
I was told that Chittisinghpura was created in the wake of India's partition in 1947. Chittisinghpura is a picturesque village at any time of the year. The landscape would be lush green in spring and summer; villagers and cattle are on the farms, and apple orchards blossom. In late autumn, brown and yellow are the colors. The houses are colorful. I loved the purple wall color and the carpet.
We met most of the villagers from yesterday's event in Gurdwara. This lady recognized me. She's taking the cows to her apple orchard.
Farmlands are resting in winter. Paddies are grown in summer days. Corn and Wheat in autumn. Haze in the background.
---
Half-Day in Pahalgam
We walked to the Chittisingphura Road to catch a shared jeep to Pahalgam. There is no fixed schedule. It's only 45 km from Pahalgam. Everyone relies on the shared jeep to travel to the destination. A young man from Srinagar gave us and a lady a lift for 10 km. After that, we got in a shared taxi.
No traffic on the way to Pahalgam. This means tourism is slow and hotels are empty. The driver took us to his nephew's hotel. Hotels and guesthouse owners wait in Pahalgam's central bus stop to get customers. Life is barely going through on a daily basis for this hill station that depends on tourism. I saw less than 5 tourists.
Pahalgam's meaning derived from two words mean shepherd's village. Pahal means shepherd and gam mean village. Pahalgam attracts thousands of Hindu pilgrims in July and August hike to Amarnath Yatra, an important site of Shivlinga. The Lidder river wounds through the town. Many Bollywood movies have shot in Pahalgam. The best example is the Betaad Vally named after the movie Betaad, which was shot in the valley.
Pahalgam is even colder than Chittisinghpura. Many guesthouses are in the Laripora Village, a short drive from the bus station. Hotel Swiss Cottage has already clear for winter. Water pipes are already drained for the cold snap. That means no water for the geyser. I fetched water from the river to flush the toilet. Children walk along the river and catch little fish for fun. Hotel Swiss Cottage's backyard faces the Lidder River. The town was quiet, you can listen to the ice-cold water flowing down.
Pahalgam Town
The bus stop, taxi stand, and the fresh market are at the beginning of the town. In the town center, you will find many shops like pharmacy, souvenir shops, and restaurants. During our stay, we ate in the family home of the Swiss Cottage manager.
How to Get Around?
Pahalgam is possible to explore on foot. If you are planning to go out of town, hire a taxi from the Pahalgam taxi stand.
---
Day 3 Hiking in Pahalgam
The surrounding of Pahalgam is perfect for daily hikes or a few days hike on a good weather day. Pahalgam is well-know for its meadows
In the cold weather, shepherds come to low land with the herbs. The houses are permanently set on the hill and mountains for their convenience. You can do this hike by yourself. The trail is opposite of donkey/mule station.
We began the hike around 10 am. It takes us to Baisanran Road then off the road to this meadow on the hill.
Then this shepherd walked up to our horizon. He came back from the grocery shop. His family was the only one to stay back in this meadow for his herbs. He lived here with his wife and newborn daughter.
From his shopping bag, he pulled out a bag of salt. He sprinkled on a flatten rock. Sheep were curious and gathered around the rock.
It's no surprise to see empty huts belong to shepherds, both living shelter and shelter for herbs. They are made of large wood logs and the walls are dried mixture of mud and grass.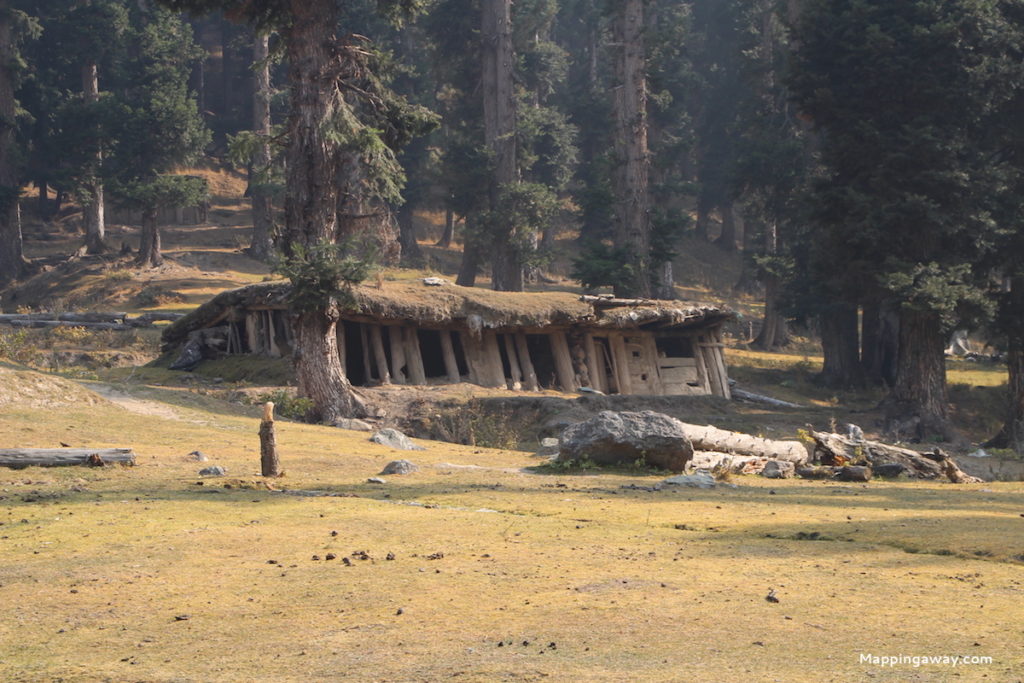 ---
More Days in Pahalgam?
Visit the Three Valleys by hired taxi, namely Aru, Betaab, Chandanbari
Day Hike from Pahalgam to Baisaran and Dabiyan
3 Days 2 Night Hike from Pahalgam to Tulyan Lake
5 Days 4 Nights Hike from Pahalgam to Kolhalglacier, Tarsar Lake, and Ruil Lake
2 Weeks from Pahalgam to Panikhar, Ladakh
---
Day 4 – 5 Srinagar: the Summer Capital
Getting to Srinagar from Pahalgam
It's 91 km (2-3 hours) from Pahalgam to Srinagar. There is no promise of the direct jeep to Srinagar. We took a jeep to a town named Akad and tried to get a connection to Anantnag. By the time we got to Srinagar, it was afternoon at about 3-ish. The sky was covered in haze. After 3 pm, I felt like sunset already. On a clear day, you will see the mountain ranges around the Srinagar valley.
About Srinagar
The sun was covered by haze. On a clear day, you will see the mountain ranges around the valley. The capital built on the bank of Jhelum River at an elevation of 1,600 meters. As the summer capital, the Mughal garden is the best example. Laid in the 17th century by Mughal emperor Jahangir for his wife Nur Jahan. Administration speaking, the official works are done from Srinagar, and Jammu takes its winter office due to road-blocking and landslides of the National Highways. Kashmir handicrafts are well-known and spread all over the world. The well-established carpet, silverware, and silverware, etc. industries. It's the best place for souvenir shopping :).
Where to Stay?
Staying in the boathouse is popular and you wake up to see the sunrise and locals commute in boats. There are many homestays and guesthouses around the lake in a decent budget. 🙂
Lassa Bhat Guest House


Peacock Houseboats


Hotel Dar-Es-Salam

Dal Lake
Dal Lake is a vast basin in Srinagar. Permanently docked houseboats on the lakeshore accompanied embellished wood carving balconies. Wooden shikaras boats are longboats used to commute around the lake. The lake is divided into four basins, Bod Dal, Nagin, Gagribal, and Lokut Dal. The island in the middle of Bod Dal is known as Sona Lank. The basin of the lake is drainage of all channels and rivers in Srinagar that interconnected and divided by causeways, gardens, and houseboats. Wooden pavements connect houses and shops built on the edge of the lake and to the houseboats.
The wetland of the lake covers 21.1 sq km. Floating gardens created on the banks or in soil that floats on beds of flora. Many lives are depending on vegetable growing as well as crucial in providing vegetables to the markets. They mostly cultivate carrots, radishes, lotus, turnips, and other greens. Every day farmers paddle to tender their floating gardens regardless of summer or winter. If you visit in July and August you could witness the full blossom of flower gardens.
Early morning walk around the lake, I thought would be interesting to see farmers or locals on their boats. It was bone-chilling cold. On Boulevard Road, shops haven't opened. This man set up a breakfast stall on the concrete embankment.
Shikara Boat Ride
The shikhara boats are colorfully decorated for tourists. It's like a mini size houseboat. Boats are available for hire from several stands along Boulevard Road. The price per hour is normally fixed around 600 INR, which the price could be different if you want to paddle to see the canopy of the lake. In the off-season, it's very easy to negotiate and the lake is reserved for the locals.
The day was hazy. The background was only the shikhara boats and locals. The boat ride was smooth and slow into the greater Dal Lake.
Tip: The floating vegetable market opens at 5 am. Arrange a shikara the day before and pick up the point.
The day ended with a short walk on Dalgat Road to the backdoor of houseboats, gardens, and the local quarters.
Old Srinagar
In the old Srinagar, the site of heritages, you will find the important buildings, for instance, Jami Masjid and Pathar Masjid, etc., and the Maharaj Gunj wholesale market, which is next to Budshah's Tomb. You can explore the narrow lanes in the maze sub-lanes through an array of goods. The city square Lal Chowk

is on the opposite side of Budshah's Tomb which means to cross the Budshah Bridge. If you are interested in exploring the old city in-depth, join an organized tour.
Useful Information
Depends on the season of visiting, TravelTriangle has shared a long list of tourist attractions in Srinagar. This list will keep you busy for two to three days.
---
Day 6 Shared Jeep to Jammu, Train to Chandigarh
The morning, Dal Lake covered in mist veil. We took an autorickshaw to TRC Srinagar. It's a bus station but jeeps and taxis are waiting outside of the building. The frequency of jeep might be less after 10 am. The highway weather condition presents difficulties for the driver and passengers' safety. We made sure we caught a shared jeep by 7 am.
We stuck in traffic due to an accident for more than an hour. We did not make it to Jammu until 8 pm. The driver drove on a dark and foggy road.
We then took a night train from Jammu to Chandigarh. We flew out from Chandigarh to Bengaluru. It was a long journey.
---
---