A quick guide to Indore, Gwalior, and Khajuraho. These three cities in Madhya Pradesh are must-visit for food, culture, and history.
The central state in India and border with Uttar Pradesh and Gujarat, Madhya Pradesh is well-known for its wildlife safari and rich cultural heritage. Khajuraho is popular en route to Varanasi.
---
Indore 2-Day
Places of Interest
Sarafa Bazar, Itwaria Bazaar

, Khajuri Bazaar
Kanch Mandir (Temple of Glass)


Khajrana Ganesh Mandir

Indore is a must-visit place for food. Make sure you have sweet tooth for ladoos and a great appetite for street fry food :). I loved Indore's panipuri. This shop in the bazaar has 10 types of panipuri broth! I forgot about the shop's name. If you know which one I am talking about, do let me know :). The bazaar is bustling and a similar atmosphere across many Indian cities.
In Itwaria Bazaar, you will find the Temple of Glass and Sheesh Mahal. Kanch Mandir, as its name suggested, a temple of glass. An exquisite Jain temple. It finished construction in the early 20th century. Interior decorated with thousands of small pieces of glasses.
Rajwada Bazaar

is where Rajwada Palace locates, and I found my best panipuri here. I am not sure about elsewhere in Indore. Khajuri Bazaar, right behind the Rajwada Palace, is the best place for Maheshwar sarees. Maheshwar sarees are a blend of cotton and pure silk fabric woven with zari or brocade in different designs. It's originated from the town of Maheshwar.
---
How to get to Indore?
I took a night bus from Ahmedabad to Indore and arrived in the early morning around 6 am.
***Check out my posts on Ahmedabad and around Gujarat.
---
1-Day Gwalior
Gwalior Fort

and Jain Cave Monuments are the places to visit in a 1-day itinerary. It's a bit rush. A two-day itinerary is perfect for exploring the city. Gwalior Fort built in a defense and pre-Mughal architecture style around the 6th century that overseen five dynasties. Slowly walking up to the entrance gate, the stunning mud-color Fort wall is on your right side. The vibrant blue tiles caught our eyesight. The wall used to be covered in all blue tiles, and today only some left for us nostalgic for the old beauty.
Tip: Get to the Fort as early as 9 am to avoid the hot sun. Shared Auto are available in the city goes to the Fort, that's a large version of a rickshaw.
When you are done with the tour, walk to the nearest Sikh Temple for a vegetarian meal. Donation is optional. Then continue to the Jain Cave Monuments.
Jain Cave Monuments
In the Gwalior Fort hill, a group of impressive craftsmanship of statues carved into the rock face. Statues dated from 7th century to 15th century.
---
How to get to Gwalior?
Air India is the only flight operator in Gwalior that connects to big cities.
Bus and train connect to Gwalior from big cities.
From Indore, I trasitted in Ujjain and shared berth with another passenger in a night train to Gwalior. Book early! 🙂
---
2-Day Khajuraho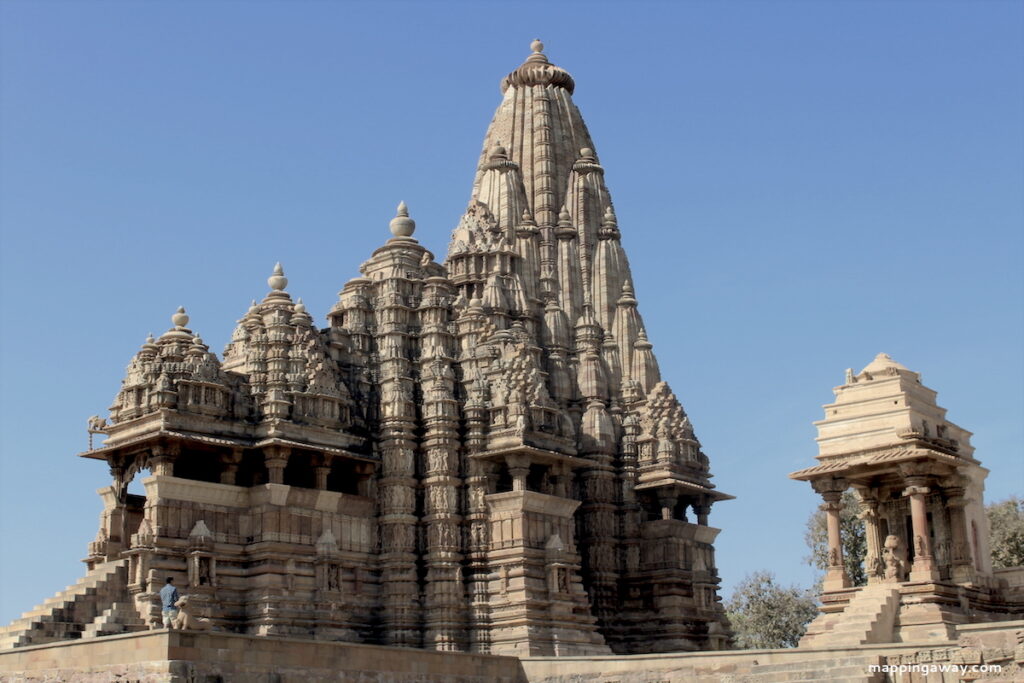 In the small town of Chhatarpur, a group of monuments engraved in erotic sculptures attract many more tourists. I was intrigued by the Khajuraho temples' motifs.
The UNESCO World Heritage constructed in the span of 100 years between 950 AD and 1050 AD by the Chandela Dynasty. The monuments are known for their nagara-style that is on the high platform.
The three grand temples in the heritage site are Lakshmana Temple (Vishnu), Vishvanatha Temple (Shiva), and Kandariya Mahadeva (Shiva). Kandariya Mahadeva is believed to have commissioned after a successful war campaign.
Scholars have various standpoints on the erotic motifs: one school suggests they are tantric sexual practices, and other suggest those sculptures are desire and wish of human life that are part of Hindu tradition. Other sculptures depict the daily life of the time.
Warning: Watch out for scams, like invitation for tea or dinner in farms!
---
How to Get to Khajuraho?
Air India and SpiceJet operate flights to Khajuraho from Agra, Mumbai, Delhi, and others.
The well-connected bus network from and to Khajuraho.
Trains connect to Uttar Pradesh, Delhi, and Jaipur, Varanasi and many parts of India.
21107/Bundelkhand Link Express direct to Varanasi from Khajuraho only available on Sunday, Tuesday, and Friday, takes about 11 hours.
---
---