A Quick Guide to explore Namwon and day trips to Damyang, and Mt. Jiri (Jirisan).
North and South Jeolla Provinces are my destinations to South Korea. I traveled to small towns and visited temples, and explored nature. Here I share my favorite South Korea itinerary with you :). I rent a bicycle from the guesthouse and cycled around Namwon in one day.
Namwon is known as "the city of love". The folk tale tells Chunhyang's (春香), a courtesan's daughter, who fell in love with Yi Mongryong, a magistrate. It's a novel published between 1661 to 1720. The Chunhyang Theme Park is a shrine dedicated to Chunhyang.
If you would like to explore a small town in South Korea, Namwon and its surrounding areas are the must-to-visit. I set Namwon as my travel base and took day trips to Damyang and Jirisan.
---
3 Days Itinerary
Day 1 Namwon
Day 2 Damyang
Day 3 1-Day Mt. Jiri Hikes
Top Experiences
Cycling along Namwon City River and nearby villages
Damyang Bamboo Garden and Metasequoia-lined Road
Hiking to Jirisan
Best Time to Visit
All seasons are perfect to visit. Autumn is the best time to witness the changing color of the landscape.
Where to Stay?
Mua Guesthouse $21 female dormitory
Cozy, artistically design interior and beautiful garden with Asiatic Jasmine vine hangs on the front gate.
Useful Info
Naver Map is more popular and useful than Google Map in Korea
Halal Friendly: Loach Stew / Choetang Restaurant
Busan House (부산집)
---
Day 1 Namwon
Attractions
Chunhyang Theme Park
Honbul Literary House
Gyoryong Sanseong Fortress
Gwanghallu Garden
Silsangsa Temple
Arrive at Namwon train station, take a bus to the city. Immediately I rented a bicycle from Mua Guesthouse. This is the best experience to explore the old lanes, village, and ride along the river. Chunhyang Theme Park

is about 3 blocks away from Mua Guesthouse, in less than 10 minutes by bike. I walked into the tourism office and greeted by a lovely Korean ethnic Chinese staff. It was interesting to learn about her family heritage was from somewhere near Namwon and during the Japanese occupation, her grandfather left for China. She married a man from Namwon.
The most beautiful parts of the park are around the Ojakgyo Bridge area and the pavillions (廣寒樓).
The Namwon River Bank
After a short tour to Chunhyang Theme Park, I crossed Seung-Wolgyo (bridge) to the other side of the town.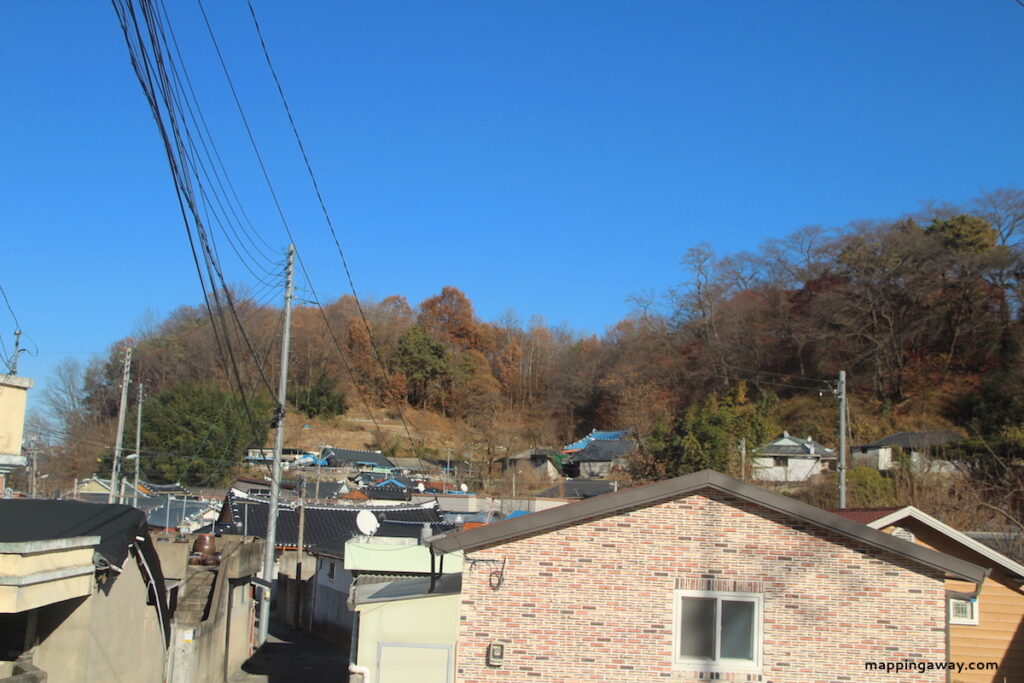 Sunset on the River Bank
Sunset is early in wintertime. I end my day by the river bank. Only dried plants covered the landscape and the bank. Sometimes you would see a couple of ducks. The railway line is built next to the river.
Where to eat?
There are many great places to eat in Namwon-si. Recommended by the guesthouse and my beloved dish: Loach Stew / Choetang Restaurant. It's perfect for cold weather. It opens at 10 am and busy during lunchtime.
---
Day 2 Damyang Bamboo Forest
Damyang's bamboo forest is an evergreen forest even in snowy winter. The forest offers easy to difficult walking trails. Even with the difficult trail, it's not that difficult. In the cold season, the forest is quiet. I enjoyed the trail by myself. A few shops near the bus stop sells bamboo crafts. Half-day is enough to go around the main attractions.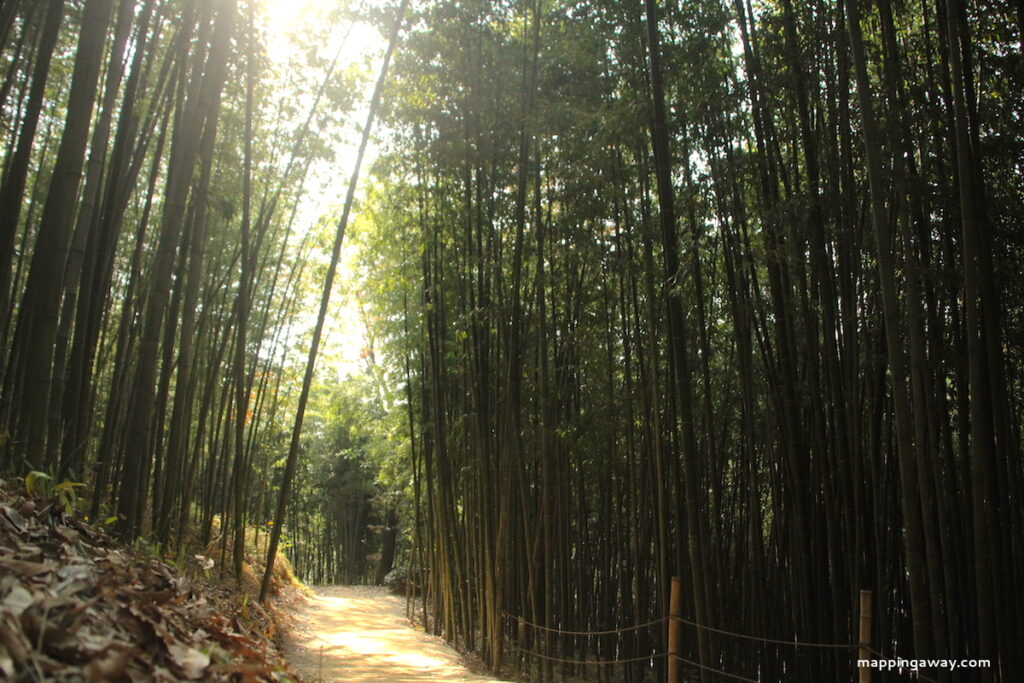 How to get to Damyang?
Intercity Bus Terminal

is where you take the bus to Damyang and other places. The ride is about 2 hours.
---
Day 3 1-Day Mt. Jiri (Jirisan) Hikes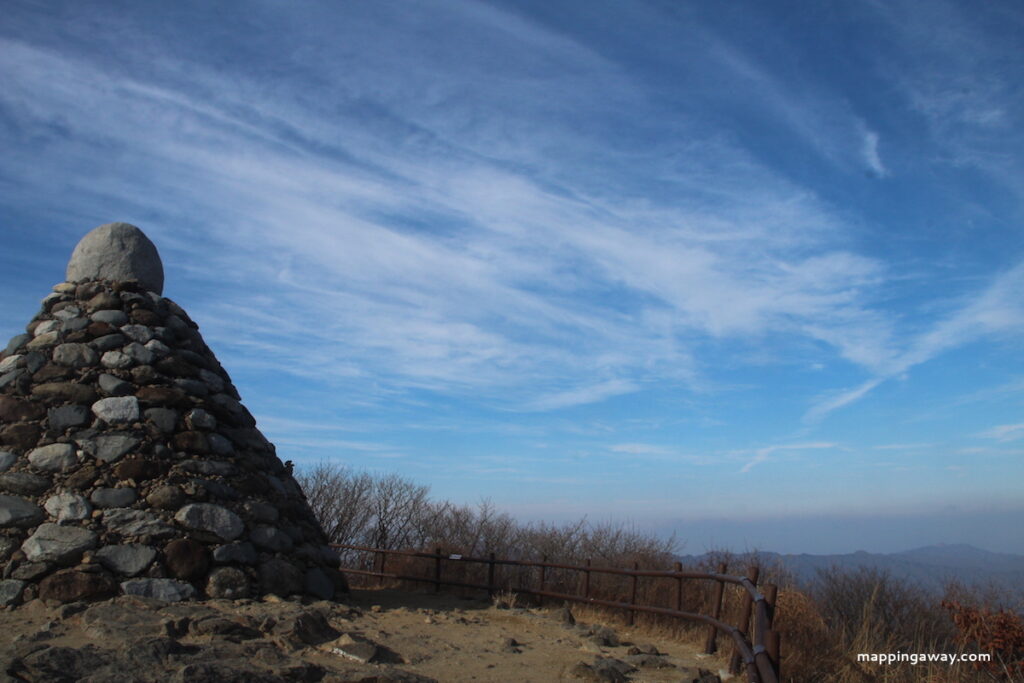 The second tallest mountain in South Korea, Jirisan's summit is 1915 meters in height. Jiri-san is great to spend two days camping. The common route is to start at Hwaeomsa Temple in Gurye and finish at Jungsanri or Naewonsa Temples. Gurye is closest to Namwon. The trail with direction boards and clear. I am not worried about hiking alone.
If you plan to do the same, remember to pack water and lunch. I bought some steamed buns from a shop that's opposite the bus terminal. Make sure you begin your descendant between 3-4 pm in the wintertime. The total is about 12 kilometers.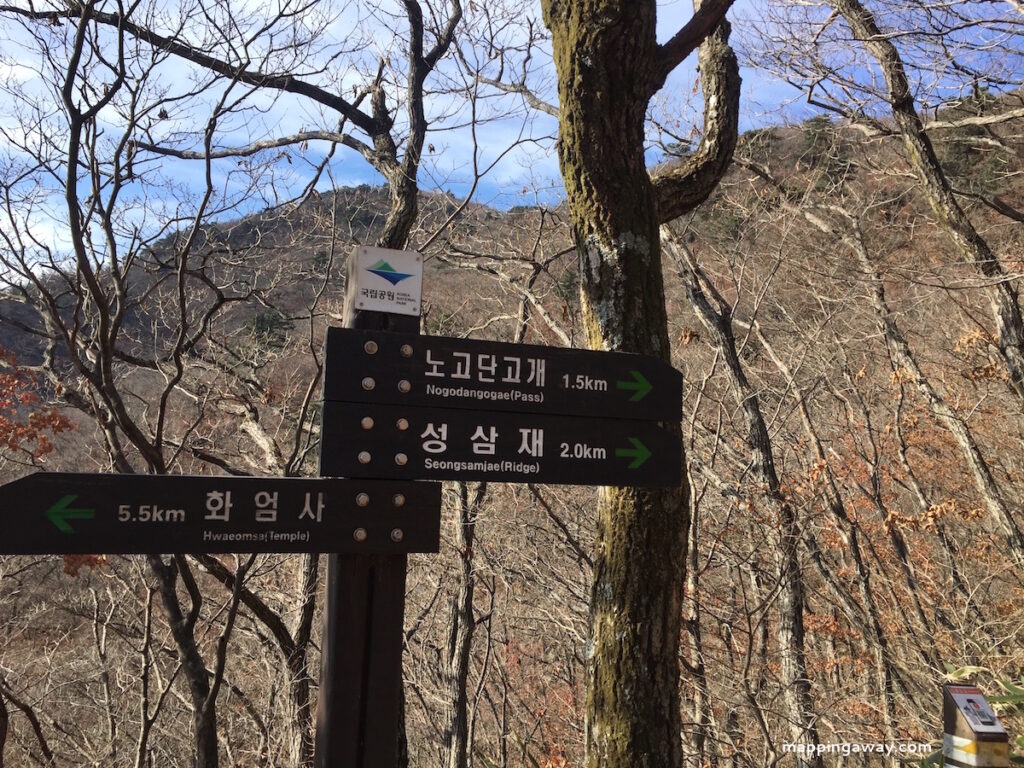 Hwaeomsa Temple (화엄사/ 華嚴寺) locates at the foothill of Jirisan. Check out for Temple Stay to spend a night here. Pay a visit upon your arrival. It's closed when you come down from the mountain.
On the ridge, Spring freeze in the wintertime.
How to get there?
I took an early bus from Namwon Intercity Terminal to Gurye and another transit bus to Hwaeomsa Temple (화엄사/ 華嚴寺). The bus will stop in a parking lot, you have to walk a kilometer to the temple.
---