This post shares things to do in Gujarat. The trip focuses on three cities: Vadodara, around Bhuj, and Ahmedabad.
I planned this trip to trace the footprints of the Gujarati traders. Gujaratis were successful traders from the late 15th to 18th centuries in the Indian Ocean. They involved in trading textiles, ivory, coffee, and gold, and to an extent, they also participated in a small scale of the slave trade.
Want to know more about Gujaratis Merchants? Chhaya Goswami's book on Gujarati merchants from Kachchh (Kutch) is a fascinating introduction to their world.
With 70% of the population is vegetarian, restaurants that are non-vegetarians are available.
I traveled by train and bus in this itinerary and stayed in homestay and budget hotels.
Itinerary
Day 1 Vadodara
Day 2 Vadodara
Day 3 Champaner
Day 4 Bhuj
Day 5 Bhuj
Day 6 Rann of Kutch and Artisan Villages
Day 7 Handicraft Villages: Ajrakhpur & Bhujodi
Day 8 Day trip to Lakhpat
Day 9 Ahmedabad
Day 10 Ahmedabad: Historical Walks
Top 5 Experiences
Walk barefoot on the great Rann of Kutch
Historical walks on the labyrinth Ahmedabad Old Quarters
Imagine the glorious day in Lakhpat Fort
Visiting Artisans around Bhuj and take a block-printing and fabric dying workshop
Fill your stomach with Gujarati Thali
---
Best Time to Visit
October to February are the best months to visit. When the monsoon ends in late September, the fresh air drives in. It was hot at noon but still delightful to walk around the city. In February, Bhuj is already burning in the noon.
April to June are not the best time to visit desert areas since the temperature ascends to as high as 39 Celcius. It might be a good time for camping or visit the coastal area.
July to September's monsoon cool down the air a little bit. The wave is strong during the monsoon in the Arabia Ocean.
Where to Stay?
The Gujarat Tourism Office shares a list of hotels and homestays across the state. It's very convenient to travel around the state. I chose homestays at Bhuj and Vadodara from this list. You can call or email the homestay for availability.
Find your Homestay and accommodation at gujarattourism.com
---
Day 1 Half-Day in Vadodara
Day 2 Vadodara Historical Walks
Day 3 Day Trip to Champaner
Its former name was Baroda. Vadodara was an Indian state rule by Gaekwad Dynasty for 200 years. This guide takes you to bustling bazaars, historical walks, and Lakshmi Vilas Palaces. If you have one extra day in the city, take a day trip to the UNESCO world heritage site, Champaner.
To beat the crowds and hot sun, be the first one to arrive in Lakshmi Vilas Palace at 10:30 am. Built by Maharaja Sayajirao Gaekwad III in 1890 in Indo-Saracenic revival style, the lavish palace begins the tour at the lawn and enjoy a good view of the palace. Take the audio guide!
1-Day Champaner
A historical city found in the 8th century by Vanraj Chavda, one of the kings of the Chavda Dynasty. There are 114 monuments in the area. If you come in a car, you might be able to visit most of them, such as Ek Minar Ki Masjid is tucked in the surrounding forest.
Champaner Archaeological Park can be explored by walk and public transportation. I took a public bus from Vadodara central bus station. I took the bus that leaves around 7:30 am and arrived at 9 am. It's better to arrive early to beat the heat and it's a long day to be here.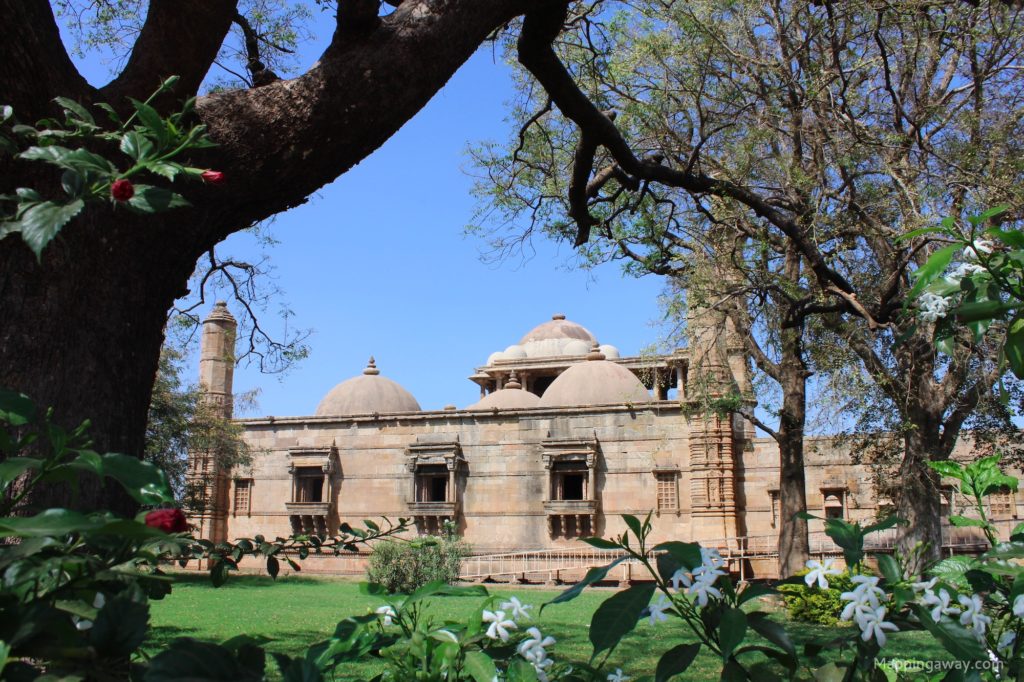 ---
The Best of 5-Day Around Bhuj Itinerary
Day 1 Bhuj: Historical Walk
Day 2 Bhuj: Markets and Old City
Day 3 Rann of Kutch and Artisan Villages
Day 4 Handicraft Villages: Ajrakhpur & Bhujodi
Day 5 Day trip to Lakhpat
Day 6 Bhuj to Ahmedabad
Bhuj
As the capital and commercial hub of Kutch, Bhuj has expanded beyond its fort wall. I spent two days walking around the city. Only the old city area is great for walking but easily gets lost in the labyrinthine, narrow lanes.
Kutch has a rich cultural heritage that is well-known for handicrafts such as block-printing, embroidery, and leatherwork, as well as music and dance. Some skills pass down generations, and the youngest family members are working to preserve the legacies with innovation.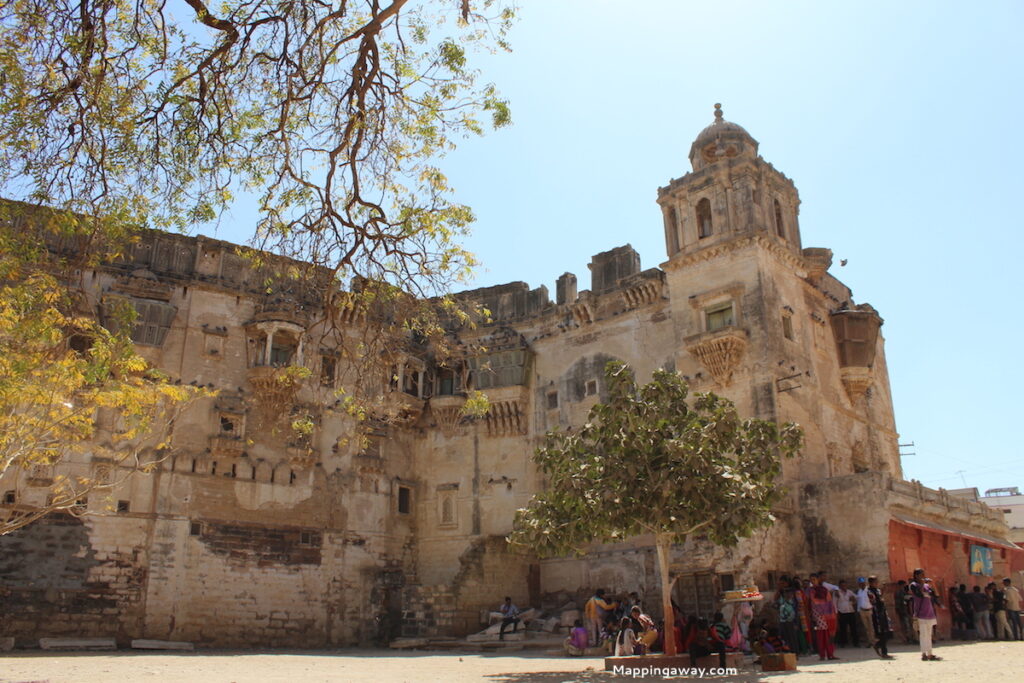 1-Day Great Rann
Rann is a salt marshland close to the border with Pakistan, inhabited by many communities. So often to see herbs of camels, buffalos, and goats crossing highway guarded by local women or men. During monsoon season, the desert is buried in water. The full moon in Rann is an exceptional beauty. Glitz deserted land under the moonlight.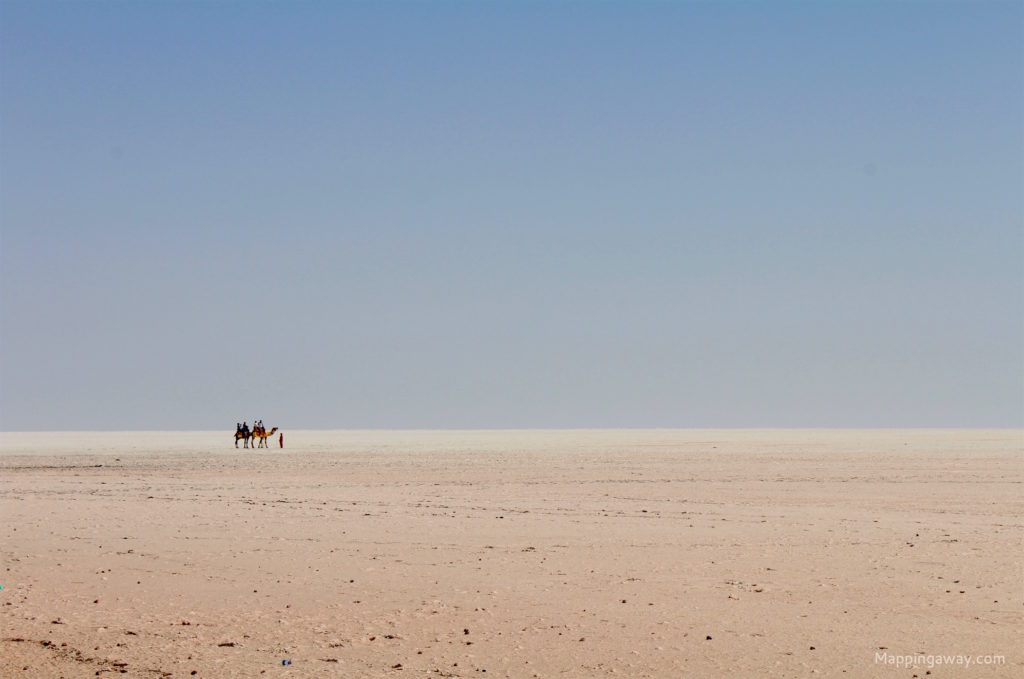 Artisan Villages
Villages are like open art galleries. Artists work in an open-door studio. You can engage with them.
Bhujodi and Ajrakhpur are well-known villages that receive many visitors and textile artists around the world. Each village specializes in its own art of weaving or block-printing.
As a beginner into textile, this post outline a few studios you should visit to gain an idea of how block-printing and fabric dying works. You can purchase fabrics from artists. Also if you spend more days in Bhuj, take a short block-printing workshop from one of these artists.
1-Day Lakphat Fort & Narayan Sarovar
It's about 3 hours drive from Bhuj to Lakhpat. The road is relatively quiet, with villages on both sides, and many herbs crossing the road.
Once was a prosperous fort for a short period in the 19th century and a deserted fort now, Lakhpat was built by Fateh Mohammed. The fort hosts three religions, namely Hindu, Islam, and Sikh, that manifested the diversity of the traders and laborers.
The earthquake that occurred in 1819 changed the flow of the Indus river and brought to the fall of Lakhpat. A vast marshland is seemed beyond the fort walls and guarded by border polices today.
The fort is too big to walk from one gate to another. Your driver will take you by car to the places of interest.
---
As the largest city and former capital of Gujarat, the city's glorious history takes you through a long span of political and economic development. In brief, Mahmud Begada fortified Ahmedabad with a 10 km wall and 12 gates in the 15th century. The city planning was well-designed and went on expansion under the rules of sultans with new localities and suburbs on both sides of the river.
---